Movie Review
Radio Days
The golden age of radio comes to life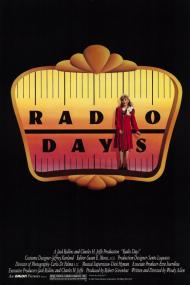 US Release Date: 01-30-1987
Directed by: Woody Allen
Starring
▸
▾
Seth Green

,

as

Joe
Julie Kavner

,

as

Mother
Michael Tucker

,

as

Father
Dianne Wiest

,

as

Aunt Bea
Mia Farrow

,

as

Sally White
Jeff Daniels

,

as

Biff Baxter
Danny Aiello

,

as

Rocco
Diane Keaton

,

as

New Year's Singer
Woody Allen

,

as

The Narrator
Don Pardo

,

as

'Guess That Tune' Host
Martin Rosenblatt

,

as

Mr. Needleman
Helen Miller

,

as

Mrs. Needleman
Wallace Shawn

,

as

Masked Avenger
Josh Mostel

,

as

Abe
Kenneth Mars

,

as

Rabbi Baumel
Tito Puente

,

as

Latin Bandleader
Larry David

,

as

Communist Neighbor
Gina DeAngeles

,

as

Rocco's Mother
Kitty Carlisle

,

as

Radio Singer
Mercedes Ruehl

,

as

Ad Man
Tony Roberts

,

as

'Silver Dollar' Emcee
William H. Macy

as

Radio Voice

Reviewed on:
January 30th, 2001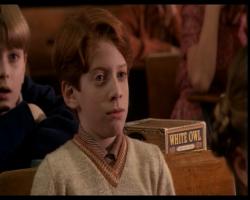 Seth Green in Radio Days.
The nostalgia in Radio Days is palpable. This hilarious and touching look at a family in far Rockaway, Brooklyn in the early 1940s as told through a series of radio stories is Woody Allen's most sentimental movie. It is also one of his most purely enjoyable. It is swiftly paced, moving from short vignette to short vignette with one main family as the thread holding it all together. This New York never really existed; it's a beautifully conjured dream of memory.
The cast does a brilliant job handling both the moments of high comedy as well as the subtler dramatic ones. Standouts are Julie Kavner as Mother, Michael Tucker as Father and the always-wonderful Dianne Wiest is Aunt Bea, hopelessly searching for Mr. Right. Mia Farrow gives a scene stealing turn as Sally White, dim-witted yet ambitious blonde who changes her ditzy gangster's moll accent into a cultured speaking voice. And in one of the funniest moments of the film momentarily forgets herself when inviting a room full of society people up to the roof of a building on New Year's Eve. She also has the most memorable line when she innocently asks, "Who is Pearl Harbor anyway?"
Other funny bits include two burglars who answer the phone of the apartment they have just broken into and wind up being contestants on the Name That Tune radio program. Which brings up the importance of music in Radio Days. You may not remember all of the old hit parade songs heard in this film but they nonetheless create the perfect ambiance to the setting and stories being told. One example is when Aunt Bea's new boyfriend bursts into tears when a certain tune comes on the radio. He goes on to explain that it was he and his fiancée's song. His fiancée's name was Leonard and after an uncomfortable silence she responds with "It's a nice song".
Then there is the scene where a neighbor goes crazy (to the tune of "Mairzy Doats") and runs out into the Brooklyn streets wearing only his undershirt and boxer shorts while brandishing a meat cleaver at passersby. Or the moment when we are shown that the heroic Masked Avenger is really some nebbishy looking schnook.
At the center of it all is the young Woody Allen character. The adult Allen, through voice-over narration, voices him for the most part. Two moments that stand out are when his family takes him to Radio City Music Hall for the first time and when he spots a German U-boat off the coast of Coney Island. He never tells anyone because no one would believe him, except for Biff Baxter.
This movie has more heart than we are used to seeing in Woody Allen movies and that, in my opinion, is what makes Radio Days so great.
Reviewed on:
January 30th, 2002
Mia Farrow in Radio Days.
Once upon a time, in 1987, I was bored and decided to go see a movie. Since I still lived at home then and didn't own a car, my choices of movies were limited to whatever two movies were showing at Le Bijou, the only theatre within walking distance of our house. I didn't know what was showing or even what time the movies started, never the less, I set out to walk the mile to the theatre. It was dark and it started raining as I walked. When I got to the theatre, I discovered that both movies currently showing were ones of which I knew nothing. I forget the name of the other, which is just as well, because it had already started. The other movie was something called Radio Days. I didn't know who was starring in it, nor did I have the slightest inkling of the plot. I only knew that it started in ten minutes, so I bought my ticket and went in to find my seat. I should have known by the simple white credits over a plain black background, which has become his trademark, but I didn't realize it was a Woody Allen film until I saw his name come up as director and heard his first voice over. I was a little leery, since many of Woody's films from the eighties were pretentious and not at all funny, but I need not have worried. By the end of the film, my walk in the rain had been justified and my faith in Woody Allen's filmmaking abilities had been restored. Of course, I did have that walk home to worry about.
As Patrick mentioned, Radio Days is one of Woody's most enjoyable films. It is also his most accessible work. Even non-fans of his could, in my opinion, enjoy this movie. This is a movie that is devoid of any pretension and is instead, sheer entertainment.
Patrick mentioned most of the characters but neglected to mention Seth Green as the young Woody, who is never explicitly named that in the movie. In fact, he is never called by name throughout the film. Seth Green is one of those child stars who managed to slip under the radar, never becoming famous enough to be overly noticed and has now found a place for himself playing odd roles such as; Scott Evil in the Austin Powers movies, and also appearing as a regular on Buffy: The Vampire Slayer. And although his role in Radio Days is certainly not the funniest one, that honor goes mainly to the memorable supporting cast, his performance is definitely worth mentioning.
I have another story about Radio Days that I'd like to share. When I first saw it, I was amused by the rapt attention the characters gave a news story regarding a young girl who had fallen into a well. The movie portrayed the scene as if the entire nation was caught up in the story of this one child's plight. I, with my eighties skepticism, scoffed at the notion that this could happen now. Of course, I was very surprised when only a few months later, a small child did fall down a well and did make national news, keeping everyone riveted to their television sets as the drama unfolded. I can't remember the child's name, but if you remember the year 1987, you'll remember the story I'm referring too. Shows what I know!
The most non-Woody Allen of all Woody Allen films, this is a classic comedy that captures, not a time period, but to quote Dickens, "I'm not going to tell you what happened, I'm going to tell you how I remember it." And that is exactly what Woody does, present us with a funny, and touching version of his childhood, not as it happened, but how he would like us to remember it.

Reviewed on:
January 30th, 2003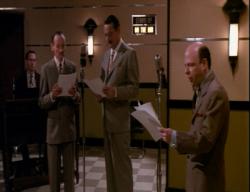 Woody Allen's Radio Days.
I first watched Radio Days on a recommendation from Scott. It was all he had said it was and more. Unlike so much of Woody Allen's 80' movies, this one does not disappoint.
This movie is two stories of two very different people who never meet in the film. The first one is of a young "Woody Allen" and his adventures with his family. The scene where he discovers what his father does for a living cracks me up. The second story is about a mousy nobody named Sally, who has the most annoying voice since Lina Lamont. Easily the most entertaining role I have ever scene Mia Farrow in. My favorite scene with her is when a goodfella is going to kill her, but first he takes her home to have dinner with his mother. "Have some more Cannoli honey. You're so thin. So where are you going to dump her body?"
The story with the young Woody Allen has an emotional edge that is missing from the second story. Scott mentioned the child down the well part. I find the scene where the narrator, Woody Allen, talks about the first and only time he ever saw his parents kiss to be quite touching.
This is a memoir of Allen's childhood as seen through the eyes of a film maker. The world we see is familiar. The family in this movie could be living next door to Ralphie and Randy from A Christmas Story. Where this movie stands unique is in the dual stories. Sally spends the whole movie trying to be something she is not. She improves her speech. She wants to be famous. Who is she trying to impress? The young Woody Allen gets in trouble with his family constantly, but no matter what, they are his family. The emotionally distant parents, the old maid of an aunt, the arguing aunt and uncle are all true to themselves and the family loves each other for all their faults.
This movie is to family what Annie Hall is to relationships.
Photos © Copyright Orion Pictures (1987)
Related Review