Movie Review
Race to Witch Mountain
The race is on.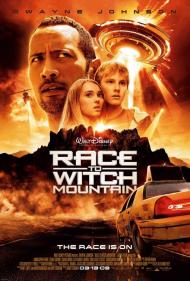 US Release Date: 03-13-2009
Directed by: Andy Fickman
Starring
▸
▾
Dwayne Johnson

,

as

Jack Bruno
AnnaSophia Robb

,

as

Sara
Alexander Ludwig

,

as

Seth
Carla Gugino

,

as

Dr. Alex Friedman
Ciarin Hinds

,

as

Henry Burke
Tom Everett Scott

,

as

Matheson
Chris Marquette

,

as

Pope
Billy Brown

,

as

Carson
Garry Marshall

,

as

Dr. Donald Harlan
Ike Eisenmann

,

as

Sheriff Antony
Kim Richards

as

Tina


Reviewed on:
March 14th, 2009
Sara, Seth and Jack race to Witch Mountain.
After recently watching Taken, I noticed that, although it is an action movie with some adult themes, it featured very little blood, swearing or sex. A good action movie just needs a good pace, and a sense of urgency. Race to Witch Mountain, although a family film, is another such example of action as a visual, yet harmless, pleasure.
Jack is a former convict with mob problems. His current job is driving a taxi, and when he gets two strange teenagers as passengers, his life becomes a series of chases and escapes. The teens are aliens looking for some data that will help save their planet, and prevent an invasion of earth. With the mob, men in black and an alien assassin in pursuit, the pace rarely slows down.
The movie climaxes with Jack and an alien enthusiast, Sara, rescuing the siblings from the clutches of the men in black from the titular Witch Mt. The alien assassin shows up and the four heros must make for their spaceship. The best line is when Jack asks the teens if they can drive it, and Seth assurse him, "How do you think we got here?" But jacks adds, "Well, you crashed, remember."
The movie makes plenty of pop culture references. Two storm troopers have a reacurring cameo. The kids from the original Escape to Witch Mountain movie show up as a waitress and a sheriff of a small town. Look for tons of product placements, from the sign on Jack's cab to everyone mentioning Planet Hollywood.
Dwayne (don't call him the Rock) Johnson has found a nice niche playing against kids. He is larger than life and seems very capable of fighting off hordes of men, but utterly baffled when dealing with kids. Robb and Ludwig are good as the alien children. They talk in direct intelectual jargon. Robb is a bit too cutesy as Sara, but Ludwig has a mean stare that makes him look like he is hiding a secret. At the beginning of the movie he looked thirteen but by the last scene he looked more like seventeen.
My sons both enjoyed Race to Witch Mt, and as they are now in their teens it is getting harder to find family films that they both like. Like the original Witch Mountain movie, I hope they make a sequel. An action movie that the whole family can enjoy is certainly worth revisiting.
Reviewed on:
August 22nd, 2009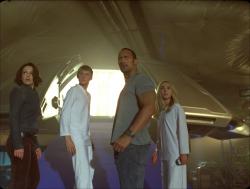 The cast of Race to Witch Mountain.
I only have vague memories of the original Witch Mountain movies. I never would have known the original stars were in this version if you hadn't mentioned it Eric. About the only memory I have of the originals is that Bette Davis appeared in one of them. Fortunately you don't even need to know this is a remake to enjoy it. Like you say Eric, this is a nice little movie that is fast paced enough so that any weaknesses that it has are gone from the screen before you can really focus on them.
Dwayne does do a good job playing his tough guy persona off of children, continuing his trend of appearing in family-friendly action movies. Maybe its because his initial fanbase was young boys and other wrestling fans and he wants to keep making content appropriate for them, but he has definitely shied away from R-rated, balls to the walls, blood-and-guts action movies. It works for him, but at times makes him seem neutered. You really didn't even need someone as big or muscular as him in this part as the fighting he's required to do is fairly minimal.
This is a light and simple movie (it's basically just one long chase) that keeps you entertained as it goes along, but it's not particularly memorable. The villains are pretty bland and stereotypical, except what is Tom Everett Scott doing in such a small part? How far has he fallen? It also contains very few suprises.
If they do make a sequel I probably will end up seeing it. I can't say I'd be racing to Witch Mountain again, but I'd probably at least make a leisurely stroll to it.
Reviewed on:
February 4th, 2010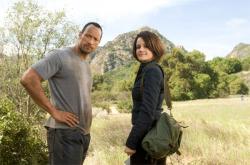 Dwayne Johnson and Carla Gugino in Race to Witch Mountain.
This isn't your father's Witch Mountain. The action and special effects bring the story into the new millennium. If you remember, the big action set piece of the original was the twins making Eddie Albert's motor home fly. Here, as my brothers already wrote, the action never really stops. This is indeed a Race whereas the 1970's version was an Escape.
Dwayne Johnson is not just a charismatic action hero with charm, a great smile and decent comic timing. He is also hot as hell. I could watch him watching paint dry and be at least mildly entertained. The one thing he is not so great at is when he tries to emote serious feelings. No matter, he is one of the few stars working today who possesses that ineffable ingredient known as Star Quality.
The problem with nonstop action is that it leaves precious little room for character development. The twins seemed more vulnerable in the original and that movie had a sense of mystery that is nowhere to be found in this updated model. But as far as 21st Century escapist Hollywood entertainment goes, Race to Witch Mountain isn't bad.
I thought the script made clever use of Kim Richards and Ike Eisenmann, the twins Tia and Tony (changed to Sara and Seth) from Escape to Witch Mountain, as the waitress and sheriff. It was a nice touch. By the way Scott, it was the sequel Return from Witch Mountain that Bette Davis was in.
Photos © Copyright Walt Disney Pictures (2009)
Related Reviews