Movie Review
Rabbit Hole
The only way out is through.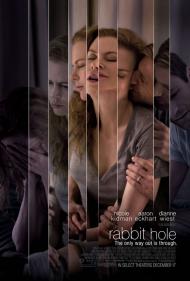 US Release Date: 12-17-2010
Directed by: John Cameron Mitchell
Starring
▸
▾
Nicole Kidman

,

as

Becca
Aaron Eckhart

,

as

Howie
Dianne Wiest

,

as

Nat
Miles Teller

,

as

Jason
Tammy Blanchard

,

as

Izzy
Sandra Oh

,

as

Gaby
Giancarlo Esposito

,

as

Auggie
Jon Tenney

,

as

Rick
Stephen Mailer

,

as

Kevin
Mike Doyle

as

Craig

Reviewed on:
December 31st, 2010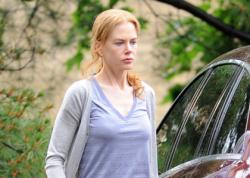 Nicole Kidman in Rabbit Hole.
Rabbit Hole is another one of those movies that I would never have seen if it weren't getting awards buzz. A movie about a married couple dealing with the death of their four-year-old son doesn't exactly sound like my idea of a good time. Surprisingly, I ended up enjoying it. Although it is sad, I never found it depressing and it even ends on a note of hope. It also contains some moments of humor. Granted, even the funny moments are dark and tinged with sadness, but they do help keep the mood bearable.
Nicole Kidman plays Becca, a woman living in a very nice, rambling old house in Yonkers, NY with her husband Howie, played by Aaron Eckhart. Eight months before the movie starts, their only son was killed when he chased their dog into the street and into the path of an oncoming car. Neither Becca nor Howie are handlng their loss very well, but instead of working through it together, Becca has repressed all of her emotions and Howie won't let go, but is at least more external about it. This is causing a rift between them and their marriage is slowly and quietly disintegrating.
By setting the story many months after their son's death, the movie begans at the point when life is taking on a semblance of normalcy. The shock of his death is over and now it's time for both of them, but Becca in particular, to learn how to live again.
I know that description sounds overwhelmingly depressing, but somehow mixed into all that there are moments of humor. It's not the kind that will make you laugh out loud, but smile occasionally and it eases the drama. The script is very well written and feels real. It's still Hollywood real, but it feels real and the characters seem true to life.
Kidman delivers a great and Oscar worthy performance. She gets my vote for Best Actress and she does it by underplaying the part with just one or two scenes where she really lets go. You are always aware of what she's feeling and going through, even when (or because) she's doing her best to keep her emotions under wraps. Although Kidman dominates the film, there's not a bad performance in the bunch. Eckhart is very good, as is Diane Wiest as Becca's mom.
You could easily dismiss this movie as a Lifetime movie of the week kind of thing, or as a depressing tearjerker, but that would be to undercut one of the best small movies of the year. And one that, despite its somber premise, manages to deliver a feeling of hope by the end of it.

Reviewed on:
December 7th, 2011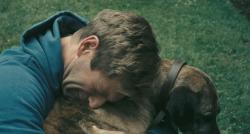 Aaron Eckhart gives the dramatic performance of his career in Rabbit Hole
Everyone grieves at their own pace and in their own way. Becca simply needs to get on with life on her terms. When at the support group for couples who have lost a child, another couple says, in mid cry, that their child died because God needed another angel. Becca blurts out, "Why does he not just make one?" Her mom tells her she sought out comfort from the church when she lost a loved one. Becca snaps at her, "That's you. that's not me."
Becca starts healing by giving away her deceased son's clothes. She wants to move to get away from the memories trapped in their house. Her husband, Howie, wants to stay put and try for another child. She turns cold when he wants to have sex. They have not been intimate since before their son's death, eight months earlier. The question then becomes will they get past their grief in time to save their marriage.
She happens to see a teenage boy on a school bus and starts following him around. They eventually talk and we discover who he is. She seems strangely comfortable with him. Their conversations become her best form of therapy.
The humor Scott mentioned hits a dark note when Howie attends a support meeting after smoking some weed. The mood does a 360 with the following scene. Eckhart gives his finest dramatic moment. He confronts Becca yelling such things as, "He loved that dog and you got rid of it!" and "You have to stop erasing him!" I have never noted before what a good actor Eckhart truly is.
Scott rightfully praised Kidman's performance while I was very impressed with him. At about the hour mark we see Becca laugh for the first time. It is a real sign of her recovery. Howie meanwhile has yet to catch up. He explodes at the teen and hurts his dog. Becca pushes away those who want to help her while Howie desperately wants to connect with her.
I cannot imagine a pain worse than losing your own child. As a parent, Rabbit Hole took me to a place I never wanted to visit. As it has an honest ending, I am glad though that I did.
Reviewed on:
March 8th, 2012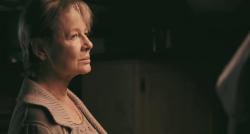 Dianne Wiest in Rabbit Hole.
An excellent cast delivering the well-scripted dialogue from the Pulitzer Prize winning play by David Lindsay-Abaire (he also adapted the screenplay) makes for a riveting dramatic motion picture. I agree with my brothers that Rabbit Hole leaves quite an emotional footprint. I'm not a parent but the thought of losing a child terrifies me. It goes against the natural order of things. This movie forces you to face the issue head on.
Scott raved about Nicole Kidman's performance while Eric was pleasantly surprised to discover Aaron Eckhart's considerable acting chops. My personal favorite performance in the movie goes to Dianne Wiest. Her scene with Kidman in the basement where Becca asks her mother if the pain (of losing a child) ever goes away, is superb (see photo). Wiest quietly explains, "At some point, it becomes bearable. It turns into something that you can crawl out from under and... carry around like a brick in your pocket. And you... you even forget it, for a while. But then you reach in for whatever reason and - there it is." She's a simple woman waxing eloquent on a topic she understands well, as she lost a son – Becca's brother – 11 years before.
Becca is the type of woman used to being in control. Her son's death makes her feel helpless. This frustration adds to her inability to deal with her grief as it is something she is absolutely powerless to change. She is also a bit of a snob. She feels superior to her younger sister and her mother as well as the other couples at the support group. She is jealous of the fact that her sister is pregnant.
Howie is less emotionally complicated and therefore better able to face the loss. He just wants to hold on to the memories of his son. Eric mentioned the powerful scene where he freaks out because he thinks his wife intentionally erased a video of Danny from his phone. Eckhart really brings the goods to this role.
Rabbit Hole takes a realistic look at a simple human tragedy. With such a sad subject matter it wisely doesn't overstay its welcome or belabor any points. It merely takes us into the everyday world of these characters as they begin to pick up the pieces of their shattered lives after experiencing every parent's worst nightmare. Keep some tissue handy, you'll need it.
Photos © Copyright Lionsgate (2010)
Related Review