Movie Review
Quo Vadis
Three Years in the Making! Thousands in the Cast! Filmed in Rome!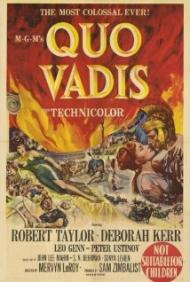 US Release Date: 12-25-1951
Directed by: Mervyn LeRoy
Starring
▸
▾
Robert Taylor

,

as

Marcus Vinicius
Deborah Kerr

,

as

Lygia
Leo Genn

,

as

Petronius
Peter Ustinov

,

as

Nero
Patricia Laffan

,

as

Poppaea
Finlay Currie

,

as

Peter
Abraham Sofaer

,

as

Paul
Marina Berti

,

as

Eunice
Buddy Baer

,

as

Ursus
Felix Aylmer

,

as

Plautius
Nora Swinburne

,

as

Pomponia
Ralph Truman

,

as

Tigellinus
Norman Wooland

,

as

Nerva
Peter Miles

,

as

Nazarius
Geoffrey Dunn

,

as

Terpnos
Nicholas Hannen

,

as

Seneca
Walter Pidgeon

,

as

Narrator
Sophia Loren

,

as

Lygia's Slave
Elizabeth Taylor

,

as

Christian Prisoner in Arena
Bud Spencer

as

Imperial Guard
Reviewed on:
February 1st, 2014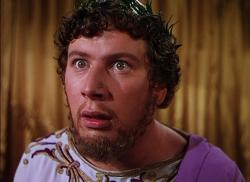 Peter Ustinov as the Emperor Nero in Quo Vadis.
Quo Vadis is often credited with launching the historical epic craze that swept Hollywood in the 1950s (along with DeMille's Samson and Delilah from 2 years earlier). Its larger than life spectacle, cast of thousands, and gaudy Technicolor splendor was intended as an alternative to the growing threat of television (in 1953 CinemaScope would add the widescreen aspect ratio to Hollywood's arsenal of weapons in the ongoing battle).
Quo Vadis (based on the classic 1895 novel by Henryk Sienkiewicz) had a long history on film. The feature length 1913 Italian version was the first true historical epic ever made for the big screen. It was so popular around the world that when it premiered in America in 1914 it became the first movie ever to play in a legitimate Broadway Theater at a then unheard of price of $1.00 a ticket. This was a full year before Griffith's The Birth of a Nation would launch the Hollywood epic.
This MGM production also had a long history. The rights were acquired in the late 30s with the original idea of casting Orson Welles and Marlene Dietrich as the lovers, with Charles Laughton as Nero. WWII put the project on indefinite hiatus. Then in 1949 it was announced that Gregory Peck and Elizabeth Taylor would head the cast under the direction of John Huston. When the movie finally reached theaters in late 1951 it starred Robert Taylor and Deborah Kerr, with Peter Ustinov hamming it up as the Roman Emperor, and Mervyn LeRoy directing.
Quo Vadis (Latin for "Whither goest thou?") tells the story of a Roman general (Taylor) who falls in love with a Christian hostage (Kerr). It is set during the reign of Nero and includes the famous burning of Rome in AD 64. According to this movie, although there is no historical evidence to confirm it, Nero ordered Rome burned in order to rebuild the city to suit his own grandiose plans. Saint Peter (Finlay Currie) is shown leading the fledgling Christian religion against the might of Rome. The story climaxes in the arena where Christian slaves are thrown to the lions.
Quo Vadis was the biggest moneymaker of 1951 and MGM's biggest hit since Gone with the Wind a dozen years earlier. It was nominated for 8 Academy Awards (although it won none) including Best Picture and two for Supporting Actor, Leo Genn as Petronius, and Peter Ustinov for his flamboyant turn as Nero. Both men were deserving of the award and for opposite reasons.
Genn gave a superbly restrained and dignified performance as the world weary Petronius. His final letter to Nero is worth quoting here. It ends with these lines, "Fare well, but compose no more music. Brutalize the people, but do not bore them, as you have bored to death your friend, the late Gaius Petronius." Ustinov looks the picture of the petulant tyrant (see photo), gleefully playing his lyre as Rome burns below him. He plays the part to the hilt and his madness provides the menacing center around which the movie revolves.
Robert Taylor, the lone American in the main cast, sounds more like an army sergeant than a Roman general as Marcus Vinicius. No longer a young man his too pretty features had taken on a rugged handsomeness that fit the role like a glove. He handles both the action sequences and the romantic moments equally well. Deborah Kerr was unknown in America at the time. Her quiet combination of pious innocence and earthy seduction is exactly what the part of Lygia called for.
The magnificent splendor of this production includes a record 32,000 different costumes. It was filmed on location in Rome and at the newly refurbished Cinecittà Studios. If you look carefully you may be able to spot Sophia Loren (making her American film debut) and Elizabeth Taylor, both in uncredited cameos as Christian slaves. Quo Vadis is a quintessential historical epic that holds up remarkably well more than 60 years after it was made.
Photos © Copyright Metro-Goldwyn-Mayer (MGM) (1951)