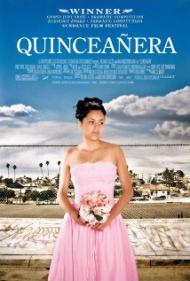 US Release Date: 08-02-2006
Directed by: Richard Glatzer and Wash Westmoreland
Starring
▸
▾
Emily Rios

,

as

Magdalena
Jesse Garcia

,

as

Carlos
Chalo Gonzalez

,

as

Tio Tomas
J.R. Cruz

,

as

Herman
David W. Ross

,

as

Gary
Alicia Sixtos

,

as

Eileen
Jesus Castanos-Chima

,

as

Ernesto
Jason L. Wood

,

as

James
Rebecca Lopez

as

Wendy
Reviewed on:
January 26th, 2015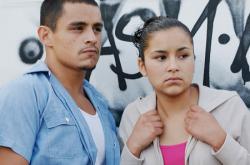 Jesse Garcia and Emily Rios in Quinceañera.
Quinceañera is a coming of age drama from the first decade of the new millennium. It takes place in 2005 in Echo Park, Los Angeles; a neighborhood then in the process of gentrification. Magdalena is preparing for her Quinceañera (a traditional Latin American celebration symbolizing the passage from girlhood to womanhood upon turning 15) when she discovers she's pregnant – even though she has never had fully penetrative intercourse with her boyfriend, Herman. After her father refuses to believe she's still a virgin, Magdalena runs away to stay with an old uncle named Tio and her black sheep cousin Carlos – who is busy discovering his own sexuality with the gay couple who own the building they live in. Together Tio, Carlos and Magdalena create their own happy family unit, until fate tragically intervenes.
The dialogue is in English and Spanish, and sometimes a combination of the two commonly referred to as Spanglish. The movie's central issues of teen pregnancy and homosexuality are handled deftly. Carlos and Magdalena are shown as average teenagers in the process of making the difficult transition to adulthood. Both of them are dealing with adult situations despite the fact that they remain quite immature. Here's a typical conversation between them.
Magdalena: You're such a loser. Smoking pot in the afternoon, and watching cartoons.
Carlos: Look who's talking... 14 and pregnant.
The one thing they share is the fact that they are both social outcasts in their family. They accept each other for who they are and quickly form an us against the world mentality. Emily Rios and Jesse Garcia are both terrific as these young cousins trying to find their way in life. Chalo Gonzalez is also wonderful as Uncle Tio. He's the friendly old guy in the neighborhood that everyone knows and loves. He's one of those people that others are just naturally drawn to. No one ever has a bad word to say about Uncle Tio.
Quinceañera takes us into the lives of teenagers living in the United States but growing up in a community most Americans will never experience firsthand. This is best summed up in a scene between Carlos and Gary (one half of the gay couple). Carlos shows Gary how to make gang signs that represent Echo Park...
Carlos: Be careful you don't flash that around Temple Street, though.
Gary: They're the rival gang, right?
Carlos: They'd kill you.
Gary: Wow. You really live in a whole other world, don't you?
Carlos: Nah... you do.
Quinceañera paints a colorful portrait of life in a mostly Mexican/American community in the first decade of the new millennium. The cell phones and fashions in the movie will be forever of their time but the experience of adolescence is eternal and universal. Therefore, Quinceañera is a movie that should continue to resonate with each succeeding generation.
Photos © Copyright Sony Pictures Classics (2006)