Movie Review
The Quiet Man
Passion and Romance Set Against the Windswept Beauty of Ireland!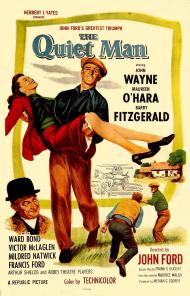 US Release Date: 07-21-1952
Directed by: John Ford
Starring
▸
▾
John Wayne

,

as

Sean Thornton
Maureen O'Hara

,

as

Mary Kate Danaher/Thornton
Barry Fitzgerald

,

as

Michaleen Flynn
Victor McLaglen

,

as

Squire Will Danaher
Ward Bond

,

as

Father Peter Lonergan
Mildred Natwick

,

as

The Widow Tillane
Patrick Wayne

as

Boy on wagon


Reviewed on:
August 3rd, 2003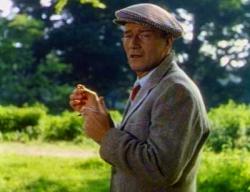 John Wayne in The Quiet Man.
John Wayne was so often a cowboy or a soldier that it is a nice change to see him in a different role. The Quiet Man is his best change of pace. This is his most romantic movie. Not to worry though, this is definitely a guy movie that culminates in a famous fight scene.
Wayne plays former boxer, Sean Thornton. He returns to Ireland after killing someone in the boxing ring. Not wanting to share his secret, he hangs up his gloves and attempts to settle down to a peaceful life. However, Mary Kate (Maureen O'Hara) catches his eye and he soon has another motivation in life, and another reason to fight.
ET made one scene from The Quiet Man famous. The symbolic scene of Sean and Mary Kate kissing during a storm. Their relationship is definitely stormy. The last half hour of this movie is classic as Sean decides that he must again fight to gain his wife's and his own self respect.
Sean literally drags Mary Kate across the Irish countryside to demand that her brother, who had attempted to keep them apart, pay the money that he owes them. Upon receiving the money they immediately burn it in front of the brother. Mary Kate realizes that this action will lead to a fight and recognizes that her husband is going to stand up to her brother. She then announces, with a smile of satisfaction, that she will have supper waiting when he gets home. She then saunters off, happy as a clam, even though she was just moments before embarrassingly dragged in front of a crowd of people.
What follows is one of the most classic fight scenes in film history. The entire population of the town follows Sean and his brother-in-law around as they duke it out. The local preacher makes bets and the pub owner hangs a humorous 'out for tea' sign on his door so he can go watch the fight.
Movies like The Sound Of Music and Lawrence Of Arabia would later make full use of on location filming. The Quiet Man was one of the first color films to actually make the scenery in a movie so vastly important to the film. It is just too bad they didn't entirely film the movie on location. In several scenes it is obvious that the actors are on a sound stage.
This movie is somewhat of a St Patrick's Day tradition. The scenery, the drinking and the Irish songs help make it so. Even if you don't celebrate St. Patricks day, you should still find some time to watch this classic Wayne movie.
Reviewed on:
February 9th, 2004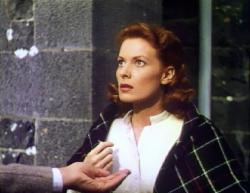 Maureen O'Hara in The Quiet Man.
Eric is right when he calls this one a classic. The Quiet Man is a great film and my favorite John Wayne movie.
It is definitely a change of pace for John Wayne, and also for director John Ford. Reportedly they were only allowed to make the movie, which the studio referred to as a 'silly Irish story that won't make a penny', because Ford, Wayne, and O'Hara agreed to also make a western together for the studio (Rio Grande). We should all be grateful they were allowed to though, since the result is this funny and romantic movie.
In the end Ford got the perfect vindication for his determination. It went on to be nominated for a Best Picture Oscar, and although it lost to The Greatest Show on Earth, he went home with the Best Director statue for himself. The movie also won for cinematography.
This movie always gives me a peaceful feeling. I think it has something to do with all the shots of green Irish countryside and the silence of many scenes. Often, when Sean first sees Mary-Kate for example, entire moments are played without dialogue. When Mary-Kate and Sean steal the bicycle and ride off into the hills and into the old graveyard where they share the kiss that Eric mentioned, again there is no dialogue. And none is needed. The actions and the mood carry the scenes beautifully.
Apart from the two leads, there is also a large and likable supporting cast. I always particularly enjoy Barry Fitzgerald (most famous for playing the old priest in Going My Way) as Michaleen Flynn, the local matchmaker. But everyone, even in the smallest part, is given distinct character traits that really make the little Irish village seem as though it is a real place and one you would like very much to visit.
As Eric mentioned, this movie is something of a St. Patrick's Day tradition, and one that I try, at least once a year, never to miss.
Reviewed on:
September 4th, 2004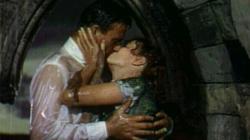 John Wayne and Maureen O'Hara in The Quiet Man.
Great movie, great acting, great cinematography. John Wayne and Maureen O'Hara are the perfect match and I can think of no other actors who could have played these roles better, although Gary Cooper was originally offered the part of Sean Thornton. Like the Duke, Cooper was known for playing strong silent types but, although both of them were well into middle-age at the time, Wayne was much more youthful looking and therefore more right for the role. As for Maureen O'Hara, I have always felt that she was underrated as an actress. Not only was she a strikingly beautiful woman (still is for that matter) but she was also a fine comedienne. Her greatest successes came opposite Wayne and they would eventually star in five movies together.
The scene Eric mentioned that was featured in E.T. is indeed a classic movie moment and one of the most romantic kisses in screen history. I wonder how many takes it took to get it right. John Ford certainly had a great eye. The colors in this movie are wonderful. There are many shades of green and Mary Kate nearly always has on something red, which matches her fiery hair and offsets the emerald hills and meadows in the background.
What I like best about the movie is the slow build up to the final fisticuffs. You know from their very first meeting that Sean Thornton and Will Danaher are on a collision course. The entire community is, in fact, waiting with bated breath for it to happen, all of them hoping Sean will be the victor. The marriage between Sean and Mary Kate cannot even be consummated until Sean stands up to her older brother. You get the feeling that even Will Danaher himself is, in some small way, rooting for Sean and his sister's happiness. At least as evidenced by the final scene where the two men come staggering happily home, arm in arm, to the woman they love, singing at the top of their lungs.
Scott mentioned that John Ford won the Best Director Oscar for this movie. What he didn't say was that this was his fourth such award. A record that still stands to this day.
Photos © Copyright Republic (1952)
Related Reviews