Movie Review
Queens
Here come the grooms...and their mothers!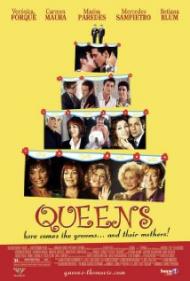 US Release Date: 08-25-2006
Directed by: Manuel Gomez Pereira
Starring
▸
▾
Veronica Forque

,

as

Nuria
Carmen Maura

,

as

Magda
Marisa Paredes

,

as

Reyes
Mercedes Sampietro

,

as

Helena
Betiana Blum

,

as

Ofelia
Gustavo Salmeron

,

as

Hugo
Unax Ugalde

,

as

Miguel
Hugo Silva

,

as

Jonas
Daniel Hendler

,

as

Oscar
Paco Leon

,

as

Narciso
Raul Jimenez

,

as

Rafa
Tito Valverde

,

as

Hector
Lluis Homar

,

as

Jacinto
Jorge Perugorria

,

as

Cesar
Gines Garcia Millan

as

Nestor

Reviewed on:
February 3rd, 2014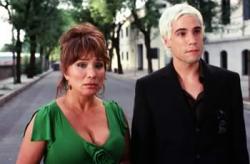 Betiana Blum and Unax Ugalde in Queens.
Queens (Reinas) is a delightful screwball comedy from Spanish writer/director Manuel Gómez Pereira. It takes place in Madrid shortly after same sex marriage was legalized in Spain and it concerns the lives of three male couples who are to be wed as part of a symbolic group wedding ceremony. In a twist on stereotypes, the title doesn't refer to these gay men but rather to their overbearing mothers who bring plenty of drama to the occasion. Queens is, first and foremost, their story.
This comedy moves at breakneck speed and includes several flashbacks, and flashbacks within flashbacks. The story jumps around to the different couples and their mothers (with a few fathers along for the ride in smaller roles). The mothers are played by some of Spain's most celebrated actresses.
Marisa Paredes plays a famous actress. She is a snob who disapproves of her son's impending nuptials to her gardener's son. Her name is Reyes but she is identified at one point as Carmen Maura. The joke being that the real Carmen Maura is also in the movie.
Maura plays the owner of the hotel where the same sex wedding ceremony is to be held. Her son, meanwhile, is dealing with his mother-in-law to be, newly arrived from Argentina with her large sheep dog in tow (the least known woman of the bunch she is played by Argentine actress Betiana Blum (see photo)). She has come for her son's wedding but surprises the young couple with the news that she is staying for three months. The dog causes all kinds of trouble from the moment it arrives and pees on an expensive carpet.
The third couple are having troubles of their own. The mother of one of them -played by Mercedes Sampietro- is disapproving of same sex marriage but she also happens to be the judge who will preside over the ceremony. Her son's husband-to-be has a sex-addict mother (Verónica Forqué) who ends up sleeping with her future son-in-law in one of the movie's most outrageous plot developments.
All of the antics and shenanigans come to a head at the group bachelor party the night before the ceremony. The cast is terrific and it is refreshing to see a movie with gay characters who don't exhibit stereotypically swishy mannerisms. These six actors play their parts as regular guys who just happen to be gay. Queens is a well-made farce with plenty of laughs and a bit of heart too.

Reviewed on:
February 5th, 2014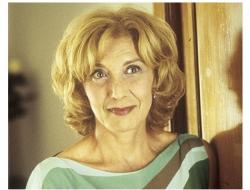 Marisa Paredes in Queens
Queens is, as Patrick wrote, a delightful comedy. He and I have had the whole gay marriage debate many times over, and although this film slips some politics into the mix, it focuses as much on the entertainment as it does on a social statement. The moms take center stage as they all deal, in different ways with the impending nuptials of their gay sons. In fact, this movie is barely even about the boys. It is the moms who grow from the events of this film.
At first we think that Reyes is against her son marrying the son of the gardener because the gardener is below them socially. In truth, she is in love with the gardener and more confused by how to deal with her feelings for him than her son's decision. Their love story is a cliché but it plays out sweetly.
Magda is caught in a web of lust. She is married but is having an affair with the head cook at her hotel. He is also in charge of the staff union. My favorite scene of theirs is when they are negotiating a raise for the staff while having sex.
Ofelia is the most common of the group. Unlike everyone else, she is not having an affair or sex of any kind. At first she seems intrusive but we come to discover that she is very lonely. She and her son's intended are at odds from the start. She never means for anything to go wrong, but it does continuously. By the end of the film her future son-in-law has come through for her and she has come through for his mother. This is a romantic comedy. I am not giving anything away.
Queens is about the journey and not the destination. The point of the film is that all couples have issues and all people struggle to find someone and keep someone. None of the couples depicted here, whether gay or straight, have a cut and dry fantasy relationship. All have some sort of hurdle, or hurdles, to get over. The most unique problem being when one of the grooms, Hugo, becomes traumatized after having sex with a woman.
Yeah, I know, that could be considered a social statement, but it can also just be considered common sense. The most blatant statement comes at the end when one of the moms meets some anonymous gay man on a train who says that he recently lost his partner who wanted very much to get married. Perhaps I am warming to the idea of gay marriage. I know that pleasant movies like this are far more persuasive than in your face protestors screaming that I have to see things their way or be considered a homophobe. It is all about how the message is delivered and in the case of Queens, the message comes with some smiles, laughs and some sweet sentiment.
Photos © Copyright Warner Bros. Pictures de Espana (2006)