Movie Review
The Queen of Versailles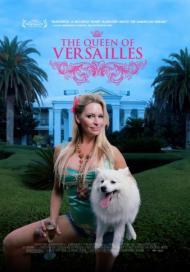 US Release Date: 07-06-2012
Directed by: Lauren Greenfield
Starring
▸
▾
Jackie Siegel

,

as

Herself
David Siegel

,

as

Himself
Virginia Nebab

as

Herself - Nanny

Reviewed on:
January 25th, 2013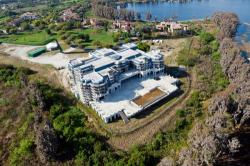 The unfinished largest single family house in America in The Queen of Versailles.
Although it was overlooked by the Academy in the Best Documentary Feature category, The Queen of Versailles did win the U.S. Directing Award at the 2012 Sundance Film Festival, the Grand Jury Prize from the Brisbane International Film Festival, a Best Director Award from the RiverRun Film Festival, and the Special Jury Documentary Feature prize from the deadCenter Film Festival, as well as being nominated for Best Documentary Film, 2012 by the International Documentary Association. Not bad.
In a nutshell the movie tells of Jackie and David Siegel and their dream to build the largest, most expensive single family house in the United States. It's designed to resemble the famous French palace, hence the title of the movie. The house is being built in Florida and in many ways recalls Xanadu, the famous abode built by Charles Foster Kane in Citizen Kane.
Like Charles Kane the Siegel's love ostentation. Jackie proudly shows off a warehouse filled with five million dollars worth of marble imported from China. The house includes a bowling alley, a movie theater and an entire wing for the children (Jackie and David have seven young children, while the much older David has six grown kids from his first marriage). The finished house will boast 90,000 square feet of living space. The grounds will include two tennis courts and a full-sized baseball field that will double as a parking lot during parties.
What would have been a simple documentary about one incredibly wealthy family's endeavor to build a huge tacky house becomes gripping drama when the financial crisis of 2008 brings the Siegel's business to a screeching halt. David Siegel built the world's largest time share business including a brand new tower in Las Vegas. But virtually overnight he is forced to lay off seven thousand workers and finds himself struggling just to keep his company solvent. Construction on the new mansion is halted as the family deals with cutting back and economizing for the first time.
Jackie at first comes across as a shallow, vain, not very bright, former Miss America with fake boobs and poor taste in clothing and home furnishings. Here are a few out of touch comments made after the money train runs out. When her family is forced to fly on a commercial flight for the first time, one of her young songs asks, "Mommy, what are all these people doing on our plane?" When Jackie rents a car at the airport she asks the clerk at the the counter what her driver's name is as if a chauffeur comes with the car.
Eventually she shows her humanity by helping her husband's discharged employees by opening a thrift store with personal items from their home as well as from many of her husband's hotels for sale on the cheap. For the first time Jackie admits to thinking of others besides herself and her family. Of course this doesn't stop her shopping addiction. She is still shown filling several shopping carts with toys she can no longer really afford. Once home the nanny is shown putting a brand new bicycle in a garage that is already filled with literally dozens of bikes of all sizes. Clearly this woman cannot help herself.
Jackie's teenaged niece comes to live with them. She had been living in poverty, her bedroom was in a basement with a dirt floor. She has the most telling line in the movie when she comments about how it seemed like paradise when she first came to live with her aunt's family but once you get used to being rich you just want more and more material things. Hmm, imagine that.
David Siegel is shown as a man obsessed with his business and with being a big shot. He brags about how he single-handedly got George W. Bush elected and re-elected. He is the type of man that made sure the lights on the sign on his signature Las Vegas hotel were the brightest lights on any building in Vegas. I mean really, who cares about such things?
The Queen of Versailles shows how one family achieved the ultimate American dream only to have it threatened by a financial crisis. Jackie, David and family (including their loyal nanny) are shown as real people. Director Lauren Greenfield does a good job of not editorializing much. For the most part she lets this real American family speak for themselves and the results are fascinating.

Reviewed on:
February 2nd, 2013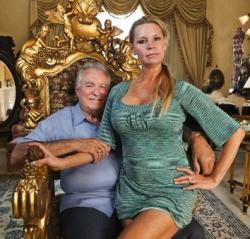 David and Jackie Siegel
I actually enjoyed this film far more than I expected to. Whereas I thought it would just be about a rich woman dealing with a common world, it turned out to have a far more dynamic story line. Patrick wrote heavily about Jackie, she is the main player in this documentary, but I was more interested in David's story.
At the beginning David is a man on top of the world. He is shown sitting on a large throne like chair with his busty wife proudly posing with him. He literally smirks when he talks of getting Bush elected. He comes within a hairs breath of indicting himself on voter fraud. That shows just how powerful and untouchable he feels at that point. He has more money and influence than he knows what to do with.
His pet project is Miss America pageants. Clearly he has an eye for beautiful women. He has the whole group of contestants come to his home every year. When his wife turned 40 he told her he was going to trade her in for two 20 year olds. It is no wonder, at 43, that she dresses like a high priced whore. She is competing with the next Mrs Siegel, whomever that may turn out to be. Jackie is David's third wife.
We are told several times that Jackie went to college and received some degree in engineering. At no point are we ever shown David treating her as if she has any sort of brain, and for that matter Jackie rarely demonstrates much intellect herself. Even though she says they lost money, she seems to act as if it has not set in yet. Patrick mentioned some of her stupid quotes and ridiculous shopping habits. One of her expenses is getting skin treatments and beauty prep, that must cost all kinds of money. Jackie may seem dumb but she knows one thing with all certainty; her looks are what keeps her attached to her husband.
After 75% of the servants are fired, the house starts to become a dump. Dishes collect in the kitchen and clothes are left all over the floor. Jackie herself tells us how she came from humble beginnings and has had to work dirty jobs. However, the years of pampering have clearly spoiled her. We never see her clean a single dish or pick up a piece of littered clothes.
Near the end we have a scene of David taking dinner alone in his den, surrounded by piles of paperwork. He is upset that every light in the house was left on. This is the most dramatic scene in the film. Any wife who felt on an equal level with her husband would have snapped back something to the affect of, "If you want them off go turn them off yourself." Jackie however, is visibly scared of her husband's bad mood. She plays dumb saying something to the affect that she did not know. It does nothing to placate him so she shoves her son into David's den telling the sacrificial lamb to tell his father that he loves him. David comes back with something like, "If you really loved me you would have turned off the lights."
The oldest daughter rushes into the den and lays into her father about being mean. Sure, she is defending her mother and brother, but she has no clue just what kind of stress her father is under. Here was a man who was building the largest home in the country but has since been reduced to worrying about the electricity bill. None of his selfish family members pick up on just how bad things have become for them. David is shouldering this stress alone and getting grief for it.
Later, Jackie states that she knew their finances were bad but had no idea just how bad. If ever there was a story of enjoying what you have instead of worrying about what you do not, it is theirs. At the beginning of the film David and Jackie are utterly unlikable. He is an arrogant blow hard and she a trophy wife. By the end they became very fragile and oh so real. I sympathized with them and wished them a wind fall.
Photos © Copyright Evergreen Pictures (2012)