Movie Review
Queen Kelly
The incomplete masterpiece.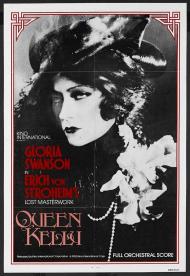 US Release Date: 01-01-1929
Directed by: Erich von Stroheim
Starring
▸
▾
Gloria Swanson

,

as

Kitty Kelly
Walter Byron

,

as

Prince Wolfram von Hohenberg Falsenstein
Seena Owen

,

as

Queen Regina V
Sidney Bracey

,

as

Prince Wolfram's Lackey
Wilhelm von Brincken

,

as

Prince Wolfram's Adjutant
Tully Marshall

as

Jan Vryheid

Reviewed on:
January 1st, 2001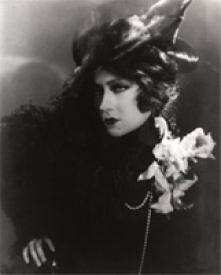 Gloria Swanson in the unfinished Queen Kelly.
Legendary silent director Erich von Stroheim and legendary silent movie star Gloria Swanson made almost one movie together. Production on the ill fated Queen Kelly was halted only one third of the way through the script. The sudden popularity of talkies added to the mounting expenses caused by the extravagance of the eccentric filmmaker led the producers, Joseph Kennedy and Swanson herself, to abandon the project midway.
What remains today is an incomplete masterpiece. The attention to lavish detail is truly amazing. Like other von Stroheim vehicles this one would have run very long, nearly five hours in fact. Only about 100 minutes of film exist today.
Queen Kelly tells the story of a young convent girl who meets Prince Wolfram von Hohenberg Falsenstein the consort of the mad Queen Regina V of Kronberg. He meets her walking along a country rode with the other nuns in the convent. When he points out, with a laugh, that her unmentionables have fallen around her ankles, she angrily takes them off and throws them in his face. He is instantly smitten by her charms. So much so that later that night, after the Queen has announced that their wedding shall take place the very next day, he sneaks out of the castle, goes to the convent, abducts the sleeping girl and stupidly, brings her back to the palace. In the midst of falling in love they are interrupted by the Queen. In a rage she sends the Prince to prison and mercilessly whips the young girl with a riding crop.
From here the story jumps to Kelly being sent to Africa to take care of her dying Aunt. Kelly quickly learns that 'missionary' was just a front for 'whorehouse' and that she is now in the clutches of wicked people. Only a small bit of this section of the movie was completed. Through sub-titles we learn that the Prince eventually gets out of prison, learns of Kelly's whereabouts and comes to her rescue. By now she is the ruling Madame, known as Queen Kelly because of her regal arrogance (Alas, no actual film survives of Gloria in her whore get-up, only a few stills). In a Hollywood twist the Prince forgives her and when they learn that the Queen has been assassinated they return together in glory to take over the throne.
When Norma Desmond says her famous line "We had faces then." in Sunset Boulevard it is a scene from Queen Kelly that she is watching. Even more ironically, von Stroheim as Max is running the movie projector.
Thankfully today we have at least part of this flawed yet intriguing movie in a newly restored version.

Reviewed on:
October 18th, 2011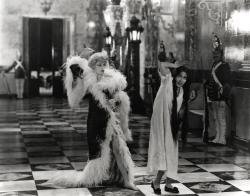 Seena Owen and Gloria Swanson in Queen Kelly
Patrick is right, the attention to lavish detail is truly amazing. The dinner scene where Prince Wolfram learns he is to marry Queen Regina the next day is packed with people, candles and ornate tableware. Stroheim certainly had an eye for elaborate set decoration. This sometimes created fascinating scenes but it also helped to slow the movie to a crawl.
One of the first scenes is also one of the most memorable. A naked blonde Queen Regina sits on her bed before walking to the balcony holding her cat against her bosom. Madonna would film similar scenes for her Express Yourself video some sixty years later.
Gloria Swanson was thirty years old when she made this film and she looks it, especially in her first scene where we are to believe that she is an innocent orphan living in a convent. She looks better, and a bit younger in the scene where the Prince tries to seduce her in his room.
In these early scenes it is Seena Owen as Queen Regina, who out emotes and out shines Swanson. She goes berserk chasing Kelly out of the palace, whipping her with a riding crop yelling such lines as, "You think you can share the Queen's bed?"
Although the scenes of Kelly at the whorehouse are incomplete, they are some of the more entertaining. When Kelly first arrives a title card describes one sickly girl as, "...unmistakably a lady of the horizontal profession." With only stares and glances between an incredibly creepy crippled guy, Kelly and her madam aunt, Kelly learns what is to become of her, and it is not good.
I got the impression that Swanson's best scenes were yet to come in the unfinished movie. The stills showing her made up as a madam are a nice contrast to her convent days. Swanson made a better vamp than she did a virgin. She likely would have shined in those later scenes, but we will never know.
Reviewed on:
March 24th, 2012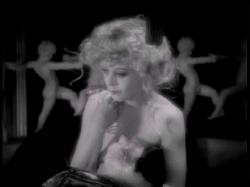 Seena Owen in Queen Kelly.
Certainly the production values were high on this film, particularly at the palace where it appears that they actually built one. There are plenty of extras as well. Just look at how many soldiers ride down the road by an equally large number of nuns, each of them immaculately costumed. It's apparent that very little expense was spared.
My reaction to Von Stroheim was mixed. He put a lot of effort into the look of the film and the editing, panning and camera placement were all fairly sophisticated. The opening scenes are even entertaining as the Prince and the Convent girl meet in a cute and even mildly risque manner as she throws her underwear at his face.
The smaller, more intimate scenes however, are very poorly done. Von Stroheim has the annoying habit of shooting closeups where the actors stare directly into the camera and emote to it. This is a technique you sometimes see in very early silent films, but not by 1929. The acting, even by the legendary Swanson, also feels old fashioned. Other films in the late silent era show acting that is much more natural and lifelike, but again here, most notably in the closeups, the actors ham it up and over emote. Tully Marshall is particularly guilty as he lusts after Kelly.
I definitely agree with you Eric that Swanson was too old for this part. I kept thinking of Sunset Boulevard when Norma Desmond wants to play Salome. Apparently it wasn't just in that movie that Swanson wanted to play a character far too young for her.
Learning the background of this film, particularly about how Swanson had Von Stroheim fired (legend has it that the last straw was when he instructed Marshall to drool tobacco juice on her hand), certainly adds depth to Sunset Boulevard. How must he have felt to be working with her again?
I also agree with you Eric that Seena Owen is a scene stealer as the Queen. I immediately thought of Madonna in the video as soon as she sat up in bed. Despite all the spectacle, she's probably what I'll remember most from this movie.
Photos © Copyright United Artists (1929)