Movie Review
Pure Country
Bright Lights. Hit Songs. Country's biggest star. He'd trade it all to find the kind of love he'd only sung about.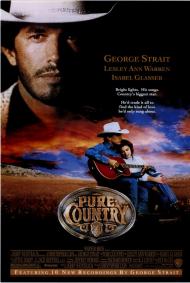 US Release Date: 10-23-1992
Directed by: Christopher Cain
Starring
▸
▾
George Strait

,

as

Dusty Wyatt Chandler
Lesley Ann Warren

,

as

Lula Rogers
Isabel Glasser

,

as

Harley Tucker
Kyle Chandler

,

as

Buddy Jackson
Rory Calhoun

,

as

Ernest Tucker
Molly McClure

as

Grandma Ivy Chandler

Reviewed on:
August 25th, 2003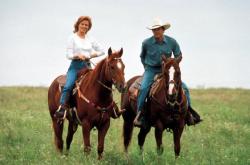 Pure Country
In 1999, George Strait recorded the country hit 'Murder On Music Row' with Alan Jackson. It laments the death of traditional country music. Anyone who knows George Strait's music knows that he is a country music traditionalist. This is the theme of his movie debut in Pure Country.
Strait does minimal stretching, playing a country music superstar named Dusty. Dusty gets fed up with his career as he comes to realize that he has lost control of it. While performing in a large arena, (in country terms that means an indoor rodeo stadium) Dusty purposefully skips some of the lyrics to one of his songs. The overzealous crowd is too taken in by the loud music, the smoke machine and the light show to even notice.
After the concert, Dusty tells a band member that when he performs on stage he feels like a dancing chicken at a county fair. He misses the time when people actually came to hear the songs. Depressed, he announces that he is going for 'a walk.'
He hitches a ride into the Texas countryside. In a small town, he has his ponytail cut off and his, George Michael inspired, beard stubble shaved. He visits his Grandma who raised him. He stops by the honky-tonk bar where he first performed.
Meanwhile, his manager, Lula, is going nuts with worry. She is not actually worried about Dusty as a friend would. She is worried about Dusty as a meal ticket. With Dusty gone, she fits her boy toy boyfriend, Buddy, into one of Dusty's stage outfits. With a fake beard and ponytail, the chicken goes on stage to lip sync as Dusty.
Back in the sticks, Dusty has met a woman, Harley, who has no idea the man she is falling for is a country music superstar. She lives on a farm with her dad and two brothers. She rides, ropes and looks good in blue jeans. What Texas man wouldn't like her?
When Lula's charade begins to unravel, she finds it necessary to find Dusty. In a bar, she approaches and informs Harley that she is with her husband so as to scare her away, and stop her from distracting Dusty. Harley immediately breaks up with Dusty without giving him time to explain. Dusty now finds himself back with his tour and in the middle of a public scandal. Rumors are flying that Dusty lip-syncs his own songs.
To prove otherwise, Dusty decides to do a small-scale concert in Las Vegas. Harley and family are conveniently in Las Vegas at the same time to do a rodeo. Lula, upon Dusty's request, invites the family to Dusty's concert. The final scene is Dusty sitting on the edge of the stage singing 'I Cross My Heart', one of Straits greatest ballads, to a weepy Harley.
This movie definitely falls into the cornfield more than once. Still, it is all played so damn, pardon the expression, straight, that it gets to you. George Strait proves to be a decent actor. He has a few funny scenes, like when he gets drunk at a bar and gets his ass kicked in the rain. But I will be honest here. Much like 8-Mile or Glitter, it sure helps to be a fan of the singer turned actor when watching these types of movies.
Lesley Ann Warren was hysterical and over the top in Victor Victoria. In Pure Country, she gets to reveal her more down to earth side. Kyle Chandler is mostly known from televisions short lived Early Edition. He proves adequate in the understated role of wanna-be songwriter Buddy.
Still, this is obviously Straits movie. The soundtrack CD is his biggest selling CD ever. From the country rockin' 'Heartland' to the suggestive 'Overnight Male', this is Strait at his best.
Photos © Copyright Warner Bros. (1992)