Movie Review
The Public Enemy
Public Enemy Number One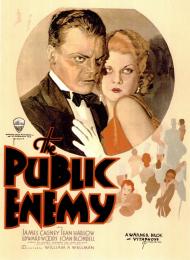 US Release Date: 04-23-1931
Directed by: William A. Wellman
Starring
▸
▾
James Cagney

,

as

Tom Powers
Edward Woods

,

as

Matt Doyle
Jean Harlow

,

as

Gwen Allen
Joan Blondell

,

as

Mamie
Beryl Mercer

,

as

Ma Powers
Donald Cook

,

as

Mike Powers
Mae Clarke

,

as

Kitty
Robert Emmett O'Connor

,

as

Paddy Ryan
Leslie Fenton

,

as

Nails Nathan
Murray Kinnell

,

as

Putty Nose
Snitz Edwards

,

as

Miller
Frank Coghlan Jr.

,

as

Tom as a Boy
Frankie Darro

,

as

Matt as a Boy
Clark Burroughs

as

Dutch


Reviewed on:
April 23rd, 2001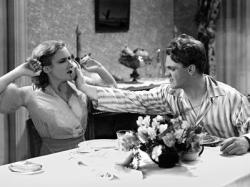 Mae Clarke and James Cagney in The Public Enemy.
Nominated for an Academy Award for Best Original Screenplay, The Public Enemy is a classic timepiece of film making. Made in 1931 when much of the public was fascinated by the goings on of real life gangsters. This film almost plays like a Public Service Announcement featuring a written preface and suffix explaining the problems of gangsters in our society.
Tom Powers (James Cagney) and best friend Matt Doyle (Edward Woods) grow up in the inner city to be criminals. The movie follows these two from prankster shoplifters to murdering thieves. Tom's older brother Mike is constantly at odds with him as Mike is attempting to be the "good" brother.
This movie has a lot to offer. From a historical point of view we see that the mob was a major source of fascination. Lots of gangster films were made in the thirties.
The direction is great. In one humorous scene Cagney's young wannabe gangster is sitting at a table kissing up to a two bit hood whose playing pool. As Cagney is talking the pool player moves around to make a shot and his ass literally ends up in Cagney's face. Another good symbolic scene is when two women are crying at a funeral for one of their sons who was shot and killed during a robbery. The women go on about what a good boy he really was. The women are sitting behind some plants, thus they really are not seeing clearly.
However, the single best thing this movie has going for it is Cagney. His performance is electrifying. He is a ball of charismatic energy rolling through this movie and almost everyone in it. Edward Woods is a better looking guy than Cagney but, for sheer charisma and star presence, he is a mere candle to Cagney's immense star wattage. The only person on screen who comes close to keeping up with him is Jean Harlow in one of her early roles. Their few scenes together are the only time in this movie that you ever pay attention to anyone else on the screen.
One thing that is always interesting in watching older movies is the morals of the time. In one scene, Cagney slaps this older woman because he just found out she got him drunk and took advantage of him the night before. In another scene, Cagney and Harlow discuss consummating there relationship. They never use the word sex or anything close to it, yet you know exactly what they are talking about. How did we ever get from those scenes to dialogue in movies such as The Body Guard where Whitney Houston yells to Kevin Costner "...I can fuck you but I can't love you?" There is much to be said for subtlety.
The ending of this movie is one of the greatest ever. I won't tell you what it is, but it surprised me as I had forgotten it. This is again a testament to the great direction in this great movie.
Reviewed on:
April 23rd, 2002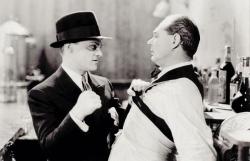 James Cagney in The Public Enemy.
I have been a huge James Cagney fan since I was a small child. As Eric says he had an absolutely riveting presence on the screen and this was never more evident than in Public Enemy. This is the role that made him a huge star. It remains today a brutally honest and adult gangster movie. Movies made before 1934, when the Hays Office began its iron fisted enforcement of a strict moral code, are more sexually and violently explicit than any Hollywood movies made until the nineteen-sixties. The gangsters in this movie treat women like their property and are obviously having sex with many of them. Just a few years later even married couples had to be shown sleeping in separate beds on screen.
I agree with Eric in everything he has written. This movie brilliantly captures a time and place that audiences are still fascinated by. For Example The Road To Perdition is set in Chicago in the year 1931.
The cast of characters is classic. Putty Nose, Paddy Ryan, Nails Nathan, Schemer Burns. Then there are the molls, played by the perky Joan Blondell, the sultry Jean Harlow and the 'good girl' Mae Clarke. She's the one on the receiving end of Cagney's famous grapefruit halve.
This movie has also had a big influence on today's hip hop culture, most notably in the movie Juice. Tupac Shakur's character Bishop is obsessed with Cagney in this movie. In one scene he is watching Public Enemy on television and in another scene that is directly lifted from Public Enemy, and it is a scene that Eric briefly touched on, Bishop and his friend go to the funeral of another friend of theirs pretending to be innocent about his death.
Public Enemy is often overlooked when it comes to best-movies-of-all-time lists. That's a shame, because in my book it is near the top of the heap.
Reviewed on:
October 18th, 2004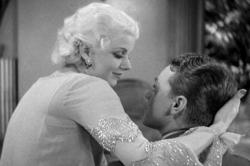 Jean Harlow and James Cagney in The Public Enemy.
When a woman of beauty gets past a certain age you almost invariably begin to hear the phrase, "She looks really good…for her age." In that sense, Public Enemy is like an aging woman. It's a really good movie, for its age. I just don't think, looking back on it from a modern perspective, it's a four star movie. The melodrama is just too much.
Cagney, however, is four stars and then some. As Eric said, he wasn't the best looking guy around but he possessed a certain charisma that makes you want to watch him. His character is a total bastard and yet he's so self-assuredly cocky that you never really hold it against him.
Maybe it's from watching too many Carol Burnett movie spoofs as a child, but I kept laughing at moments that were supposed to be dramatic. When Cagney's gangster character tries to give his poor old sainted mother some cash and his holier-than-thou brother tells him, "We don't need it," I kept waiting for the mother to pipe in and say something like, "Oh yes we do! You speak for yourself. I've been slaving away for 60 hours a week to put you through college. I'm ready to relax and retire." And the famous climactic ending, when a mummy-wrapped Cagney falls face-down through the doorway, I couldn't help but chuckle as his brother, who opens the door, carefully steps out of the way and does absolutely nothing to catch him as he falls, despite having plenty of time.
With any other actor in the lead role, this movie would have been forgotten. It's Cagney's star making turn that makes this movie worth watching. Although he would make better gangster films, (White Heat and Angels with Dirty Faces, to name just two), you can see his legend in the making begin here.
Photos © Copyright Warner Bros. (1931)
Related Reviews