Movie Review
The Proposal
Here comes the bribe...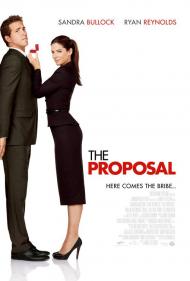 US Release Date: 06-19-2009
Directed by: Anne Fletcher
Starring
▸
▾
Sandra Bullock

,

as

Margaret Tate
Ryan Reynolds

,

as

Andrew Paxton
Mary Steenburgen

,

as

Grace Paxton
Craig T. Nelson

,

as

Joe Paxton
Betty White

,

as

Grandma Annie
Malin Akerman

,

as

Gertrude
Oscar Nuñez

as

Ramone


Reviewed on:
June 26th, 2009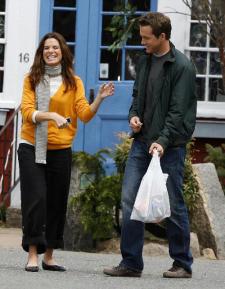 Bullock and Reynolds add charm to this decent comedy.
The Proposal is a paint by numbers romantic comedy. Two people, who dislike each other, find themsleves together in an awkward situation, and soon develop feelings for each other. What keeps this film from sinking, and saves it from future obscurity is its two charismatic stars.
Margaret is Andrews boss at a New York publishing firm. She is Canadian and due to her lack of attention to immigration law, finds herself about to be deported. To stay in the country she talks her assistant, Andrew, into marrying her, with a promise that she will make him an editor, and publish his manuscript. To get to know each other, in order to convince an immigration officer that their marriage is not just one of convenience, they spend a weekend at Andrews parent's home in Alaska.
Much is made of big city girl Margaret finding herself in rural situations. Her high heels and snobbish attitude are quickly put to the test. Upon meeting Andrews grandmother, Margaret learns what Andrew thinks of her, "Do you prefer Margaret or "Satan's Mistress"?" She asks her. She also discovers that Andrew is from an affluent family. "Why didn't you tell me you're some kind of Alaskan Kennedy?"
His family is shocked to learn that a boss he has only spoken negatively of, is now his fiance. In one of the funniest scenes, they are asked to tell the story of how Andrew proposed. They also end up kissing for his family and end up creating a spark of attraction.
During the weekend they each learn personal things about each other. Andrew is at odds with his father, as he wants to live in New York while his father wants him to come back to Alaska to take over the family businesses. Margaret reveals some insecurities to Andrew during a late night conversation.
One of the things I really liked about this movie is that the director reveals Andrews and Margarets growing interest in each other in simple little ways. In one scene they are given breakfast in bed. Andrew is pleasantly surprised when his boss serves him. As it has always been he who has catered to her needs.
Reynolds is a great comedian and has always been able to deliver a joke with great aplomb. He can make simple lines funnier than they deserve to be. "Actually I picked up on all her little hints. This woman is about as subtle as a gun." However, his dramatic skills just are not there. He is a blank slate when confronted by his father. Bullock upstages him in the scene where he asks her to marry him, for real, "Margaret, will you marry me. Because I'd like to date you." Her eyes are red and she looks very emotional, while Ryan is again not registering.
The Proposal is about as original as a sitcom plot, and a few jokes get dragged out, like when she is holding the dog in the yard, or the guy who seems to have half the jobs in town. Still, Reynolds and Bullock keep it afloat by delivering enough jokes and giving their characters just enough heart to make us care.
Reviewed on:
October 3rd, 2009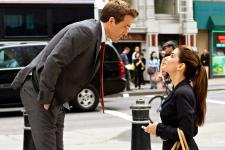 It would take more than charm to make this comedy decent.
It doesn't have that much heart Eric. And not only do some of the jokes go on too long, some of them are actually cringe-worthy, such as the scene with Bullock and Betty White dancing around the fire. Sure, the two leads have individual charisma, but together they don't share any special chemistry and they never show any passion for each other.
The thing that really struck me about this movie is how in many ways it is a rip off of Bullock's earlier and far better movie; While You Were Sleeping. In both movies Bullock plays a woman without a family of her own who ends up lying to an eccentric family in order to get married to their son. In both movies she ends up falling in love with the whole family and confesses the truth to them at the altar as she's on the verge of getting married. And in both movies the guy whom Bullock falls in love with is at odds with his father because the father wants him to continue the family business while the guy wants to go his own way.
Reynold's subplot about his daddy issues is definitely the weakest part of the film. It's cliched and not very well written or acted and it's never really resolved. Bullock is the star, they needn't have bothered to throw this bone to Reynolds.
Bullock is also ineffective as the bitch executive. She's no Meryl Streep ala The Devil Wears Prada.
Eric, you mention scenes that show Margaret and Andrew's growing interest in each other and sure they are there, but they only spend a few days together. The scenes they show are hardly enough to convince me that they're ready to get married. They don't demonstrate many romantic sparks; some comedy sparks maybe, but not romantic ones.
These are two talented leads and they both deserve better scripts than this one and so do audiences.
Reviewed on:
November 21st, 2010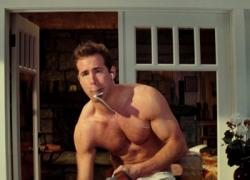 Ryan Reynolds looking smoking hot!
Sure the script is weak and the characterizations (especially Bullock's) are inconsistent (is she a bitch or not, the writers couldn't decide), still I laughed enough to recommend this comedy. It is light-weight Hollywood fluff but it works as such. And any movie that features Betty White can't be that bad.
Scott, I disagree about the scene where Bullock and White dance around the campfire. I found it quite silly and amusing. But admittedly I would laugh at Betty White doing laundry. I would argue that Bullock has more screen chemistry with White than with Reynolds.
He just seems too damn young for her. Other than one line by White, "I guess the word girl isn't really appropriate" they never mention the noticeable 12 year age difference between the leading lady and her leading man. I agree that Reynolds is funny. He has a knack for delivering a line that isn't necessarily funny on paper and making it so.
Obviously audiences responded well to The Proposal. It made a boat load of money. I guess there will always be a place for this type movie so long as the cast is good and it knows enough to stay within the lines.

Photos © Copyright Touchstone Pictures (2009)