Movie Review
Proof
The biggest risk in life is not taking one.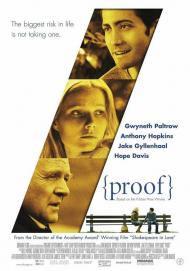 US Release Date: 09-16-2005
Directed by: John Madden
Starring
▸
▾
Gwyneth Paltrow

,

as

Catherine
Anthony Hopkins

,

as

Robert
Hope Davis

,

as

Claire
Jake Gyllenhaal

,

as

Hal
Gary Houston

,

as

Prof. Jay Barrow
Anne Wittman

as

Joann

Reviewed on:
September 20th, 2005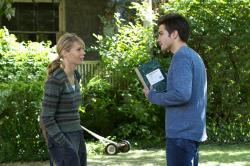 Gwyneth Paltrow and Jake Gyllenhaal in Proof.
Throughout this year, the next Oscar Ceremony was only a vague thought at the back of my mind, but watching Gwyneth Paltrow in Proof was my wake up call that fall is upon us, along with movies vying for the coveted prize. And Paltrow's performance certainly qualifies as Oscar-worthy.
Based upon the Tony and Pulitzer prizing winning stage play by David Auburn (who helped adapt the screenplay), the movie doesn't stray too far from a stage like setting, and unlike many such adaptations, that's not a bad thing. While there are exterior scenes intercut in between the dialogue, the majority of the story and nearly all of the emotional moments happen in one house.
Paltrow reprises the role of Catherine, which she previously played on the London stage, the daughter of a mathematical genius (Hopkins). Her father, while hailed as a genius in his youth, has spent most of the time since his mid-twenties battling mental illness. Catherine, who shares her father's aptitude for math, has stayed with him, sacrificing her youth to care for him. But as she approaches the age at which her father first fell ill, she begins to wonder if she doesn't share more in common with him than she feared.
The title of the movie stems from a mathematical proof that is discovered in a notebook in Catherine's father's desk. Catherine claims to have written it, but both her sister and Catherine's boyfriend don't believe her. Her sister in particular has also begun to question Catherine's sanity and wonders if her claim to having written the proof isn't just in reaction to her own suggestion that Cahterine join her in New York, since Catherine doesn't seem able to support herself.
At only ninety minutes the movie is short and emotionally packed. Paltrow delivers a truly great performance as the vulnerable and unstable young genius. In fact, she shines so much that the supporting players only ever get a chance to do what their name suggests; support her. She dominates the movie and the screen. What could have been an esoteric look at the similarities between genius and madness is instead given a human face by Paltrow.
For some reason this movie's release date was pushed back by a year and for the life of me I can't fathom why. While that usually indicates a troubled film, this one is brilliant. Paltrow gives the best performance of her career in a role that will hopefully be remembered come award season.
Reviewed on:
January 3rd, 2006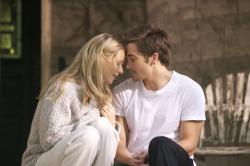 Gwyneth Paltrow and Jake Gyllenhaal in Proof.
I was lucky enough to see the stage version of Proof during its Broadway run. Jennifer Jason Leigh starred and gave a great performance. I have never been a big fan of Gwyneth Paltrow but I must admit she does a stellar job here.
As Scott said the movie varies little from the stage production. It is a simple story that contains a complex emotional core.
The main question of the movie is did Catherine really write an amazing mathematical proof or is she simply going mad like her father? Scott mentioned that the title of the movie comes from this mathematical proof but it has a double meaning since Catherine has no proof that she is the author.
Anthony Hopkins, Hope Davis and Jake Gyllenhaal all give good support but this is a one woman show from start to finish and Paltrow doesn't disappoint.

Reviewed on:
March 1st, 2006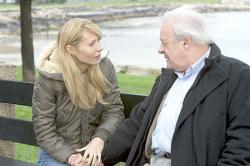 Gwyneth Paltrow and Anthony Hopkins in Proof.
Unfortunately, The Academy Awards did forget about Paltrow's performance in Proof. Whereas this movie is not completely great, her performance is. The scene where she reads her father's proof back to him is an amazingly subtle emotional climax to a film built around such moments.
Proof ends ambiguously in that Catherine's insanity is never proven. However, that is the point of the movie. Sometimes it is very hard to prove anything, from a mathematical theorem to one's sanity. The movie ends without clearly stating her mental stability or the future of Catherine's and Hal's relationship. The viewer must take all that is learned during the film and make an educated hypothesis as to the likely path their relationship will take.
I have not seen the play and if the movie were to expand on any area it should have been on Hal and Claire. Why did Claire move so far away from her family? Why does Hal take to Catherine's father and Catherine's father to him? As Scott and Patrick wrote, Paltrow dominates the movie and does an amazing job but it is at the expense of the rest of the characters.
Photos © Copyright Miramax (2005)