Movie Review
The Prize Winner of Defiance, Ohio
The true story of how a mother raised ten kids on twenty-five words or less.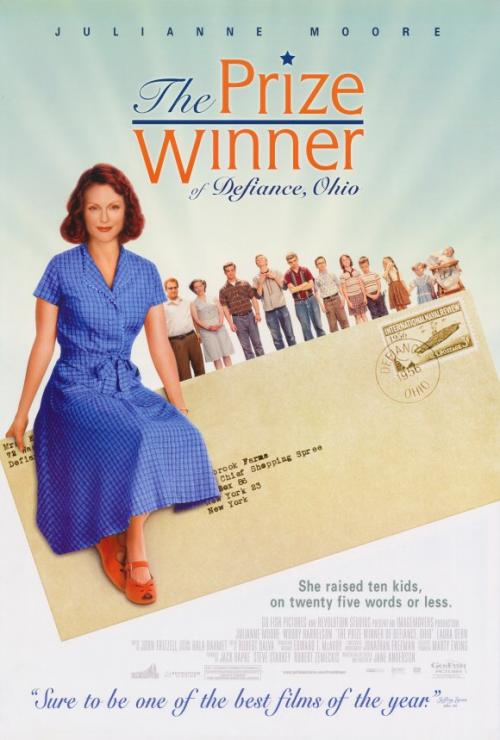 US Release Date: 10-14-2005
Directed by: Jane Anderson
Starring
▸
▾
Julianne Moore

,

as

Evelyn Ryan
Woody Harrelson

,

as

Leo "Kelly" Ryan
Laura Dern

,

as

Dortha Schaefer
Trevor Morgan

,

as

Bruce
Simon Reynolds

,

as

Ray the Milkman
Monte Gagne

,

as

Lee Ann Ryan
Jordan Todosey

,

as

Young Tuff Ryan
Ellary Porterfield

,

as

Tuff Ryan
David Gardner

,

as

Father McCague
Martin Doyle

,

as

Cutter Murphy
Susan Merson

,

as

Mrs. Bidlack
Catherine Fitch

,

as

Emma Hartzler
Carolyn Scott

,

as

Gladys Tierney
Lindsay Leese

,

as

Betty Yearling
Tracey Hoyt

as

Betty White
Reviewed on:
July 21st, 2015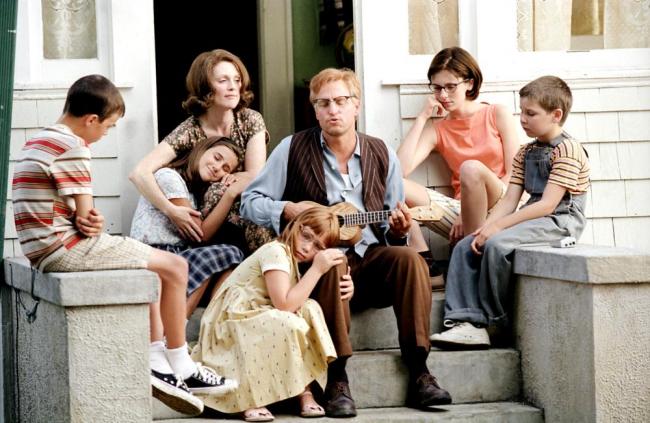 Julianne Moore, Woody Harrelson and cast in The Prize Winner of Defiance, Ohio.
The Prize Winner of Defiance, Ohio is based on the memoir of the same name written by Terry Ryan about her life growing up with nine siblings during the Eisenhower/Kennedy years. Jane Anderson adapted the screenplay and directed the movie. The time era is vividly recreated and Anderson directs with a whimsical eye. Although it has moments of levity this is essentially a drama about one American family. It celebrates their joys and shows their financial struggles. But most of all it's the story of a mom as she was remembered by one of her adoring daughters.
As fifties housewife and jingle-writing contest winner Evelyn Ryan, Julianne Moore provides further proof that she's one of our greatest living movie actresses. Evelyn is an outwardly upbeat, eternally optimistic mother of ten, with an alcoholic husband and a mortgage to pay. She keeps the family afloat by winning more than her share of those jingle-writing contests that were popular in the late 1950s and early 1960s. With her cheerful outlook on life and a creatively clever mind, she's very good at writing catchy, upbeat slogans and jingles.
When the movie begins in 1956 the ten Ryan children range in age from infancy to late teens. Woody Harrelson plays husband and father Kelly. At first Kelly and Evelyn seem like a sweetly old-fashioned couple, affectionately calling each other "mother" and "father". But we soon learn that Kelly has a dark side when he drinks. He can be sweet one moment and violently irrational a second later. It's hard to pity him as a character but Evelyn remembers the man he was and stays with him. Although really, what choice did she have at that place and time with ten other mouths to feed?
Only later do we learn the root cause of Kelly's problems. Early in their marriage he was a promising young singer but lost his voice in a car accident when a piece of glass got lodged in his throat. Now he works a dead-end factory job and drinks away most of his paycheck, leaving Evelyn to take care of the bills. When she begins to win contest after contest, and the prizes start rolling in, her husband becomes threatened by the fact that his wife is the more successful provider. He reacts by destroying some of her loot. But no matter how crazy her husband gets, Evelyn always knows just what to say and do to bring him to his senses.
There are several scenes where Julianne Moore really shines. The first is near the beginning when she seeks counsel from her priest only to be told that basically it's her fault her husband drinks. You can see the heartbreaking flicker of hurt understanding that crosses her face as she realizes this man of the cloth is going to be of no help whatsoever. Later in the movie, during a particularly dark period, Evelyn finally breaks down and loses her eternally cheerful outlook. Kelly expresses discomfort at his wife's overt display of emotional pain. Finally she snaps at him, "For god's sake Kelly, I'm not a saint! If you can't stand to see me upset, go somewhere else."
Alternately heartwarming, humorous and sad, The Prize Winner of Defiance, Ohio brims with nostalgia without ever overdoing the sentiment. It's worth seeing for Julianne Moore's perfomance alone, but it has much more to offer than that. This movie teaches the same lessons Evelyn Ryan taught her children, that life is filled with wonder and to never lose sight of hope.
Photos © Copyright DreamWorks SKG (2005)