Movie Review
The Private Lives of Elizabeth and Essex
The Passion Filled Story of The Virgin Queen and the Man She Loved!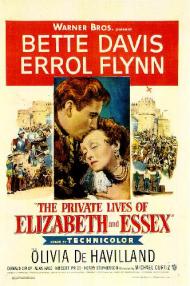 US Release Date: 11-11-1939
Directed by: Michael Curtiz
Starring
▸
▾
Bette Davis

,

as

Queen Elizabeth I
Errol Flynn

,

as

Robert Devereux, Earl of Essex
Olivia de Havilland

,

as

Lady Penelope Gray
Donald Crisp

,

as

Francis Bacon
Alan Hale

,

as

Hugh O'Neill, Earl of Tyrone
Vincent Price

,

as

Sir Walter Raleigh
Henry Stephenson

,

as

Lord Burghley
Henry Daniell

,

as

Sir Robert Cecil
James Stephenson

,

as

Sir Thomas Egerton
Nanette Fabray

,

as

Mistress Margaret Radcliffe
Ralph Forbes

,

as

Lord Knollys
Robert Warwick

,

as

Lord Mountjoy
Leo G. Carroll

as

Sir Edward Coke
Reviewed on:
March 14th, 2006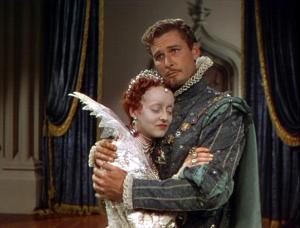 Bette Davis and Errol Flynn in The Private Lives of Elizabeth and Essex.
The Private Lives of Elizabeth and Essex was originally to be entitled "Elizabeth the Queen" which is the title of the play it was based on. Errol Flynn was just coming off the incredible success of The Adventures of Robin Hood and he insisted his character be named in the title. "The Knight and the Lady" was considered but Bette Davis was not having it. She too was at the height of her career having just won her second Best Actress Oscar for Jezebel, so The Private Lives of Elizabeth and Essex it became.
This is the story of the ill-fated love affair between England's Queen Elizabeth I and Robert Devereux, Earl of Essex. They seemed able to be happy together only when alone and away from the pressures of their lives. But the unchecked ambition Essex had for the throne would eventually come between them. Flynn's best line comes after he gets slapped hard across the face by the Queen. He replies, "I would not have taken that from your father the King; much less will I take it from a king in petticoats!"
Although not really historically accurate this is a beautifully shot (in Technicolor) epic drama with breathtaking costumes and sets and inspired direction by Michael Curtiz. Add to that a stellar supporting cast that includes, Olivia de Havilland, Vincent Price, Donald Crisp, Alan Hale, Nanette Fabray and Leo G. Carroll, and you have a truly memorable motion picture.
This was in fact the only Technicolor production that Bette Davis made during her 18 year reign at Warner's. It was her 41st and final movie of the 1930's. Legend has it that Miss Davis wanted Laurence Olivier for the part of Essex, she felt that Flynn lacked the dramatic chops to pull off the role. He is actually not bad in the part, he was then at the peak of his looks and charm. And in all honesty the role is that of male sex object to the stronger female role. After all, the Queen was a good 20 years older than he was and she was not exactly known for her great looks. Flynn is fine but Davis upstages him, especially at the movie's climax.
Bette Davis jumped into the part with relish. She shaved her hairline to make her forehead larger, wore a frightful red wig and chalky white makeup. Orry-Kelly outdid himself with her costumes. They are stunning and elaborate. She stumps around the castle in these queenly getups, nervously twitching her fingers and barking out orders in that exaggerated diction she was so famous for. It is a scenery chewing role that she makes the most of from start to finish.
In one humorous moment the Queen and Lady Penelope (de Havilland) are playing chess. Lady Penelope starts to take the Queen's knight but stops and says something to the effect that the Queen doesn't like to be powerless. Queen Elizabeth I responds, "The Queen is never powerless. For example…" She then proceeds to knock all the chess pieces to the floor with a sweep of her arm.
The lavish sets and costumes and talented supporting players all provide the trimming around the centerpiece that is Bette Davis. Although the title suggests otherwise this is really her movie with Errol Flynn along for the ride as eye candy.
Photos © Copyright Warner Bros. (1939)
Related Review