Movie Review
Private Buckaroo
YEAH MAN! EVEN THE JEEPS ARE JIVIN'!...when these music-makers swing out with an Army band and get hep with a host of U.S. Oh! Honeys! (original poster)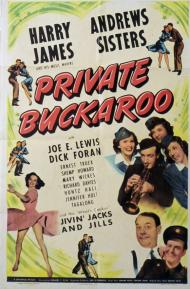 US Release Date: 06-12-1942
Directed by: Edward F. Cline
Starring
▸
▾
The Andrews Sisters

,

as

Andrews Sisters
Dick Foran

,

as

Lon Prentice
Joe E. Lewis

,

as

Lancelot Pringle McBiff
Ernest Truex

,

as

Col. Elias Weatherford
Jennifer Holt

,

as

Joyce Mason
Shemp Howard

,

as

Sgt. 'Muggsy' Shavel
Richard Davies

,

as

Lt. Howard Mason
Mary Wickes

,

as

Bonnie-Belle Schlopkiss
Donald O'Connor

,

as

Donny
Peggy Ryan

,

as

Peggy
Huntz Hall

,

as

Cpl. Anemic
Susan Levine

,

as

Tagalong
Harry James

as

Harry James

Reviewed on:
May 7th, 2014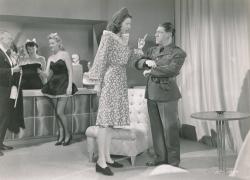 Mary Wickes and Shemp Howard in Private Buckaroo
Private Buckaroo was an Andrews Sisters vehicle intended to promote enlistment. It contains a thin plot that is merely an excuse to showcase the singing siblings and trumpeter Harry James and his band. Joe E. Lewis and Shemp Howard provide the laughs and for good measure, we have a young Donald O'Connor dancing with some young swing kids.
The film begins in a night club with Helen Forrest singing, "You Made Me Love You (I Didn't Want to Do It)" with Harry James and His Music Makers. James quickly finds out that he has been drafted. Not to be left out, the band's lead male vocalist Lon Prentice, joins up as well. Shemp, as a Sgt. Snavely, and his date, Mary Wickes, arrive at the club to dine and watch the performances but the show's comic, Lewis, has eyes for Wickes. When he first meets the famously ugly Howard, Lewis says to him, "You know, this is the first time I ever saw a face with a belt in the back."
The story, what little there is, shifts to a military base where James is made the camp bugler and Prentice has an attitude problem. While Sgt. Snavely tries to train the new recruits, the Andrews Sisters arrive to put on a show. The musical highlight begins when Lewis walks on stage and says to the audience, "I am supposed to introduce the Andrews Sisters but that won't be necessary. I found out they already know each other." The girls then come on stage and sing one of their most well-known hits, "Don't Sit under the Appletree." They are joined on stage by Shemp, whom they proceed to manhandle in true Threestooges form.
The movie ends as you would expect. Prentice drops the attitude and all the men in uniform, which is nearly every man minus the effeminate acting Joe E. Lewis, march off to war. The message is obvious and some of the songs were not needed, but at least it was all decorated up with the most popular recording act of their time and some truly funny moments.
Photos © Copyright Universal Pictures (1942)