Movie Review
Prisoner of the Mountains
An extraordinary story of hope, courage and humanity.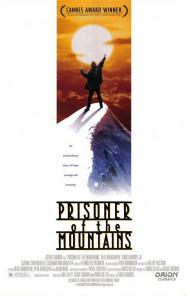 Russia Release Date: 07-16-1996
Directed by: Sergey Bodrov
Starring
▸
▾
Oleg Menshikov

,

as

Sacha Kostylin
Sergey Bodrov Jr.

,

as

Ivan (Vanya) Zhilin
Jemal Sikharulidze

,

as

Abdul-Murat
Susanna Mekhraliyeva

,

as

Dina
Aleksandr Bureyev

,

as

Hasan
Valentina Fedotova

as

Zhilin's Mother

Reviewed on:
April 7th, 2011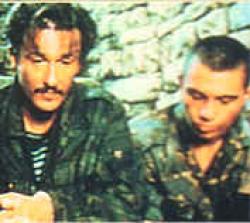 Oleg Menshikov and Sergey Bodrov Jr.
Sergey Bodrov is one of Russia's most influential forces in Russian film making. Since the late 1970s he has written, directed or produced nearly 3 dozen films. In 1996 he cast his 25 year old son Sergey Bodrov jr. in Prisoner of the Mountains (Kavkazskiy plennik).
Based on a short story by Leo Tolstoy, Prisoner of the Mountains tells the story of a young Russian soldier, Vanya. While on his first patrol, his detachment is attacked by some Muslim rebels. Only he and a seasoned soldier, Sacha, survive. They are taken as prisoners into a village in the Caucasus mountains. It is a mountain range dividing Russia from Georgia and Azerbaijan.
In the village they are chained together by the ankle, and locked in a room. The man, Abdul, who took them has a son in a Russian prison. He wants to swap Sacha and Vanya for him. He goes about making the arrangements while Sacha and Vanya get to know each other and their surroundings. When the trade does not work, Abdul has the soldiers write their mother's to help in the exchange. Considering all of these negotiations have to take place by mail and in person, the soldiers end up having plenty of time to talk and get to know their captures.
The entire theme of this film is to show the Russian's enemy as sympathetic characters. The man assigned to watch them never speaks, Sacha eventually gets him to convey that his tongue was cut out by some Russians. Ouch! Abdul's young teenage daughter, Dina, takes a liking to Vanya, bringing him and Sacha food and water. Their last scene together is her best moment.
The heart of the film is the developing friendship between Sacha and Vanya. At first Sacha pretends to not remember Vanya's name. Is he doing it to bug Vanya or does he see what a bad situation they are in and does not want to become personable? He scares Vanya by telling him they will likely die or get their balls cut off. They eventually bond over, what else, alcohol. Being Russian they wish it was vodka but they drink the wine none-the-less. Later he helps Vanya by giving him advise, such as when Vanya is put into a fight with a muscular martial artist.
By the end of the film we understand Abdul's frustration. We see a budding relationship between Vanya and Dina. Sacha and Vanya attempt an escape and things go from bad to worse. The final scene of the film gripped me hard. It's message; in war there can only be one winner, but neither side will come away unscathed. Prisoners of the Mountain was nominated for an Academy Award and a Golden Globe Award for Best Foreign Language Film (Russia).
Sergey Bodrov jr, who also starred on a Russian television show went on to do many other films directed by his father and some not, becoming a huge movie star. His next film, Brother, (1997) became one of his biggest successes, inspiring a sequel in 2000. In 2001 the father/son team moved into foreign markets with The Quickie starring Jennifer Jason Leigh.
In 2002 Sergey Bodrov jr went back to the Caucasus mountains to work on his latest film. On September 23rd, 2002, two days into filming, an avalanche came down the mountain and engulfed him and his crew. Over 100 people were killed. His body was never found. The married father of two was only 30. His last completed film was Bear's Kiss released in 2002, and it was directed by his father, who continues to make films.
Photos © Copyright Karavan (1996)