Movie Review
The Princess Bride
She gets kidnapped. He gets killed. But it all ends up okay.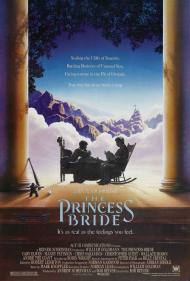 US Release Date: 09-25-1987
Directed by: Rob Reiner
Starring
▸
▾
Cary Elwes

,

as

Westley
Mandy Patinkin

,

as

Inigo Montoya
Chris Sarandon

,

as

Prince Humperdinck
Christopher Guest

,

as

Count Tyrone Rugen
Wallace Shawn

,

as

Vizzini
André the Giant

,

as

Fezzik
Fred Savage

,

as

The Grandson
Robin Wright Penn

,

as

Buttercup / The Princess Bride
Peter Falk

,

as

The Grandfather / Narrator
Peter Cook

,

as

The Impressive Clergyman
Mel Smith

,

as

The Albino
Carol Kane

,

as

Valerie
Billy Crystal

as

Miracle Max

Reviewed on:
August 16th, 2008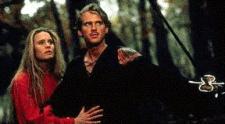 They escaped the fire swamp, but not Prince Humperdink.
Long before Enchanted and Shrek, The Princess Bride skewered the fantasy genre. With a great cast, a director at the top of his game, and lots of memorable dialogue, this is a classic family film from the 1980s.
The movie is narrated by a grandfather reading a book to his sick grandson. The story begins with a girl, Buttercup, falling in love with a farm boy, Westley. They look longingly at each other and the only words he speaks to her are, "As you wish." after every time she asks him to do something. The grandson groans when the grandfather reads that Buttercup realized that whenever Westley said, "As you wish." he was really saying, "I love you."
But not to worry, the pace picks up. Westley is killed by the dread pirate Roberts and Buttercup is kidnaped, just before her wedding to the vile Prince Humperdink. Her abductors are a motley crew. The "brains," and leader of them, Vizzini, is a whiney voiced Sicilian, who over uses the word "inconceivable." Inigo is a master swordsman on a mission of revenge. (I'll get back to him later.) Fezzik is a mountain of a man who likes to rhyme words. When Vizzini yells at him to stop with the rhymes, he says, "I mean it." To which Fezzik responds, "Anybody want a peanut."
Soon Buttercup is rescued by the mysterious man in black, but he dies. Although they do have to deal with a fire swamp and an R. U. S. first. Not to worry however, Inigo and Fezzik decides to join the good side and everything turns out okay, thanks to a magic pill from Miracle Max.
The cast is perfect. With his British accent and dashing looks, Cary Elwes is perfect as a sword yielding hero. Chris Sarandon does sarcasm well. When he thinks something bad may have happened to his fiancé, he says that he will be, "Very put out." This is Wright's film debut but she looks more like a veteran. Crystal and Kane steal their one and only scene. "Liar!" "I'm not listening!" "Humperdink, Humperdink."
The most memorable cast member though is Patinkin as Inigo. Last year he did a concert near where I live. During a monologue, he said that to this day he still gets stopped on the street by fans who ask him to say Inigo's famous line. "Hello, my name is Inigo Montoya. You killed my father. Prepare to die." He repeats that line about five times in the movie. Mostly at the end when he finally confronts the six fingered man.
Needless to say, the story wins over the grandson, and The Princess Bride will likely win over anyone in the mood for a great family film.
Photos © Copyright MGM/UA Home Entertainment (1987)