Movie Review
The Prince of Tides
A story about the memories that haunt us, and the truth that sets us free.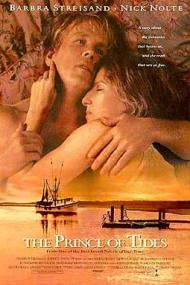 US Release Date: 12-25-1991
Directed by: Barbra Streisand
Starring
▸
▾
Nick Nolte

,

as

Tom Wingo
Barbra Streisand

,

as

Susan Lowenstein
Blythe Danner

,

as

Sally Wingo
Kate Nelligan

,

as

Lila Wingo Newbury
Jeroen Krabbe

,

as

Herbert Woodruff
Melinda Dillon

,

as

Savannah Wingo
George Carlin

,

as

Eddie Detreville
Jason Gould

as

Bernard Woodruff


Reviewed on:
May 1st, 2008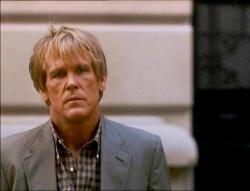 Nick Nolte in The Prince of Tides.
Pat Conroy's work often features strong women, and The Prince of Tides is no exception. It is no wonder that Streisand was attracted to this story. Based on his novel, Conroy likewise wrote the screenplay.
Tom is from South Carolina, where his father shrimped and his mother pined for a better life. His father was abusive and his mother manipulative. "I don't know when my parents began their war against each other - but I do know the only prisoners they took were their children." He narrates. Tom and his two siblings grew up in a volatile world where secrets were meant to be kept. But keeping some secrets come with a price.
Now grown, Tom is unhappily married with three daughters. He has a hard time expressing himself and it drives his wife into the arms of another man. His brother is dead and his sister is suicidal. After her most recent attempt, Tom goes to New York, in an attempt to help her by talking to his sister's psychiatrist, Susan.
Once his meetings with Susan start, it becomes clear that Tom is carrying an excessive amount of emotional baggage with him. His father's abuse, and particularly his mothers mind games have left him emotionally crippled. He constantly masks his feelings with jokes and pretends things are alright, even when they are obviously not. Through his sessions with Susan, Tom starts giving up the secrets and in the process begins to save his soul. They also fall in love and begin an affair.
Nick Nolte does the finest work of his career here. He won numerous acting awards for this role, as well as an Oscar nomination. Nelligan likewise received an Oscar nomination. She had the dubious job of making a harpy into a human. I have questioned Streisand's acting before, but here she is quite good. She even gets a great diva moment. At a dinner party she confronts her husbands lover, who just questioned her judgement, "And I can't believe you'd come to my house when everyone knows your fucking my husband."
What does not work in The Prince of Tides is the length. At 132 minutes, the movie needed to be trimmed. It wants so hard to give every character a chance to develop, that it keeps expanding until we know everyone quite well, but we didn't need to. I believe Streisand was too close to the subject to be objective. She stars, directs and produced this. I wonder if the role of Susan's son would have gotten as much screen time had someone other than her real life son Jason, played the part? Why does Tom drop him off at the train station and not one of his parents?
The ending is dragged out. In a beautiful scene, that is reminiscent of the final scene in The Way We Were, Susan crosses a street to talk to Tom, who tells her he is going back to his wife. She drops her paperwork. They hug. They cry. It is a great ending, except it is not the end. For some reason we have to sit through another one of their dates.
The Prince of Tides is almost a sequel to Conroy's, The Great Santini. In both films a southern family, with a domineering father and a strong willed mother, raise a family that includes a sensitive son trying to come into his own. Blythe Danner, coincidently or not, appears in both films. Conroy's stories have the delicate touch of making humans out of monsters, especially when the monsters are family members.
Reviewed on:
March 27th, 2009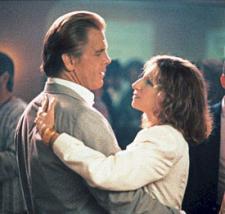 A romantic but unnecessary scene.
Of the 3 movies Streisand has directed to date, The Prince of Tides ranks as the best. It grossed 75 million dollars in 1991 and garnered 7 Oscar nominations, including Best Picture. Streisand had received this same accolade with her first two movies Funny Girl and Hello Dolly!. Streisand was, however, left out of the nominations for Best Director. Some of her most ardent fans protested this fact at the 64th Academy Awards.
In terms of story arc and character development this is Streisand's epic. She worked closely with Pat Conroy to adapt his long novel to the screen. I think she made very good choices in what to keep and what to omit. The cinematography and editing are quite superb and as Eric said the performances are all top notch. Stand-up legend George Carlin is impressive as Tom's gay neighbor. He gives some depth and heart to a stereotype.
Like Yentl, The Prince of Tides mixed comedy in with heavy drama. The dinner party scene Eric mentioned is a good example of this. The Mirror has Two Faces, on the other hand, mixed drama in with light comedy. But then one of Streisand's strengths has always been her ability to convey real emotion even when playing the silliest of scenes.
The climax of the story is very moving. Tom Wingo's cathartic cracking-open emotionally is a raw and powerful moment. I love the way Barbra slowly gets him to open up. I agree with you Eric that the end of the romance between Tom and Susan is drawn out a bit. We didn't really need that final scene at the Rainbow Room.
I don't think Streisand added scenes just because Bernard was played by her real life son. In an interview she said she was actually going to cast a young Chris O'Donnell in the part until Pat Conroy convinced her that he was completely the wrong type. The reason Tom sees him off at Grand Central Station instead of his parents is obvious. Tom, as his coach, helped him and understood him in a way that neither his father or mother did.
This is the one Streisand directed movie that can be enjoyed by almost anyone. You don't have to be a fan at all to appreciate this compelling story and impressive direction.
Reviewed on:
April 11th, 2009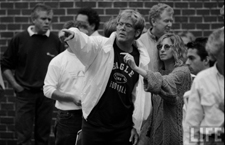 Why hasn't she directed more movies?
I agree completely about the length. The emotional climax of the relationship between Tom and Lowenstein takes place on the street. The scene at the Rainbow Room weakens the ending by dragging it out. That scene on the street features some of the movie's best acting. As Nolte smokes (something he had quit earlier) and paces and Streisand walks out her door and sees him, the two share a look in which they both know and we, the audience, see, exactly what is about to happen. The look, especially by Streisand (you see about 5 different emotions pass over her face in about 10 seconds), is so fantastically done that you don't even need the subsequent dialogue, let alone that extra scene.
Who knows if Streisand gave more time to Lowenstein's son because it was played by her real-life son? But no matter who played the part, it was completely unnecessary. Cutting the part would have improved the flow of the movie and strengthened the emotional impact by not distracting us with an unneeded storyline.
Apart from the length this really is Streisand's most mature work as a director. It doesn't feel like a Streisand movie at all. I have a hard time even picturing her on a shrimping boat. Why did she stop making movies? Has she just been sulking because the Academy has never nominated her?
I have to say on paper that this movie sounds depressing and boring. I've had a copy of it for quite some time, but I put off watching it for that very reason. I saw it when it was first released of course and remembered liking it, but I also remember it being dark and not exactly a feel good movie. I actually started watching it not sure that I would get through it in one sitting. However, right up until Tom makes his big emotional confession, I found myself completely sucked into the story. It wasn't until the final 20 minutes or so that I really felt it started dragging.
Seeing this again made me re-appreciate the talent of Streisand. Singing, drama, comedy, song-writing and directing? Is there anything this woman can't do?
Photos © Copyright Columbia Pictures (1991)