Movie Review
The Prince and the Showgirl
Some countries have a medal for Everything.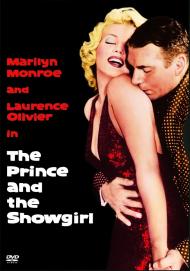 US Release Date: 06-13-1957
Directed by: Laurence Olivier
Starring
▸
▾
Marilyn Monroe

,

as

Elsie Marina
Laurence Olivier

,

as

Charles, the Prince Regent
Sybil Thorndike

,

as

The Queen Dowager
Richard Wattis

,

as

Northbrook
Jeremy Spenser

,

as

King Nicolas
Esmond Knight

,

as

Hoffman
Paul Hardwick

,

as

Major Domo
Rosamund Greenwood

as

Maud


Reviewed on:
August 10th, 2003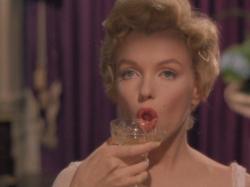 Marilyn Monroe in The Prince and the Showgirl.
The Prince and the Showgirl pairs two amazing yet opposite movie stars. Based on the play, The Sleeping Prince, this could have been a brilliant clash of cultures, culminating in a passionate story. The big problem is that Olivier has no idea how to make this film.
Olivier stars and directs this romantic comedy about an American showgirl in London, Elsie Marina (Monroe) who gets romanced by the Prince Regent of Carpathia (Olivier) during the 1911 coronation of George V. At first the Prince just wants to hump her brains out. It is not until later in the movie that actual romance occurs.
The couple first meet after the last curtain call of a show Elsie is an understudy in. The Prince greets each member of the cast as they stand in a line. Upon his first sight of Monroe her dress strap breaks as he is about to shake her hand. Needless to say he is impressed and invites her to a private party at his embassy. The private party of course ends up being only the two of them. The Prince spends a great effort trying to get Monroe naked and horizontal. She rebuffs his advances and even laughs at his efforts. So frustrated, he has her sent away. However he got her so drunk trying to have his way, that she ends up falling asleep in another bedroom of the embassy. The next morning he attempts to have her thrown out, but she has already endeared herself to his clueless mother inlaw and his ignored son.
Monroe then plays miss fix-it for this dysfunctional family. She helps mend the relationship between the prince and his son. To do so, she assumes the role of seducer. Eventually they of course fall in love and the Prince even ends up asking her to come back to Carpathia with him. As a historical note World War I would soon break out there, so it is a good thing she does not except his proposal.
The movie has some funny moments and Monroe has a surprising line for this 1957 movie. After many attempts at trying to figure out the Prince's title a frustrated Elsie says. 'Oh the hell with it.'
The direction, however, sucks. Elsie endears herself so much to the Prince's family that she gets to attend the coronation. Olivier gets lost in this scene spending too much time showing stained glass windows and the pageantry of the event. He should have done some more editing. Olivier also should have made better use of Monroe's on screen charm. She sings one song, and it is operatic. Other than the opening scene she wears one outfit the entire movie. Olivier was directing the sexiest woman of her time and he underused her. He is quoted as saying that Monroe was a model not an actress. Either way, he blew a good opportunity.
Reviewed on:
January 21st, 2004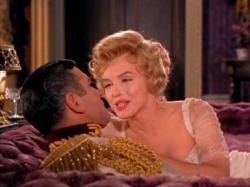 Laurence Olivier and Marilyn Monroe in The Prince and the Showgirl.
As Eric wrote the main attraction for watching this rather bloated romantic comedy is for the unusual pairing of its two main stars. Just watching them interact is reason enough to watch. This is however, along with Some Like it Hot and Bus Stop, Monroe's finest dumb-blonde characterization. She manages to be be both incredibly funny and poignant at the same time. She is especially good early in the movie. I laughed out loud at her attempts to say all of the royal personages titles correctly. Olivier, for his part, could play a stuffed shirt Prince Regent in his sleep. Still he does bring some originality and certainly prestige to the movie.
In my opinion though it is Sybil Thorndike as The Queen Dowager who walks away with the movie. Every scene she appears in is the better for it. Her bearing and line delivery are priceless. And I quite agreed with her near the movie's conclusion when she asks Elsie if she ever wears any color other than white. Monroe looks good in the dress, no doubt about that but like Eric, I would have preferred a bit more variety. Couldn't they have included a scene where The Prince Regent gives her money to go clothes shopping?
I agree with Eric about the coronation scene as well. Olivier, as director, was too in awe of his subject matter. The scene could have used some serious trimming.
As for the one song Elsie sings, if I'm not mistaken a voice double is used. I have never heard Marilyn Monroe show such range or clarity with her singing voice.
Reviewed on:
August 27th, 2005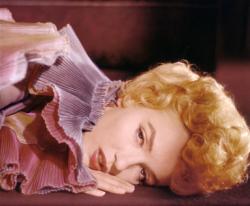 Marilyn Monroe in The Prince and the Showgirl.
The aspect of this movie that Eric seems to have missed, or at least neglected to comment on, is that, as Patrick points out, Monroe does an unusually good job of acting here. She might still be playing the "dumb" blonde, but this time around it doesn't seem so much that she's dumb as she is naïve when it comes to dealing with royalty. In fact, in some ways she's quite intelligent. She speaks German, and is certainly smart when it comes to dealing with men.
However, as both my brothers pointed out, the real problem with this movie is its length. No romantic comedy should ever run to two hours. A good twenty minutes could have been cropped completely, particularly the coronation scene, without losing anything from the story. With a shorter running time, Monroe's single costume might not have felt so obvious. Although it would indeed have been very easy to provide her with a different dress for the coronation.
Eric criticizes Olivier's direction, but to be fair, although his editing choices might leave much to be desired, he is able to draw from Monroe one of the most adult and natural performances of her career.
Photos © Copyright Warner Bros. (1957)
Related Review