Movie Review
Prime
A therapeutic new comedy.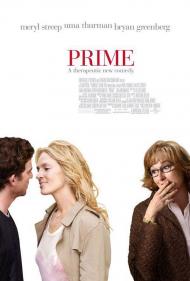 US Release Date: 09-21-2005
Directed by: Ben Younger
Starring
▸
▾
Uma Thurman

,

as

Rafi Gardet
Meryl Streep

,

as

Lisa Metzger
Bryan Greenberg

,

as

David Bloomberg
Jon Abrahams

,

as

Morris
Zak Orth

,

as

Randall
Annie Parisse

,

as

Katherine
Aubrey Dollar

,

as

Michelle
Jerry Adler

,

as

Sam
Doris Belack

,

as

Blanch
Naomi Aborn

,

as

Dinah Bloomberg
John Rothman

as

Jack Bloomberg

Reviewed on:
March 9th, 2006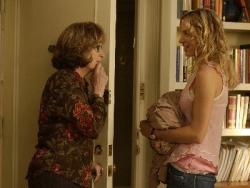 Meryl Streep and Uma Thurman in Prime.
Other than the one huge coincidence of a patient dating her therapist's son without knowing who he is, Prime is one of the most realistic romantic/comedies I have ever seen. So often a film about a May/December relationship spends the whole time trying to tell the audience that age does not matter. Prime is a smart enough movie to show how the attraction may occur as well as demonstrate just how unlikely such relationships will last.
Rafi sees a therapist, Lisa, on a weekly basis since divorcing her husband. She also meets and falls in love with David who is 14 years her junior. David is also Lisa's son. At first Lisa does not know that her patient's new lover is her son but eventually makes the connection. Some of the funniest scenes are when Meryl Streep is acting very uncomfortable as Rafi describes sex with David. "His penis was so beautiful I wanted to knit it a little hat." Rafi tells a very uneasy Lisa at one point.
Although this is a romantic comedy, the movie succeeds best with the character's relationships. Most of the time 23 year old David can get along in Rafi's 37 year old world, but the movie makes many points that being 23 is not the same as being 37. David likes to play Nintendo and is not very neat. Rafi is private and organized. David is just starting a career while Rafi would like to have children. Although it may sound sweet to say that age does not matter, Prime demonstrates quite honestly that it truly can.
Prime shows the attraction a younger man may have with an older woman. At first, Rafi tells Lisa that she did not orgasm the first time she and David had sex and that he did not know where her clitoris was. She then adds that David is very eager to please her and to learn. Thus the sexual attraction is clear in that she gets an enthusiastic lover and he gets a sex teacher.
Their relationship is not just sex. At one point David realizes that he really likes Rafi and has this telling line, "I gotta tell you, your making me nervous in a way that I'm not real familiar with." The movie at first sets the audience up to root for them to make it. However, Prime is more unique than that and as the movie nears its last quarter it is plainly obvious that this relationship is not going to work.
Prime is set apart from most romantic/comedies in that it is about a temporary love. It is about falling in love with the transitional person. The lover who comes after a breakup or takes you to another place in your life, but is not the one you marry and live happily ever after with.
Photos © Copyright Focus Features (2005)