Movie Review
The Pride of The Yankees
It's the Great American Story!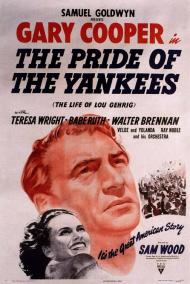 US Release Date: 07-14-1942
Directed by: Sam Wood
Starring
▸
▾
Gary Cooper

,

as

Lou Gehrig
Teresa Wright

,

as

Eleanor Twitchell
Babe Ruth

,

as

Himself
Walter Brennan

,

as

Sam Blake
Dan Duryea

,

as

Hank Hanneman
Elsa Janssen

,

as

Christina Gehrig
Ludwig Stossel

,

as

Henry Gehrig
Harry Harvey

,

as

Joe McCarthy
Virginia Gilmore

,

as

Myra Tinsley
Bill Dickey

,

as

Himself
Mark Koenig

,

as

Himself
Bob Meusel

,

as

Himself
Bill Stern

,

as

Himself
Ernie Adams

,

as

Miller Huggins
Hardie Albright

,

as

Van Tuyl
Frank Faylen

,

as

Yankee Third Base Coach
Douglas Croft

as

Lou Gehrig as a Boy


Reviewed on:
November 17th, 2006
Gary Cooper in Pride of the Yankees.
The Pride of The Yankees is a Hollywood telling of the life of Baseball's first Iron man, Luo Gehrig. He came from an immigrant, working class family. He went to college, became a sports hero, got married and broke all kinds of records along the way. Cooper is great in the role, although he is clearly too old for the early scenes as a college student. He plays Gehrig with shy, insecure humility. The one flaw he is allowed to reveal about him is that he was a real Momma's boy.
The Pride of The Yankees is a tribute to an American sports hero, but made and released during World War II it is also a tribute to the soldiers fighting over seas. It surely struck a cord with the American psyche. Here was an American about to die, much as many in uniform were, but without regret, he gives a farewell speech that rings of America's resolve, pride and determination. "People all say that I have had a bad break, but today, today, I consider myself the luckiest man on the face of the earth."
Today's mainstream media, A.K.A. network news, fills our ears with doom and gloom of the current war in Iraq. I recall watching a broadcast where the newsman was interviewing a wounded soldier heading home. Just before the commercial break he asks the soldier how he feels about going home. He then narrates to us, the viewer, that we will not possibly guess his response. When the show came back on, the soldier said that he sincerely regretted going home and leaving his comrades in arms. The clueless reporter was shocked by this. The Liberal media so constantly chants "bring our soldiers home" that they forget that the men and women in uniform are actually proud of their work. Yes, some will die or get wounded, but they will do so while doing something they chose to do. Something they want to do, and most of all, something they take pride in doing.
During World War II, the objection to the war was less pronounced and patriotism seemed a bit more solid. No doubt the audiences watching The Pride of the Yankees, then, understood and took to heart Gehrig's selfless speech. Today his speech is as poignant and powerful as ever. He knows his life is nearing its end but he doesn't bad mouth anyone or whine and complain. If this was a modern Hollywood movie it would have ended with him calling for a Congressional Hearing on why the President never told anyone about this crippling disease.
You could call this movie propaganda. It begins with a written preface that contains this sentence, "He faced death with the same valor and fortitude that has been displayed by thousands of young Americans on far-flung fields of battle." However, Gehrig's real life speech is not too far off from The Hollywood script. "Fans, for the past two weeks you have been reading about the bad break I got. Yet today I consider myself the luckiest man on the face of this earth." Although Gehrig was talking about baseball his message of resolve was felt by everyone.
Reviewed on:
November 9th, 2013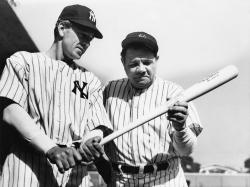 Gary Cooper and Babe Ruth in Pride of the Yankees.
The Pride of the Yankees was a huge hit in its day both critically and commercially. It earned an impressive 11 Oscar nominations (including Best Picture, Best Actor (Cooper) and Best Actress (Wright)), winning the award for Best Editing. It finished the year as one of the top 10 highest grossing American films of 1942. It is a great baseball picture although it shows relatively little baseball. For the most part the focus remains on Gehrig's personal life.
Despite all these accolades the movie is primarily remembered today for Cooper's final speech as Gehrig. What's most interesting is that audiences of the day would have only recently seen newsreel footage of the real Gehrig's speech at Yankee Stadium on July 4, 1939. This would have been one of the first times that an actual filmed news event -with sound- was recreated for the big screen. Ironically, today Cooper's reenactment of Gehrig's moving tribute is better remembered than the real thing.
Babe Ruth plays himself, although he's a bit long in the tooth he shows he could still swat the ball. Cooper was 2 years older than the real Gehrig so Eric is correct that he is a bit too old for the early college scenes. But when you look like Gary Cooper a few extra years hardly matters. Apparently he wasn't a baseball fan in real life and needed extensive practice to look like he (sort of) belonged on the field. This was complicated by the fact that Cooper was right-handed while Gehrig batted and threw left-handed. Cooper did master the lefty swing but a double was used for the throwing scenes, except for one instance where they reportedly "flipped" the image to make it appear as if Cooper were throwing left-handed.
The underrated Teresa Wright is terrific as Eleanor, Gehrig's wife and "companion for life". She may not be well remembered today but she was in several highly acclaimed movies in the 1940s including Mrs. Miniver, The Little Foxes, and The Best Years of Our Lives. She was quite pretty and had an interesting speaking voice. Here she gives arguably the best performance of her career, handling the light moments as well as the dramatic ones with equal aplomb. Frequent Cooper costar Walter Brennan underplays as sportswriter Sam Blake.
The Pride of the Yankees is a triumphant celebration of the life and career of one of baseball's all-time greats. Lou Gehrig earned his nickname "The Iron Horse" by playing in a then record 2,130 consecutive games (it stood for 56 years until Cal Ripken Jr. surpassed it in 1996). Lou Gehrig was the very first baseball player to have his uniform number retired. Disaster strikes in the last 20 minutes of the movie. Although in real life the direness of his prognosis was kept from Gehrig, as was the common practice at the time, in the movie it is handled in a straightforward manner.
Lou Gehrig: Is it three strikes, Doc?
Doctor: You want it straight?
Lou Gehrig: Yeah.
Doctor: It's three strikes.
Lou Gehrig: All the arguing in the world can't change the decision of the umpire.
Lou Gehrig passed away June 2, 1941 a little more than a year before this movie premiered. The Pride of the Yankees is a fitting tribute to an American icon.
Reviewed on:
July 4th, 2014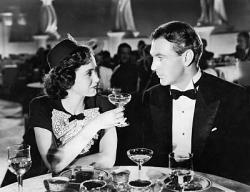 Teresa Wright and Gary Cooper in The Pride of the Yankees.
Today, exactly 75 years to the day after that famous speech, Lou Gehrig stands as not only one of the greatest Yankees, but one of the greatest ball players to ever live. As Patrick mentioned there is relatively little actual baseball in this movie and fans of the time would have been well aware of his accomplishments, but today perhaps it wouldn't hurt to remind ourselves of just how good he was. He finished his career with a .340 batting average, 493 home runs, 1,995 RBIs, the Triple Crown winner in 1934, seven-time All-Star, six-time World Series Champion, and of course, the record holder with those 2,130 consecutive games played. Even in 1938, the final full season of his career when the disease that would take his life was already beginning to affect his physical ability to play, he still managed a .295 batting average. He was indeed, the Iron Horse. And to non-Yankee fans, Cooper's version of the speech might be more famous, to anyone who regularly watches Yankee games on YES, it is the original version of the speech by Gehrig that is much more familiar.
As a Yankee fan, I do wish the film had focused more on the personalities of the team and the on-field action. Gehrig and Ruth had a long standing rivalry in real-life that was said not to be ended until Ruth embraced Gehrig just before he made his famous speech. Instead we only get glimpses of the game and Gehrig's fellow teammates. Seeing Ruth and a few other real life Yankee players in the film is interesting, but Ruth was no actor. One of the best scenes in the film to compare Ruth and Gehrig is the hospital scene where Ruth promises to hit a home run for the little boy in front of the press and photographers, while Gehrig does it only after the press has left. Given that it shows Ruth as a glory hound, I wonder if either Ruth just didn't care, or didn't realize it was painting him in a negative light.
This is actually more of a love story than a baseball one and it's the relationship between Lou and his wife Eleanor that really makes it work. Cooper and Wright share a great chemistry together, bringing this couple's loving relationship to life brilliantly. They showcase a few comic moments as well as dramatic ones, particularly in the final 20 minutes when Eleanor remains strong for Lou. It's the ending for them that brings a tear to the eye rather than the end of a brilliant career. Even the corny moment when the crippled boy, now grown up and walking, returns at the film's climax can mar the emotional impact of their final scenes together.
Cooper does a good job in the lead role, despite playing Gehrig as the typical Cooper character of the homespun, down home, "Gee whiz and gosh", all-American boy. In real life of course, Gehrig was a born and bred New Yorker, complete with accent, as well as being college educated. He had no problem pronouncing the disease that cost him his life as Cooper's version of him does. What Cooper does capture though is the humble spirit of the man and the determination and will power that carried him throughout his life. Gehrig's well-known humility is as far removed from the grandstanding sports stars of today as it's possible to get.
If the film has any problems it is in the pacing in the first half of the film. It takes a little too long to get to Gehrig's baseball career and more importantly to the relationship with his wife.
Perhaps the thing about Gehrig that most impresses those who know of him is that here was a man given a death sentence and yet was able to proclaim himself the luckiest man on earth. Perhaps anyone who can say that about their life when they're on the verge of losing it truly is. We should all be so lucky.
Photos © Copyright Samuel Goldwyn Company (1942)