Movie Review
Presenting Lily Mars
Sing Out the News! It's a Honey of a Show!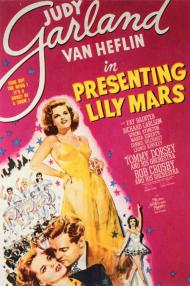 US Release Date: 04-29-1943
Directed by: Norman Taurog
Starring
▸
▾
Judy Garland

,

as

Lily Mars
Van Heflin

,

as

John Thornway
Fay Bainter

,

as

Mrs. Thornway
Richard Carlson

,

as

Owen Vail
Spring Byington

,

as

Mrs. Mars
Martha Eggerth

,

as

Isobel Rekay
Connie Gilchrist

,

as

Frankie
Leonid Kinskey

,

as

Leo
Patricia Barker

,

as

Poppy
Janet Chapman

,

as

Violet
Annie Ross

,

as

Rosie
Douglas Croft

,

as

Davey
Ray McDonald

,

as

Charlie Potter
Bob Crosby

,

as

Himself
Tommy Dorsey

,

as

Himself
Marilyn Maxwell

,

as

Prissy - Showgirl
Charles Walters

as

Lily's Dance Partner in Finale
Reviewed on:
August 23rd, 2014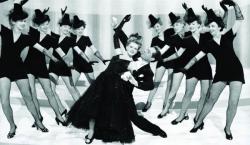 Judy Garland, Charles Walters, and chorus in Presenting Lily Mars.
Presenting Lily Mars was made while Judy Garland was transitioning to adult roles. She had played her own mother in Little Nelly Kelly and had also just played a grownup opposite Gene Kelly in For Me and My Gal. In Presenting Lily Mars she was 20 playing 19. She would reluctantly return to playing a minor one more time in her career the following year in Meet Me in St. Louis.
Lily's a small town Indiana woman with big dreams of starring in a Broadway Musical. She lives near the childhood home of a famous playwright and producer named John Thornway (Van Heflin). He's in town adding the finishing touches to his latest show. Lily makes many attempts to audition for him that grow more and more annoying. She eventually follows him to New York and sneaks into his theater. It's no surprise that what starts off as an acrimonious relationship between the two of them soon turns to love.
Loosely based on the 1933 Booth Tarkington novel of the same name, Presenting Lily Mars is one of Garland's minor films. Its plot is strictly by the numbers and there is nothing particularly memorable about it. The opening third of the picture is the most forgettable. It improves some once Lily arrives in the big city but it never rises above the formulaic plot. Norman Taurog's direction is adequate but there's nothing outstanding about it.
Judy's backstage scenes with Connie Gilchrist are a highlight for anyone who loves the smell of greasepaint and sawdust. Gilchrist plays an old cleaning woman who had once been a star. She tells Lily about her glory days in the theater and how she wouldn't change a thing in her past. Her life in the theater has been enough. Together they duet on the old chestnut "Every Little Movement (Has a Meaning All Its Own)" (although Gilchrist's vocals were dubbed by Mary Kent). In the film it's supposed to have been Gilchrist's character's signature song back in her heyday. This is as close as the movie gets to genuine emotion.
The romance between Garland and Heflin never really takes flight. But then the weakest aspect of Judy's film career was her common lack of chemistry with most of her male costars. This despite the fact that Garland never looked more radiant that she did in the fall of 1942 when this picture was being shot. Her hair was long and glamorous, she was rail thin, and her skin simply glows.
She was also in great voice and belts out a few memorable songs. As usual the highlights of the movie are when Judy is singing. Whether crooning a tender ballad or giving a full throttle roar, she had one of the most beautiful and expressive instruments ever recorded. The musical numbers are spread around a bit. Soprano Mártha Eggerth sings two songs and the movie includes not one but two big bands. Bob Crosby and His Orchestra perform in the middle of the movie, and Tommy Dorsey and His Orchestra show up for the re-filmed finale.
Two finale's were shot for the picture. This was producer Joe Pasternak's first movie at MGM. He was used to the more limited budgets at Universal and apparently the original finale he filmed wasn't opulent enough for Louis B. Mayer. Charles Walters was brought in to re-stage it and he even appeared before the cameras to dance with Garland (see photo). She belts out "Broadway Rhythm" and together she and Walters perform an inspired tap dance to "Three O'Clock in the Morning". This makes for an entertaining finish but it seems slicker and more sophisticated than everything that has come before.
Presenting Lily Mars is worth checking out for fans of Judy Garland but it's definitely one of her least satisfying motion pictures.
Photos © Copyright Metro-Goldwyn-Mayer (MGM) (1943)