Movie Review
Precious: Based on the Novel Push by Sapphire
Life is hard. Life is short. Life is painful. Life is rich. Life is....Precious.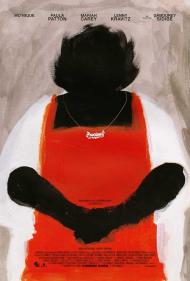 US Release Date: 11-06-2009
Directed by: Lee Daniels
Starring
▸
▾
Gabourey Sidibe

,

as

Precious Jones
MoNique

,

as

Mary Jones
Paula Patton

,

as

Ms. Rain
Mariah Carey

,

as

Ms. Weiss
Sherri Shepherd

,

as

Cornrows
Lenny Kravitz

,

as

Nurse John
Stephanie Andujar

,

as

Rita
Chyna Layne

,

as

Rhonda
Amina Robinson

,

as

Jermaine
Xosha Roquemore

,

as

Joann
Angelic Zambrana

as

Consuelo

Reviewed on:
November 10th, 2009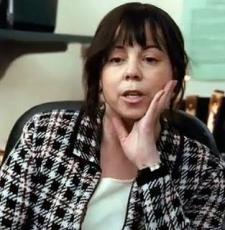 Mariah Carey as Ms. Weiss.
Precious: Based on the Novel Push by Sapphire provides a brutal movie going experience that manages, ultimately, to uplift. It is not an easy movie to watch. Precious is the type of person that we as a society tend to ignore. When we first meet her, in Harlem in 1987, she is 16 years old, is functionally illiterate, still in junior high school and pregnant with her second child. To put it mildly she comes from an abusive home. But Precious retains a spark of hope in the midst of unimaginable circumstances.
Director Lee Daniels handles the difficult subject matter sensitively. The way he shows us the fantasies Precious clings to in order to escape her horrendous life is brilliant. She imagines herself as a star of music videos and with an attractive boyfriend. These scenes are vividly neon colored in contrast to the more subdued colors used in the rest of the movie. Not unlike the transition Dorothy experienced between Kansas and Oz.
As difficult as Precious the movie is to watch it is actually less bleak and graphic than the novel. The ending is also more satisfying and uplifting without being in any way a cop out. Among the many Oscar nominations this movie deserves is adapted screenplay by Geoffrey Fletcher. He fleshes out characters that in the book are seen almost entirely through Precious' eyes.
As good as the direction and script are it is the cast that makes this a truly great movie. Gabby Sidibe deserves the Oscar for her performance as the title character. She is truly a revelation. Amazingly enough this is her first professional acting job! Like Precious she grew up in Harlem but that is where the similarities end. Gabby is a college educated extrovert who talks a bit like a valley girl. She acts her ass off.
The comic Mo'Nique, as Precious' mother Mary Jones, plays one of the most vile characters ever to grace a movie screen. Hers is the showiest role in the movie and she goes for it. She is absolutely riveting in a completely bilious way and is a lock for a Supporting Actress nomination.
The biggest surprise, though, comes from pop's eternal princess Mariah Carey. Still smarting from the fiasco that was Glitter she clearly has something to prove. As the very unglamorous social worker Ms. Weiss she transforms herself into another person. She provides the voice of reason during the climactic confrontation between Precious and her mother at the welfare office. She really pulls it off.
Nitpickers might say the movie lacks subtlety or that some of the editing is not as fluid as it could be. Believe me none of that matters. Precious is this years' Slumdog Millionaire. Don't miss it.
Reviewed on:
December 11th, 2009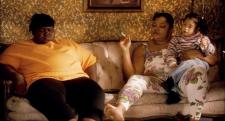 And the winner of worst family of the year goes to...
The thing this movie put me in mind of was the old Monty Python sketch about the worst family in Britain Contest, only the family in this movie puts the families from that sketch to shame. In fact, Precious' family is so awful that you have to wonder just how sadistic the writers of this movie are. Just when you think Precious' life is as bad as it can get, they add some other problem for her.
Honestly though, I don't see the attraction for this movie. It's pure Lifetime movie of the week stuff. It's depressing and miserable and the ending only seems uplifting because of how bad everything was that came before it. It can't really be called a happy ending.
It did provoke some emotional responses from me, but none of them were good emotions. MoNique's character made me angry, but so did Precious sometimes; at least at the beginning.
I'm still not sure what there is about this movie that I was supposed to have enjoyed. I don't want to feel depressed or angry after watching a movie, which is exactly how I felt after this one.
Mariah is okay, but isn't anything that special. Sure she glams-down, but her part is very small and unremarkable. Likewise though I didn't think Gabby was all that great in the lead either. She pretty much just mumbles her way through the part. I know a lot of people will probably disagree with that opinion, but I stand by it.
Every year it seems like there's one movie or another that becomes a critical darling that I disagree with. Looks like this year that movie is Precious.

Reviewed on:
March 18th, 2010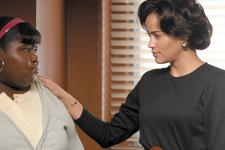 How can someone, who needs so much help herself, raise two children.
I disagree Patrick, Gabby Sidibe did not deserve the Oscar. Her big ugly presence is off putting, but her acting is vacant. She speaks in clear, although shy, ways. For growing up illiterate, she speaks well enough. I have had conversation with people who cannot form a complete sentence without using slang or ibonics. The only thing that makes Precious seem ghetto is that she swears often and loud. She does not act her ass off, she does not seem illiterate. She just maintains a sullen composure the entire film.
MoNique on the other hand, is very convincing as Mary Jones. She hates her own daughter out of jealously. Apparently the only time she ever felt love was from her boyfriend. She was so desperate for that "love", that she allowed him to go on raping their own daughter, to keep him around. She hated that he did it, but not for the normal reasons. She hated it because it meant he gave attention to Precious and not her. So needy of his love, she blamed Precious for his actions. Mary is truly a sad, pathetic person.
Mary Jones is merely a mass of flesh, occupying space on this earth until her body is lowered into a casket. She does not work, or take care of her daughter or granddaughter. She sponges off welfare, eating fatty food while watching television in a dark apartment. The only thing she contributes to the world is heartache and abuse to Precious. Her hate for Precious, and the fantasy that her boyfriend was not to blame for the rapes, are the only things she has.
I did not see the happy ending you mentioned Patrick. Sure, Precious is better off away from her mother, but she cannot take care of two children alone. She will be on assistance, like her mother. If she works and goes to school, someone else will have to raise them, as she will be gone for hours. At one point someone suggests that she give her baby up for adoption. Selfishly, she ignores that option. A mother giving up her child for a better life is an act of true love. Keeping them so she has something to love, may make her feel good, but it also makes her, her mother. She is willing to sacrifice her own children's future by clinging to the fantasy that as an uneducated teenager, living in the governmental system, she can be the kind of mother children need. It takes a lot more than saying you love your children, to be a decent parent. How in the hell Patrick, can the prospects of a homeless, HIV positive, ignorant single teenage mother of two, seem uplifting?
Photos © Copyright Lionsgate (2009)
Related Review