Movie Review
Porky's
Get It At Porky's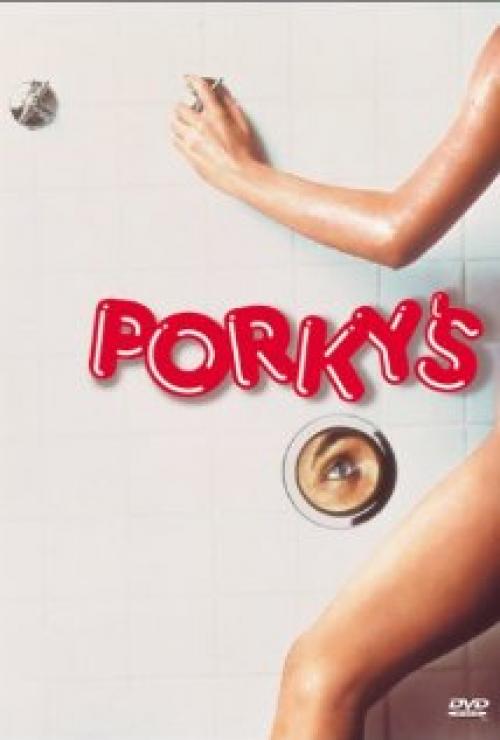 US Release Date: 03-19-1982
Directed by: Bob Clark
Starring
▸
▾
Dan Monahan

,

as

Pee Wee
Mark Herrier

,

as

Billy
Wyatt Knight

,

as

Tommy
Roger Wilson

,

as

Mickey
Cyril O'Reilly

,

as

Tim
Tony Ganios

,

as

Meat
Kaki Hunter

,

as

Wendy
Kim Cattrall

,

as

Honeywell
Nancy Parsons

,

as

Balbricker
Scott Colomby

,

as

Brian Schwartz
Boyd Gaines

,

as

Coach Brackett
Doug McGrath

,

as

Coach Warren
Susan Clark

,

as

Cherry Forever
Art Hindle

,

as

Ted Jarvis
Wayne Maunder

,

as

Cavanaugh
Alex Karras

,

as

Sheriff Wallace
Chuck Mitchell

as

Porky

Reviewed on:
September 18th, 2015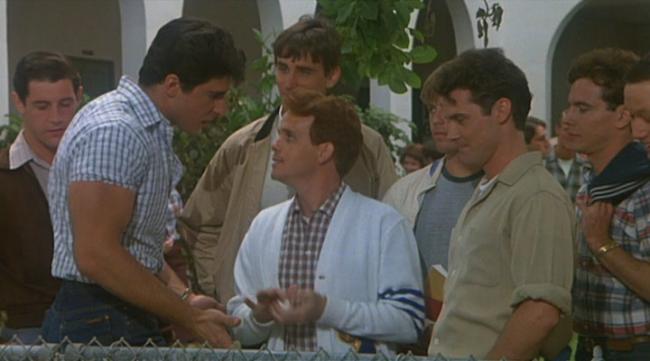 The boys of Porky's show that the 1950s were not as innocent as we were led to believe.
For a period of about ten years, the late 1950s/early 60s were a popular setting for films. It started with American Graffiti in 1973 and was featured in such successes as Grease (1977), Animal House (1978) and concluded with 1982's Porky's. All feature high school/college age people falling in love or just trying to get laid. Each film seemed to get more adult than the previous.
Porky's tells the simple tale of a bunch of happy go lucky high school boys who spend a great amount of time talking about sex, girls and their penises. One boy is nicknamed "Pee Wee" and another "Meat". Both refer to the guys penis size. Pee Wee is an admitted virgin while the others all claim to not be. The basic plot of the film is simply to get Pee Wee laid. They pay a visit to a prostitute named Cherry Forever, but it ends with all of the boys running away naked without any one having had sex.
Another idea is to visit a notorious club in the middle of the swamp called Porky's that features a band, strippers and hookers. Porky takes their money and promises them some whores, only to send them packing without, again, getting laid. One of the boys begins a personal war with Porky that ends with him getting beat up a couple of times.
Meanwhile, the other boys are having a battle with the girl's gym teacher they nicknamed "Ballbreaker." She provides the film with its most classic scene. It happens right after the boys peek in on the girls shower and one pokes his penis through a hole into the shower. Ballbreaker's reaction is painfully hilarious.
For men of a certain age, Porky's was a sexual awakening. It features an extended full frontal nude scene of the girls in the shower. One boy calls it, "… the biggest beaver shoot in the history of Florida." Its frank talk of sex was refreshing as real young men talk in the terms these boys do.
Another storyline involves a gym teacher wanting to have sex with the cheerleading coach. He tells the other coach that they have yet to have sex as, "She's a virgin." The other coach smirks, "Yeah, and the Pope's Jewish." The scene where they finally have sex is humorous and he learns why her nickname is "Lassie."
Porky's was a huge box-office hit but not well received by film critics. Gene Siskel and Roger Ebert even called it one of the worst films of 1982. It was the highest-grossing movie from Canada for 24 years, before being surpassed by the police comedy Bon Cop Bad Cop (2006). It was so successful that Bob Clark only agreed to make the sequel Porky's II: The Next Day (1983) if he got financing for his pet project that no studio was interested in, A Christmas Story (1983).
I recall a friend of mine who loved this film and we laughed over and over again watching this when it came out on HBO. We were young men at the target age for this film and enjoyed every minute of it. Watching it today, I still liked it and was even touched by the dramatic story line involving an abusive father and anti-Semitism. Sure, this was and still is a raunchy comedy but it remains an entertaining watch.
Photos © Copyright Melvin Simon Productions (1982)