Movie Review
Popstar: Never Stop Never Stopping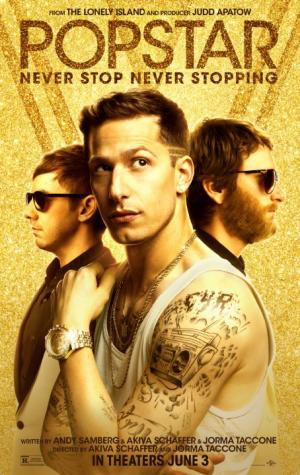 US Release Date: 06-03-2016
Directed by: Akiva Schaffer, Jorma Taccone
Starring
▸
▾
Andy Samberg

,

as

Conner
Jorma Taccone

,

as

Owen
Akiva Schaffer

,

as

Lawrence
Sarah Silverman

,

as

Paula
Tim Meadows

,

as

Harry
Maya Rudolph

,

as

Deborah
Joan Cusack

,

as

Tilly
Imogen Poots

,

as

Ashley
Questlove

,

as

Himself
Carrie Underwood

,

as

Herself
Nas

,

as

Himself
Usher Raymond

,

as

Himself
50 Cent

,

as

Himself
Ringo Starr

,

as

Himself
Simon Cowell

,

as

Himself
Adam Levine

,

as

Himself
Akon

,

as

Himself
Mariah Carey

,

as

Herself
Danny Strong

,

as

Perspective Manipulator
Big Boy

,

as

Himself
D.J. Khaled

,

as

Himself
A$AP Rocky

,

as

Himself
Kevin Nealon

,

as

Gary Sikes
Mario Lopez

,

as

Himself
Will Arnett

,

as

Main CMZ Reporter
Bill Hader

,

as

Zippy
Danger Mouse

,

as

Himself
RZA

,

as

Himself
Chester Tam

,

as

Club DJ
T.I.

,

as

Himself
Pharrell Williams

,

as

Himself
Jimmy Fallon

,

as

Himself
Martin Sheen

,

as

Himself
Will Forte

,

as

Bagpipe Player
Snoop Dogg

,

as

Himself
'Weird Al' Yankovic

,

as

Hammerleg Lead Singer
Michael Bolton

,

as

Himself
Pink

,

as

Herself
Justin Timberlake

,

as

Tyrus Quash, Conner's chef
Emma Stone

as

Herself

Reviewed on:
June 6th, 2016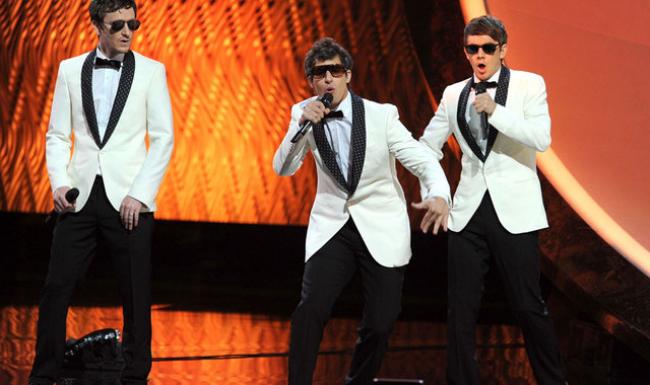 Akiva Schaffer, Andy Samberg and Jorma Taccone in Popstar: Never Stop Never Stopping.
Popstar: Never Stop Never Stopping is Spinal Tap for the 21st Century. Rather than heavy metal it skewers boy bands and Justin Bieber in particular. Andy Samberg co-wrote the script with childhood pals Jorma Taccone and Akiva Schaffer. Taccone and Schaffer co-directed the movie. Samberg stars as Conner Friel a young boy from the suburbs who forms a rap trio called the Style Boyz with his two best friends, Owen (Taccone) and Lawrence (Schaffer). Like the Beastie Boys they become a seminal rap act that influences many future rap stars. At the height of their fame, however, Conner leaves the group to launch a successful solo career as Conner4Real. His debut album Thriller, Also sells 4 million copies and hits the top of the charts.
When Connquest, Conner4Real's follow up album, is met with poor sales and bad reviews, Conner must deal with adversity for the first time in his career. The plot of the movie deals with Conner4Real's attempts to boost his album sales with a tour and his eventual reunion with his former bandmates. Along the way many famous faces make cameo appearances to comment comically on Conner4Real and/or the Style Boyz. Some acts, like Adam Levine, Pink and Michael Bolton among others, even join Conner in song.

One of the funniest moments is when Mariah Carey tells us how she instantly related to Conner4Real's song "I'm So Humble" because she's probably the most humble person she knows. Another comic highlight is Conner4Real's song for marriage equality (which he recorded AFTER same sex marriage was legalized) called "Equal Rights" and in which he repeatedly states that he's "not gay". There's also a spot-on spoof of TMZ that's worth a laugh or two.
Samberg, Taccone and Schaffer wrote many songs for the movie. Other titles include "Finest Girl (Bin Laden Song)"(I want to do to you what the US military did to Bin Laden), "Things in My Jeep" (literally a list of mundane objects found in his jeep), and "Incredible Thoughts", which I assure you includes none.
Andy Samberg has charm and comic timing in spades. He makes you like Conner even when he's being the world's biggest dick. Although lacking Samberg's charisma, Taccone and Schaffer are genuinely funny, and as a trio they are frequently hilarious. Popstar: Never Stop Never Stopping is a fast paced musical comedy that even tries for a bit of heart. It may never equal the classic status of This is Spinal Tap but Popstar did surprise me by being a genuinely funny movie.

Reviewed on:
June 10th, 2016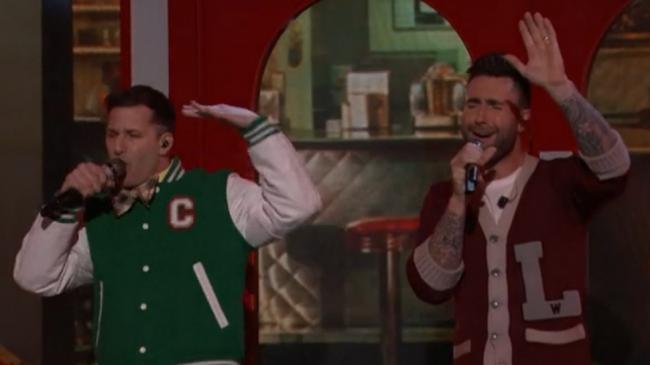 Andy Samberg and Adam Levine in Popstar: Never Stop Never Stopping
Conner going out on his own and learning the lesson that what made him great was his band mates reminded me of a tour Bruce Springsteen did some 20 years ago. I was tempted to buy tickets until I read that it was an acoustic concert with just him on a stage with his guitar and I changed my mind. I later read a review that was not completely flattering and noted that several times during his set he had to address the audience, that was yelling for him to perform "Born in the USA", and remind them that it was not that kind of concert. Think about that song or "Born to Run" or "Dancing in the Dark" and others and you realize that it was the music created by the E Street Band that you remember more than Springsteen's singing.

Although Conner4real works in a different genre of music, the lesson remains the same. The Style Boyz influenced other artists, as testified by some of the many cameo appearances. Conner's first solo album was a success in large part due to former band mate, Owen, working on the music. It took him to fail to realize that he became famous and rich only because of his band mates and in return, they acknowledge that without him, they would not have made any money in the business as well.

As Patrick and his husband are huge Mariah Carey fans I was assuming his praise of her small part being one of the funniest was biased. I was wrong. Her comments about relating to a song about being humble is delivered with sincerity, which really sells the joke considering some of the arrogant statements she has made over the years. She later makes a second brief appearance that likewise had me laughing. My personal favorite cameo was Justin Timberlake as Conner's carrot obsessed personal chef.

Popstar earns it's "R" rating through plenty of four letter words and one particular scene in a limousine that crossed a new line for Judd Apatow's work. I have been writing how movies of this generation show more male nudity than female and this is the perfect example. I cannot complain too much though as it is also the funniest scene in the entire movie. Andy Samberg's expression is hysterical!
Popstar: Never Stop Never Stopping is very much of the moment but still delivers some sincere laughs. I agree that it is not likely to become the cult classic that This Is Spinal Tap is and the reason for that is something Patrick mentioned. The film has a heart with Conner learning a lesson and making up with his friends. Whereas Conner grows from his experiences, David and Nigel stay blissfully, and hilariously, ignorant through the credits. I mean, come on. Everyone knows that eleven is one louder than ten. Duh!

Photos © Copyright Universal Pictures (2016)