Movie Review
Ponyo
Welcome To A World Where Anything Is Possible.
US Release Date: 08-14-2009
Directed by: Hayao Miyazaki
Starring
▸
▾
Cate Blanchett

,

as

Granmamare (voice: English version)
Noah Lindsey Cyrus

,

as

Ponyo (voice: English version)
Matt Damon

,

as

Koichi (voice: English version)
Tina Fey

,

as

Lisa (voice: English version)
Frankie Jonas

,

as

Sosuke (voice: English version)
Kurt Knutsson

,

as

The Newscaster (voice: English Version)
Cloris Leachman

,

as

Noriko (voice: English version)
Liam Neeson

,

as

Fujimoto (voice: English version)
Jennessa Rose

,

as

Kumiko (voice: English Version)
Lily Tomlin

,

as

Toki (voice: English version)
Betty White

as

Yoshie (voice: English version)

Reviewed on:
September 16th, 2011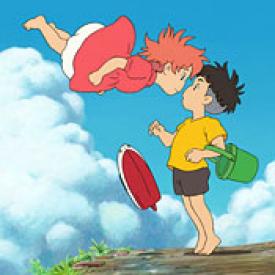 Ponyo and Sosuke
Originally Ponyo was released in Japan in 2008. Walt Disney bought the distribution rights and released Ponyo in The United States the following year. With my children getting older, I have watched fewer and fewer animated films of late. However, one of my sons likes anime and the cast of the English version was just too famous to ignore.
The film starts off very odd. A strange looking man with long red hair is under the ocean pouring liquid into the sea. He looks like a transgender with his ear rings, makeup and such. Feminine looking men in anime is a common look for some reason. He has hundreds of daughters that look like human heads in dresses. They have no arms, legs or fins, yet one of them swims off for no apparent reason. She gets found by a five year old boy, Sosuke, playing by the sea. He names her Ponyo and keeps her in a bucket.
Now here comes the real strange part. Her father finds her and brings her back under water to their home. She morphs herself into a chicken and then a human. She escapes and in the process spills his magic potions, causing the moon to move closer to the Earth. This causes the tides to rise and a tsunami. As Sosuke's mom tries to drive them home through the storm, he notices a familiar looking girl running on top of the ocean waves.
Ponyo goes home with Sosuke and his mother. Ponyo's Dad works on a ship and they have not heard from him since the storm began. Meanwhile the Moon continues to get closer to the Earth. Ponyo's mother shows up to help. She is an aircraft carrier sized water spirit. She informs us that if Sosuke proves his love for Ponyo the world will be saved. Nothing is explained as to how any of this works, but relying on a preschooler to save the world by confessing his love is odd on several levels.
Made before Japans devastating tsunami, Ponyo foreshadowed massive flooding and damage. As this is a children's film no one is shown killed or in serious danger. People are though, shown using boats to get to safety as large parts of land are now under water.
The real attraction for me to this film was the cast. Tina Fey is not listed first but she has the most lines of any of the adult actors. Damon is Sosuke's Dad and you can count his lines on one hand. Blanchett does not show up until the end as Ponyo's mother. The real stars are Noah Cyrus, Miley's younger sister and Frankie Jonas, the Jonas brother's younger brother. The unstoppable Betty White and Cloris Leachman do the voices of old women at a shelter Sosuke's mom works at.
Ponyo is clearly not an American made film. It is unconventional when compared to the usual Disney cartoons. It took a few minutes for me to get into it's rhythm. It ends up a sweet enough story but the plot may have gotten lost in translation as so many things are never explained. Ponyo is often odd but always imaginative.
Photos © Copyright Studio Ghibli (2009)