Movie Review
Point of No Return
The Government gave her a choice. Death. Or life as an assassin. Now, there's no turning back.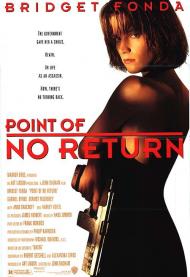 US Release Date: 03-19-1993
Directed by: John Badham
Starring
▸
▾
Bridget Fonda

,

as

Maggie Hayward
Claudia Anne Doran

,

as

Nina
Gabriel Byrne

,

as

Bob
Dermot Mulroney

,

as

J.P.
Miguel Ferrer

,

as

Kaufman
Anne Bancroft

,

as

Amanda
Olivia d'Abo

,

as

Angela
Richard Romanus

,

as

Fahd Bahktiar
Harvey Keitel

,

as

Victor the Cleaner
Lorraine Toussaint

,

as

Beth
Geoffrey Lewis

,

as

Drugstore Owner
Michael Rapaport

as

Big Stan

Reviewed on:
September 14th, 2011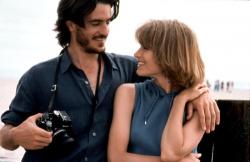 Dermot Mulroney and Bridget Fonda in Point of No return
The first thing I thought of when watching this movie was, "Whatever happened to Bridget Fonda?" She was in so many films in the 1990s but has not acted in film or television since 2002. A quick on line search found that in 2003 she was in a car accident and married musician Danny Elfman. In 2005 she gave birth to a son. Apparently she chose her personal life over her professional one.
Point of No Return is a remake of the French thriller La Femme Nikita. Read that review for the story line. The plot follows Luc Besson's original script very closely, with a few exceptions. One original scene has Maggie defending herself and J.P. from a couple of muggers. The other change is the climactic ending. Here she disguises herself as the girlfriend of the mob boss, in order to sneak in and steal some information. It actually makes more sense than the original in which Nikita pretends to be a man.
Although it is essentially the same film, Point of No Return is a lesser movie than the original because of the cast. Byrne's Bob seems a bit more hot and bothered by Maggie than in the original, but it means nothing to the plot. Mulroney has always just been a pretty boy. Wearing a beard and long hair does not make him anymore of a serious actor. In the original they flirt nicely back and forth. Here I have no idea what they see in each other besides convenience. The break up had none of the sadness of the original.
Fonda seems bored the entire time. There is no life in her character. The movie constantly has her talking about singer Nina Simone, whose moody pop standards are played throughout the film. It does not make Maggie a deeper character, no matter how many times Simon is referred to. Like Anne Parillaud, Fonda is awkwardly attractive, but Fonda is less convincing. Early in the story Parillaud came across as crazy while Fonda just seemed like a bitch. Parillaud played the role with some nerves while Fonda seemed completely unprepared.
As Hollywood royalty, (Bridget is the granddaughter of Henry, niece of Jane and daughter of Peter) she likely has the ability to make a comeback when and if she ever chooses. Perhaps though, she should do a family film and leave the action movies to someone else.
Photos © Copyright Warner Bros. Pictures (1993)
Related Review