Movie Review
Pocketful of Miracles
Movie Magic from Damon Runyon and Frank Capra!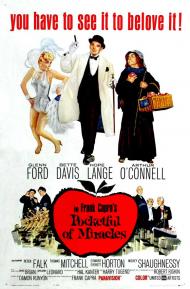 US Release Date: 12-19-1961
Directed by: Frank Capra
Starring
▸
▾
Glenn Ford

,

as

Dave the Dude Conway
Bette Davis

,

as

Apple Annie
Hope Lange

,

as

Elizabeth 'Queenie' Martin
Arthur O'Connell

,

as

Count Alfonso Romero
Peter Falk

,

as

Joy Boy
Thomas Mitchell

,

as

George Manville
Edward Everett Horton

,

as

Hutchins
Mickey Shaughnessy

,

as

Junior
Ann-Margret

as

Louise
Reviewed on:
May 3rd, 2004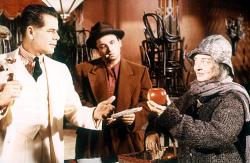 Glenn Ford, Peter Falk and Bette Davis in Pocketful of Miracles.
Taken from a Damon Runyon story Pocketful of Miracles was the last movie directed by the legendary Frank Capra. It was, in fact, the second screen version of the story directed by him. Thirty years earlier he made it under the title Lady for a Day. Filled with colorful stock characters played by great performers, Pocketful of Miracles is winsome fun and a sweetly nostalgic movie.
Set in the early thirties, the story concerns a drunken old Broadway street-vendor called 'Apple Annie' (Bette Davis). She peddles apples that supposedly bring good luck to the buyer. Her best customer is Dave the Dude (Glenn Ford) a big-time racketeer tyring to clinch a deal with a mobster from Chicago that will make him king of the New York underworld. Meanwhile Annie gets a letter from her daughter - who was raised and educated in Spain - stating that she will be arriving for a visit along with the very rich Count Alfonso Romero and his handsome son Carlos, to whom she is engaged. The only problem is that Louise (the daughter) thinks her mother is a wealthy dowager. In order to keep his luck from failing (and because of his big-heart) Dave the Dude concocts a scheme to pass Apple Annie off as a grand dame of New York high society.
This silly little plot works in the talented hands of the cast. Bette Davis has one of her most famous make-overs, from boozy-old-broad to elegant lady. Although she clearly has more fun in the scenes before the change. Glenn Ford also shines as the ambitious Dave the Dude and Hope Lange is good as his ex-chorus-girl moll who pines for a traditional homelife in Silver Springs, Maryland. Peter Falk received a supporting actor Oscar nomination for his hilarious portrayal of the Dude's righthand man, Joy Boy. Veteran character actor Edward Everett Horton steals nearly every scene he appears in as Hutchins, the butler at the fancy hotel suite where Apple Annie stays after her transformation. Thomas Mitchell (in his last screen role) is perfect as the Judge, an old conman and pool shark with a florid tongue and gracious manners, chosen to play Annie's husband. Ann-Margret (in her movie debut) rounds out the cast as the beautiful Louise.
Pocketful of Miracles may not add much luster to Capra's already-shimmering crown but at the same time it doesn't tarnish it any either.
Photos © Copyright United Artists (1961)