Movie Review
Please Don't Eat the Daisies
The Uproarious Movie From The Big Best-Seller!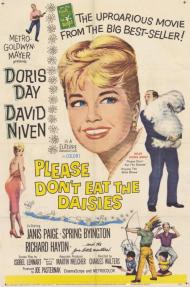 US Release Date: 03-31-1960
Directed by: Charles Walters
Starring
▸
▾
Doris Day

,

as

Kate Mackay
David Niven

,

as

Lawrence Larry Mackay
Janis Paige

,

as

Deborah Vaughn
Spring Byington

,

as

Suzie Robinson
Richard Haydn

,

as

Alfred North
Patsy Kelly

,

as

Maggie
Jack Weston

,

as

Joe Positano
John Harding

,

as

Reverend McQuarry
Margaret Lindsay

as

Mona James


Reviewed on:
June 27th, 2006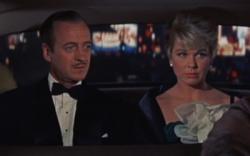 David Niven and Doris Day in Please Don't Eat the Daisies.
Please Don't Eat the Daisies is a mildly entertaining little film that is really for Doris Day fans only. She hums a few bars from her most noted song Que Sera, Sera and looks good in tight pants. She even has the best line in the movie when she yells sarcastically at her husband, "I was having a rendevous with Rock Hudson!" But for anyone else, including myself, Please Don't Eat the Daisies has little to offer.
Larry is a theater critic and his wife Kate is a stay at home mom for their four young sons. The family plans to move to the country as the boys have outgrown their New York apartment. Larry insults an actress, in one of his reviews, who retaliates by slapping him in public, making Larry and her play more successful. There is some friction between the married couple as he wants to stay in New York and she is trying to make a home out of their large old country house.
The movie has very little spark. Larry is pretentious while Day looks and acts like God's favorite angel. The only time the movie comes close to entertainment is when the children are on the screen. The movie opens with them dropping water bombs on people on the street. The youngest child is literally kept in a cage. At one point, Day is talking on the phone while struggling to get into a dress, "I lost 5 pounds and bought a new dress." She says. "Maybe you should have lost 10 pounds," One of her son advises. As television's Malcolm in the Middle proved, mother/son relationships can be very funny. Sadly, this movie centers more on Larry and Kate's dull relationship instead of the boys.
Please Don't Eat the Daisies suffers from a dull plot and complete lack of chemistry between Nivens and Day. Day was a leading lady, but Nivens was best in ensembles. Both stars made better films around the same time. Day had just done her funniest movie, Pillow Talk, with Hudson the previous year and Nivens' next film, The Guns of Navarone, would be his best.
Reviewed on:
April 20th, 2012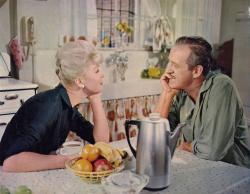 Doris Day and David Niven in Please Don't Eat the Daisies.
Yeah the chemistry between Day and Niven is nonexistent. They were both talented stars but not very appealing as a romantic married couple. I also agree the story is uneven. It starts off like it's going to be about Day managing her brood of four rambunctious boys and a large sheep dog. It then morphs briefly into a Mr. Blandings Builds His Dream House type comedy as Doris makes over the old country mansion they've moved into.
The final dramatic conflict between husband and wife is as contrived as the plays Niven's character so acerbically pans. As Eric wrote, it's a pleasant movie diversion for Doris Day fans but hasn't aged particularly well, although it does look good in Technicolor and Cinemascope.
In 1960 Doris Day was the biggest female movie star on the planet. She was acknowledged as the top box office attraction (male or female) in 1960, 1962, 1963, and 1964 and finished in the the top 10, ten times between 1951 and 1966. As of this writing, in fact, she remains the top female box office star of all time. She effortlessly carries this rather slight script on her slender shoulders. At 36 she was the perfect embodiment of American wholesomeness. She was also quite spunky and modern. She could sing and dance, had great comic timing and could be equally effective doing straight drama.
One of the most outdated aspects of the movie occurs near the end in a scene between David Niven and Spring Byington. Byington, as Day's mother, tells her son-in-law how proud she is of what a powerful man he has become and advises him to keep her daughter securely in her place under his thumb. Feminism be damned, this woman wants her daughter to be treated as her husband's property. And speaking of Spring Byington, she had begun her movie career in 1933 playing Katharine Hepburn's mother in Little Women. She would finish it 27 years later playing Doris Day's mom here.
Janis Paige plays the actress that Niven writes a bad review for. This was a reunion of sorts for her and Day as they had appeared together in Day's very first movie, Romance on the High Seas (where Paige got top billing over Day). Fans of 1930s Warner Brothers pictures will enjoy seeing Margaret Lindsay as a much older but still recognizable former beauty in a few scenes.
The song Doris performs during the play rehearsal scene is called "Any Way The Wind Blows". It had been written the previous year but not used for the movie Pillow Talk, and had even been the working title for that movie before they settled on the slightly more risque name for the most popular of all her movies with Rock Hudson.
Please Don't Eat the Daisies was based on a popular 1957 book by humorist and playwright Jean Kerr. It consisted of various essays detailing anecdotes about her life raising four boys in the suburbs. In 1965 it would be turned into a television series. There was also a song written for this movie by Joe Lubin with the same title and sung briefly by Day. By the end of the 1960s, however, these Daisies, in all its various incarnations, had faded from popular culture.
Photos © Copyright Metro-Goldwyn-Mayer (MGM) (1960)