Movie Review
The Plastic Age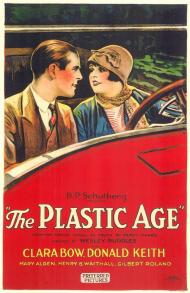 US Release Date: 12-15-1925
Directed by: Wesley Ruggles
Starring
▸
▾
Donald Keith

,

as

Hugh Carver
Mary Alden

,

as

Mrs. Carver
Henry B. Walthall

,

as

Henry Carver
Gilbert Roland

,

as

Carl Peters
Clara Bow

,

as

Cynthia Day
David Butler

,

as

Coach Henley
Clark Gable

,

as

Athlete
Janet Gaynor

,

as

Co-ed
Carole Lombard

,

as

Co-ed
Gwen Lee

,

as

Carl's girl
Churchill Ross

,

as

Boy with glasses
Bill Elliott

as

Athlete


Reviewed on:
August 30th, 2012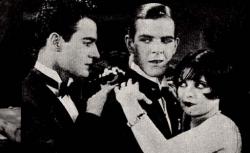 Gilbert Roland, Donald Keith and Clara Bow in The Plastic Age
Although It and Wings have had a longer shelf life, it's The Plastic Age that created the image Clara Bow is most remembered for. Here she is in full on flapper mode, flirting with every man she meets and wanting to party every chance she gets. She is the life of the party. Her smile is playful and the look in her eyes is that of sexual possibilities. This is the role that is often sighted as the one that made her a super star.
Films set in college were popular in the mid 1920s. Harold Lloyd's The Freshman also came out in 1925 while Buster Keaton's College was released in 1927. All involve a similar plot of a young man going to college, playing sports, making friends and meeting a girl. In The Plastic Age it is Hugh Carver, a high school track star whose parents are proudly sending off to college glory and a bright future. Before leaving, his mother tells his father to tell Hugh what he needs to know. wink wink. Father and son then have a private conversation in which there are no dialogue cards. We can only assume that it is a sex talk.
Hugh arrives at college where he is recognized as a promising athlete and hazed by some upper classman. He and another freshman are forced to break into a sorority wearing hats and dressing gowns. It soon turns into a party and the freshmen are sent packing while the upper classmen stick around to dance with the coeds. Before leaving, Hugh and Cynthia (Clara Bow) meet and become attracted to each other.
Cynthia is however, Hugh's room mate's girl, or at least that is how his room mate sees it. He claims they have "kissed twice" and he owns a picture of her where she seems to be naked. He also has many other pictures of other girls as well. Cynthia is a bad influence as she keeps Hugh out late at night partying. Hugh and his room mate fight over her. Hugh's college career suffers as a report is published that the promising track star is out of shape. His father is terribly disappointed.
My favorite scene is when Cynthia talks Hugh into taking her to a bar. This was during prohibition. Hugh's room mate is already there with another girl and drunk off his ass. The two get into a fight and the place gets raided. It is a classic scene of the roaring twenties.
At first it seems that the attraction to Cynthia is strictly physical. It never states if they have had actual sex, but they are shown making out behind a curtain and walking very romantically away later. Will Hugh be able to focus on his studies and sports or will he stay on his path of destruction? Will he and his room mate ever make up? Will he and Cynthia be true to each other or break up?
The story is simple and predictable, but the cast is great and unlike some films, they are of college age. Donald Keith (22) and Gilbert Roland (20) are both good as young men fighting with each other and their feelings of love for the same woman. Clara Bow (20) livens the proceedings up whenever she is on screen.
With the possible exception of Cary Grant, no other actor appeared in the same film with so many different famous leading ladies as Clark Gable (24). He is never in the same shot as Clara Bow, but is featured quite a bit in the locker room scene and he may or may not be the guy atop the bleachers making out with a girl whose shoe falls off. Also in the cast is Gable's future wife Carole Lombard (17). I believe she is the blonde girl Gilbert Roland is dancing with at the bar, but I could be wrong.
Reviewed on:
April 5th, 2013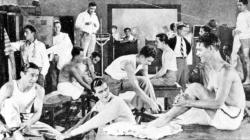 Donald Keith, Gilbert Roland, Clark Gable and various male castmates in The Plastic Age.
Actually Eric, I think the blonde Gilbert Roland is dancing with was Gwen Lee. I was unable to spot either Carole Lombard or Janet Gaynor. Gable is easy to find with those trademark ears of his. He was very young and impossibly handsome and he already possessed that famous shit eating grin. He has one very clear shot about 22 minutes into the film. The guy making out with the girl whose shoe falls off certainly looks like Gable as well although, like my brother, I'm not absolutely sure it is him.
The Plastic Age was based on the novel of the same name. It was the second best selling American novel of 1924 and had the distinction of being banned in Boston. It was written by Brown University professor Percy Marks. He based it on his students, 'the flaming youth of rebellion', who listened to hot jazz, drank gin from hip flasks and held petting parties. It was adapted for the screen by Frederica Sagor Maas. She was one of the last living icons from the Roaring Twenties. She died January 5, 2012 at the incredible age of 111.
Director Wesley Ruggles would go on to helm the Best Picture winner Cimarron as well as the popular Mae West comedy I'm No Angel. He also directed the only movie in which Clark Gable and Carole Lombard costarred, 1932's No Man of Her Own.
The cast includes former D.W. Griffith stock player Henry B. Walthall. He is most famous for playing Lillian Gish's father in The Birth of a Nation. I was not all that impressed with Donald Keith though and I'm not surprised that his career never really took off. Gilbert Roland demonstrates much more charisma as the best friend and rival. All the more impressive as this was his movie debut.
But The Plastic Age is remembered first and foremost as the picture that made Clara Bow a star. I agree with Eric that she was the life of the party as Cynthia Day. She was made for the close-up. Very few faces are as photogenically attractive and at the same time as expressive as her face was. It was an open book. She could smile through her tears and break your heart, then a split second later shrug it off and become the carefree party girl again.
As Eric said, the plot is pretty run of the mill but The Plastic Age deserves to be seen as both a time capsule of college life in the 1920s as well as the vehicle that brought Clara Bow to the attention of the masses.
Reviewed on:
June 2nd, 2013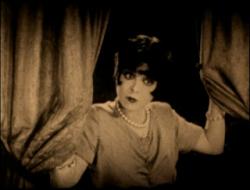 Clara Bow in The Plastic Age.
Donald Keith is the star of this film, but as my both my brothers pointed out, it's Clara Bow who steals every scene. Like Patrick, I was unsurprised to learn that Keith never became a star, although IMDB does list 49 films in which he appeared, dating from 1918 until 1936. As Bow would prove 2 years later, she definitely had It, but Keith did not.
The plot, despite some risque (for the time) moments, is really just a morality play. Young Hugh Carver is at first seduced by the life of flirting, drinking and partying, but after a stern talking-to by his father, is put on the straight and narrow path. Because he avoids temptation, by the film's end he has become the hero of the big game, become friends with his enemy (for no satisfactory reason), and, of course, gets the girl. It's not a very original plot, but it is slickly packaged and must have seemed very modern when it was released.
As has been said, it is Clara Bow who really lights up the screen. With those large, expressive eyes of hers, she was very photogenic. A New York Times review of this film said of Bow that, "She radiates an elfin sensuousness." It is certainly an apt description. She's a bundle of sexy energy in a small package. It's not hard at all to see why the two male leads are fighting over her.
The inclusion of Gable and Lombard as extras, is an interesting sidenote. They would famously marry over a decade later, but only ever truly star in one other film together, as Patrick wrote. It makes director Wesley Ruggles unique in that he was the only man to ever direct the famous couple on the same film, having done it both times.
Mildly entertaining, this is a film to watch because of Clara Bow. Other than her performance, it has little to offer.
Photos © Copyright B.P. Schulberg Productions (1925)