Movie Review
Pixels
Game on.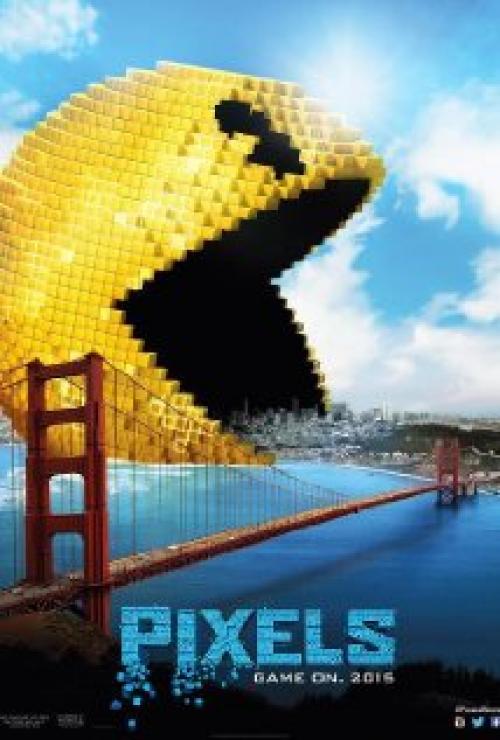 US Release Date: 07-24-2015
Directed by: Chris Columbus
Starring
▸
▾
Adam Sandler

,

as

Brenner
Kevin James

,

as

Cooper
Michelle Monaghan

,

as

Violet
Peter Dinklage

,

as

Eddie
Josh Gad

,

as

Ludlow
Matt Lintz

,

as

Matty
Brian Cox

,

as

Admiral Porter
Sean Bean

,

as

Corporal Hill
Jane Krakowski

,

as

Jane Cooper
Dan Aykroyd

,

as

1982 Championship MC
Affion Crockett

,

as

Sergeant Dylan Cohan
Lainie Kazan

,

as

Mickey Lamonsoff
Ashley Benson

,

as

Lady Lisa
Denis Akiyama

,

as

Professor Iwatani
Tom McCarthy

,

as

Michael the Robot
Tim Herlihy

,

as

Defense Secretary
Jackie Sandler

,

as

President's Assistant Jennifer
Jared Sandler

,

as

White House Junior Aide Jared
Nick Swardson

,

as

Pac-Man Victim
Serena Williams

,

as

Serena Willams
Martha Stewart

,

as

Martha Stewart
Dan Patrick

as

White House Reporter #1

Reviewed on:
July 30th, 2015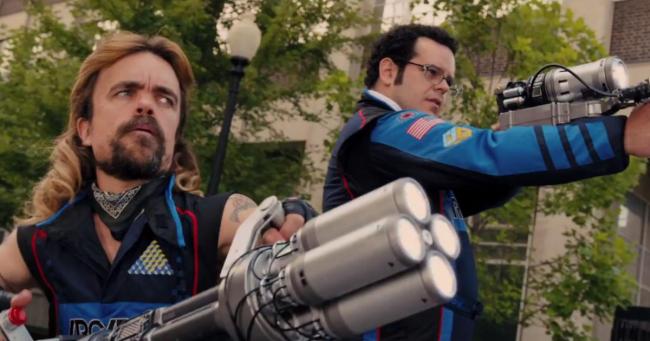 Peter Dinklage and Josh Gad in Pixels
Adam Sandler's films often feature references to the 1980s or have a flashback to the MTV decade. The Wedding Singer takes place in the 80s as does part of That's My Boy. Grown Ups Two has the main characters throwing a 80s themed costume party. Sandler was born in 1966 so I understand his affection for the time period and Pixels follows suit.
The story starts in 1982 where we meet best friend teenagers Brenner and Cooper, and their third wheel Ludlow. They spend a great amount of time playing video games in their local arcade. With the banana seat bikes, fashion and cars, the flashback portion is a time capsule to all and anyone who lived through that time period. We hear the boys discussing which singer they think is the hottest. One says it is Samantha Fox, while the other comments that, "…she has nothing on Sheena Easton."
Brenner enters a video game competition where he ends up in the final gaming challenge of Donkey Kong against Eddie, an arrogant player, humorously portrayed by Peter Dinklage. The MC announces that a video tape of the competition will be included in a capsule being sent into outer space alongside other pop culture videos as examples of the current earthly human condition. The film then moves ahead some three decades where we meet Brenner (Adam Sandler) and Cooper (Kevin James) debating in a bar whether or not Katy Perry is the current hottest singer.
Some of their habits have not changed while other things have. Brenner is now a tech nerd, think Geek Squad. He is single while Cooper has married and become nothing less than the President of the United States. As Brenner and Cooper leave the bar, people waiting outside yell their disapproval to the President about all of the things they are disappointed with him about. James just smiles back politely and feigns several uncomfortable waves and, "Thank yous."
Before you know it, Cooper is faced with all kinds of stress when the Earth gets attacked by aliens that Ludlow deduces, "I believe that some alien life-force has sent real life videogames, to attack us." They conclude that the aliens believed the videos were the Earth's plan to attack them. A Seal team is assembled to use new weapons to defend the earth but as muscular and well trained in warfare as they are, they are inept when fighting 30 year old video games come to life. Brenner, Ludlow and a recently released from prison Eddie, must step up and put to use all of those hours spent slipping quarters into arcade machines. Brenner gives the others an inspiring speech, "We're the only ones who can do this! I'm kidding, we're all gonna die. I'm just... sorry."
Pixels provides plenty of laughs, such as how the aliens choose to communicate with earthlings. Dinklage has never been funnier, such as when he gives his list of demands. My son laughed out loud when Josh Gad danced and sang a "Tears for Fears" song on stage. Sandler is pretty much in the role of straight man and romantic lead as he falls in love with a recently singled mother who helps fight the alien invaders. The action is all light and fast paced, clocking in at a refreshing 106 minutes.
The CGI battle sequences are made all the more interesting if you have ever played any of these classic games. Like the two laughing middle aged gentlemen sitting behind us in the theater, it helps to be of a certain age to fully appreciate this movie but it is not actually necessary as my 19 year old can attest to as he completely loved Pixels and all it had to offer.
Photos © Copyright Happy Madison (2015)