Movie Review
The Pirate
The great MGM musical romance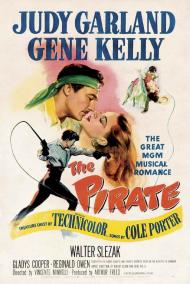 US Release Date: 06-11-1948
Directed by: Vincente Minnelli
Starring
▸
▾
Judy Garland

,

as

Manuela
Gene Kelly

,

as

Serafin
Walter Slezak

,

as

Don Pedro Vargas/Macoco the pirate
Gladys Cooper

,

as

Aunt Inez
Reginald Owen

,

as

The Advocate
George Zucco

,

as

The Viceroy
Fayard Nicholas

,

as

Specialty Dancer
Harold Nicholas

as

Specialty Dancer

Reviewed on:
April 15th, 2011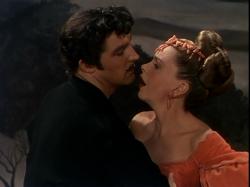 Gene Kelly and Judy Garland in The Pirate.
Six years after For Me and My Gal, MGM finally re-teamed Judy Garland and Gene Kelly in a starring vehicle. They had both appeared in the all-star musical revues Thousands Cheer and Ziegfeld Follies of 1946 but The Pirate was the first time they shared the screen together since Gene Kelly's movie debut in 1942.
Although the final product is flawed, on paper The Pirate had everything going for it; the immensely talented Vincente Minnelli (Garland's husband at the time) directing, the great Arthur Freed producing, the inimitably sophisticated Cole Porter writing the score and a script based on the celebrated play of the same name by S.N. Behrman, which had starred Alfred Lunt and Lynn Fontanne on Broadway. Throw in the incredible Nicholas Brothers and how could you miss?
By a fairly wide mark apparently as The Pirate would eventually lose two million dollars. The production was beset with problems, most noticeably Miss Garland's ill health. She missed so many days of work that the shooting schedule stretched from two months to six. Looked at today, The Pirate is a colorful, splashy (if a bit overdone), musical comedy that brilliantly showcases the talents of its stars. Gene Kelly never looked more athletically imposing and Judy Garland was never funnier.
Set in the Caribbean sometime in the 19th Century, the silly plot involves the over-used device of mistaken identity. In a nutshell Kelly (a traveling actor) poses as the infamous pirate Macoco to woo Garland who is, unbeknownst to her of course, engaged to the real pirate (the underrated Walter Slezak) who has been posing as the mayor of her small village.
The highlight of the comedy is a scene where Garland hysterically throws vases, paintings, and anything else she can get her hands on at Kelly after discovering the truth about his identity. Garland also belts out the catchy "Mack the Black" (supposedly under hypnosis) and she and Kelly team for a reprise of the movies' most famous song "Be a Clown" (which Arthur Freed would shamelessly plagiarize four years later as "Make 'Em Laugh" in Singin' in the Rain).
Kelly has a famous fantasy sequence as Macoco; dressed in black and swinging a torch in one hand as he is lifted by a rope he is holding onto with his other hand, while fires rage around him and dancers gyrate. He dances and sings "Be a Clown" with the Nicholas Brothers, Fayard and Harold. It is an incredibly athletic and energetic number that leaves all three of them on the floor panting for breath by the end.
Vincente Minnelli's celebrated eye for color is evident in every shot. Unfortunately the sets are claustrophobic and the stars (and supporting cast for that matter) are all playing to the back row in the balcony. The Pirate was considered a memorable failure upon its release. Now it fares slightly better and contains several moments of undeniable genius.


Reviewed on:
October 6th, 2012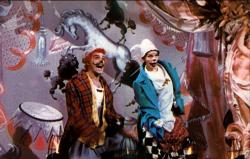 Gene Kelly and Judy Garland being a clown in The Pirate
As Patrick noted, The Pirate has some problems. The most notable flaw for me being that it was filmed in color but not on location. Much of it takes place out doors, yet was all shot on a sound stage. It still has something to offer but would have benefited from an actual seaside setting to distract you from the banal goings on.
Although Garland is top billed, Kelly steals the movie. We first meet him arriving in town flirting with every young woman he meets, singing "Nina" as he dances about town. He meets Garland and he immediately starts bugging her, to the point where she keeps telling him to, "Go away!"
Patrick mentioned the best scene, where Garland attacks Kelly but he makes the scene better. It starts with Kelly telling Slezak how to deliver a line, "You should try underplaying sometime. Very effective." Later during the assault by vases, he yells at Garland, "You're overdoing this! You're being vindictive!"
As Patrick mentioned, Garland was becoming a liability for MGM. Her career was winding down there. Her poor health, caused by drugs and personal issues did not mix with a demanding studio. Kelly's star was meanwhile on the rise. He was a couple of years away from the classics, An American in Paris (1951) and Singing in the Rain (1952). Garland and Kelly would work together again in Summer Stock (1950), in which Garland had gained weight and Kelly seemed bored.
The Pirate is bright and colorful but ultimately little more than a nice visit with two of MGM's greatest talents in a mediocre film.
Reviewed on:
October 21st, 2012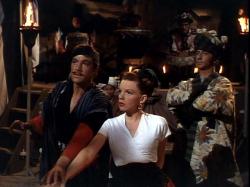 Gene Kelly and Judy Garland in The Pirate.
It's not hard to see that this movie was based on a play. As Patrick wrote, there's a claustrophobic feel to the sets. This doesn't kill the movie on its own, but it doesn't do it any favors either. If the material was strong enough though, then it wouldn't really matter whether sets or location shots were used.
The plot is a lightweight, silly little piece of fluff. It works best when it is at its most surreal and anachronistic. Kelly gets the best jokes when his vanity as an actor shows through and he behaves more like a modern actor than a strolling player of yesteryear.
Because the plot never quite gels, the best the movie amounts to is some nice set pieces. My brothers mentioned some of the best ones. Kelly's arrival in town and his serenade to the many beautiful women who live there, the fight between Garland and Kelly, and the dance number with Kelly and the Nicholas brothers were my favorites. Kelly's fantasy number in black is visually impressive, but also quite campy, particularly Kelly's black short-shorts. "Be a Clown" may be the most famous song, but like so much else in the movie, it doesn't really fit with the time period.
Garland and Kelly have a good comic chemistry together, but there's never any real heat between them. Of course the entire movie is played very innocently, but the passion is lacking. They perform well enough together, but always seem more like friends than red hot lovers.
At just over an hour and a half there's not much time to get bored, but even at that abbreviated running time, the plot is stretched pretty thin.
Not completely without its charms, but both Kelly and Garland made better films than this.
Photos © Copyright Metro-Goldwyn-Mayer (MGM) (1948)
Related Review