Movie Review
The Pink Panther
Get a clue!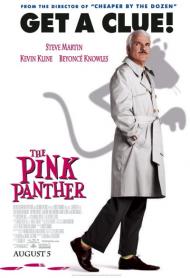 US Release Date: 02-10-2006
Directed by: Shawn Levy
Starring
▸
▾
Steve Martin

,

as

Inspector Jacques Clouseau
Kevin Kline

,

as

Chief Inspector Dreyfus
Beyonce Knowles

,

as

Xania
Jean Reno

,

as

Gendarme Gilbert Ponton
Emily Mortimer

,

as

Nicole
Henry Czerny

,

as

Yuri
Kristin Chenoweth

,

as

Cherie
Jason Statham

,

as

Yves Gluant
Clive Owen

as

006

Reviewed on:
February 21st, 2006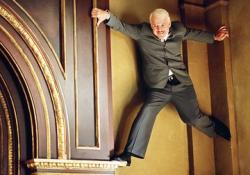 Steve Martin in The Pink Panther.
I recall a childhood memory of having our mother take us to see Peter Sellers in a Pink Panther movie at the old movie house down town. As a child I had a hard time understanding the accents and jokes. My sons had the same problem. I fell asleep through the Peter Sellers version. My sons stayed awake for all of Steve Martin's.
Martin plays the incompetent Jacques Clouseau who gets promoted to inspector to solve the murder of a famous soccer coach. The promotion is actually a diversion while the chief of police, Kline, supposedly solves the murder. Kline, who did the funny accent routine already, and better, in A Fish Called Wanda, plays second fiddle to Martin spending most of the time making funny faces at Martin's ineptitude.
The jokes are mostly slapstick, such as when Martin gets his finger caught in a door. He spins a huge globe that comes unlodged and rolls out of the building to cause havoc. He and his secretary occasionaly find themselves innocently in sexualy compromising positions.
The Pink Panther, written by Len Blum and Steve Martin has a few decent lines. He admonishes his assistant Ponton for questioning Knowles, "Quit browbeating her. Can't you see she is sexy." At another point Ponton tells Clouseau about a murder, "He was found dead." He tells him. Clouseau then asks, "Was it fatal?" However, the scene with the fart joke shows just how desperate they were to find humor in this movie.
The Pink Panther has a couple of cameos. Jason Statham plays the murder victim. It is such a small role that he ends up dead before the credits. He doesn't even have one line of dialogue. My favorite cameo in the movie though was by Clive Owen playing a British secret agent with the code name 006.
The Pink Panther is worth a couple of chuckles but a few pratfalls and some mild sexual innuendos do not make for a great film.
Photos © Copyright Columbia Pictures (2006)