Movie Review
Pigskin Parade
With a cast picked for entertainment!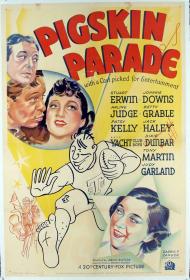 US Release Date: 10-23-1936
Directed by: David Butler
Starring
▸
▾
Stuart Erwin

,

as

Amos Dodd
Patsy Kelly

,

as

Bessie Winters
Jack Haley

,

as

Winston 'Slug' Winters
The Yacht Club Boys

,

as

Student Quartette
Johnny Downs

,

as

Chip Carson
Betty Grable

,

as

Laura Watson
Arline Judge

,

as

Sally Saxon
Dixie Dunbar

,

as

Ginger Jones
Judy Garland

,

as

Sairy Dodd
Tony Martin

,

as

Tommy Barker
Fred Kohler Jr.

,

as

Biff Bentley
Grady Sutton

,

as

Mortimer Higgins
Elisha Cook Jr.

,

as

Herbert Terwilliger Van Dyck
Alan Ladd

as

Student
Reviewed on:
February 11th, 2012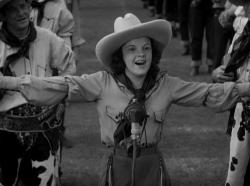 Judy Garland belts out a song in Pigskin Parade.
Pigskin Parade is a silly musical comedy set in the world of collegiate football. When the powers that be at Yale mistakenly send an invitation to (the fictional) Texas State University (they meant to invite the University of Texas) to compete against them in a charity football game, new head coach Winston Winters (Jack Haley) and his wife Bessie (Patsy Kelly) jump at the chance. Things look bleak when their star player fractures a leg, but fate smiles on them in the form of a new recruit discovered chucking pumpkins an incredible distance across a field. The shenanigans are interspersed with musical numbers and the movie culminates with the big game.
Pigskin Parade is notable for its cast. Several future superstars appear in supporting roles or bit parts. A young Betty Grable plays college student Laura Watson, half-a-dozen years before she would rank as the top female box office star in Hollywood. Alan Ladd gets just one line as a fellow TSU student. Although never a true superstar, a young singer named Tony Martin is in the cast. As of this writing Tony (who was married to Cyd Charisse for 60 years until her death in 2008) is still around and will celebrate his 100th birthday on Christmas day 2012. In a topical-for-1936 subplot (played for laughs of course) Elisha Cook Jr. plays a communist student bent on radicalizing the campus with his socialist message.
But the real reason Pigskin Parade is remembered is the fact that it marked the feature film debut of Judy Garland in her one and only loan out from MGM. A 14-year-old Garland, ninth billed, plays the hillbilly little sister of the pumpkin chucking football player. She has a few comic scenes where she is constantly telling anyone that will listen to her that she can sing and offering to demonstrate. She does eventually get to belt out three songs, "Balboa", "The Texas Tornado" and "It's Love I'm After". Her big voice was already fully developed and her talents shockingly mature for such a young performer.
The top-billed Stuart Erwin plays Judy's hillbilly older brother, although his is really a supporting part. As evidenced by his Best Supporting Actor Oscar nomination during what was the very first year that Academy Awards were given out in this category. He lost to Walter Brennan for his role in Come and Get It. The real stars of the movie are Jack Haley and Patsy Kelly as the somewhat bewildered coach and his domineering wife, newly arrived from Flushing, Queens. Their comic husband and wife shtick takes center stage during the first half of the movie. Besides Garland's three numbers nearly all the songs are delivered courtesy of the now mostly forgotten Yacht Club Boys. Jack Haley and Tony Martin are given a song apiece.
Pigskin Parade is a breezy little college sports musical comedy. It offers 90 minutes of good old fashioned Hollywood fun with the added benefit of seeing several stars at the beginning of their careers. A must see for Judy Garland fans.

Photos © Copyright Twentieth Century Fox Film Corporation (1936)