Movie Review
A Piece of the Action
A delightfully delicious dilemma!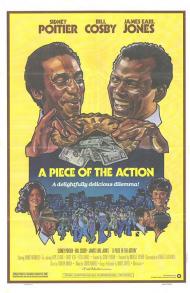 US Release Date: 10-07-1977
Directed by: Sidney Poitier
Starring
▸
▾
Sidney Poitier

,

as

Manny Durrell
Bill Cosby

,

as

Dave Anderson
James Earl Jones

,

as

Joshua Burke
Denise Nicholas

,

as

Lila French
Hope Clarke

,

as

Sarah Thomas
Sheryl Lee Ralph

,

as

Barbara Hanley
Tracy Reed

,

as

Nikki McLean
Titos Vandis

,

as

Bruno
Frances Foster

,

as

Bea Quitman
Jason Evers

,

as

Ty Shorter
Marc Lawrence

,

as

Louie
Ja'net DuBois

,

as

Nellie Bond
Larry Beecham

,

as

Percy 'Bubba' Watkins
Thomas Benjamin

,

as

Anthony
Tamu Blackwell

,

as

Cheryl
Jack Brami

,

as

Jesus
Rudy Diaz

,

as

Stosh
Angus Scrimm

,

as

Monk
James Wheaton

as

Voisin Waiter
Reviewed on:
November 5th, 2013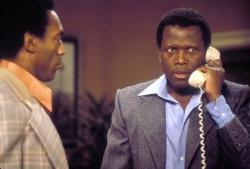 Bill Cosby and Sidney Poitier in A Piece of the Action.
A Piece of the Action was the third movie directed by Sidney Poitier and costarring him and Bill Cosby. It followed Uptown Saturday Night (1974) and Let's Do It Again (1975). This would be the least successful of the three films and would mark Sidney Poitier's last acting role in a movie for more than a decade. Although Poitier and Cosby played different characters in each of these movies, they are now considered a trilogy by movie buffs.
Poitier and Cosby play small time thieves. As the movie begins they do not know each other. We see them each commit a theft. James Earl Jones plays a retiring detective. He has evidence that could send both men to prison. He contacts them both anonymously and informs them that unless they commit to 40 hours a week of community service at a local youth shelter (which his late wife founded), he will see them both put behind bars. They reluctantly agree but begin desperately trying to find out the identity of their blackmailer.
What follows is sort of like To Sir, with Love part two. Instead of unruly Brits with cockney accents, Poitier must educate black inner-city Chicago youths. His goal is to make them job-interview ready, while Cosby must find employers willing to take a chance on these kids. Like that earlier movie, this is a funny time capsule of the slang and fashion sense of the day.
The problem is that it's trying to be several different movies and fails to be great at any of them. It begins like a heist caper with Cosby, dressed like a cat-burglar, trying to break into a heavily guarded safe. Meanwhile Poitier steals money from the mob. It then morphs into a feel-good story about social injustice and the disadvantages faced by inner-city minorities. It does manage to keep its sense of humor even as it tries for a few dramatic moments.
Cosby is underused. He gets to mildly romance one of the female characters but his humor is kept in check and it's clear from the beginning that Poitier is the real star of the show. The funniest scenes involve the students and the focus should have stayed on the classroom. A young Sheryl Lee Ralph made her movie debut as a tough girl who berates the female teacher and brings her to tears.
As a time capsule of the mid-to-late 1970s, A Piece of the Action is priceless. Cadillacs, afros and skin tight bell-bottoms abound. As a movie it's uneven and overlong but worth a look for fans of the two main stars.
Photos © Copyright First ArtistsVerdon Productions Limited (1977)