Movie Review
Picture Snatcher
His camera takes 'em from love nests to Page One before they can bat an eye---or put on a negligee!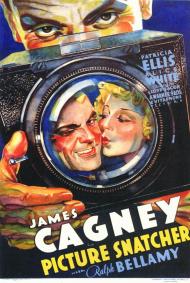 US Release Date: 05-06-1933
Directed by: Lloyd Bacon
Starring
▸
▾
James Cagney

,

as

Danny Kean
Ralph Bellamy

,

as

J.R. McLean
Patricia Ellis

,

as

Patricia Nolan
Alice White

,

as

Allison
Ralf Harolde

,

as

Jerry the Mug
Robert Emmett O'Connor

,

as

Lieutenant Casey Nolan
Robert Barrat

,

as

Grover, Graphic News Owner
Pat Collins

,

as

Hennessy the Fireman
Arthur Vinton

,

as

John, the Head Keeper
Tom Wilson

,

as

Leo
Sterling Holloway

as

Journalism Student
Reviewed on:
September 6th, 2011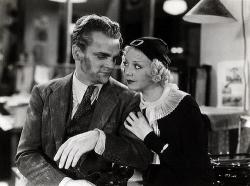 James Cagney and Alice White in Picture Snatcher.
Picture Snatcher is another pre-Code James Cagney vehicle from Warner Bros. In it he plays a variation of his usual tough guy role. This time he is Danny Kean, a racketeer that goes straight after serving three years in Sing Sing. He gets a job at a local rag sheet as a "picture snatcher" (today we say paparazzi) only, instead of taking photos of celebrities it is his job to snap pictures of those trying to escape notoriety. Or as Danny explains it, "anyone caught pulling down the shades in the wrong house."
He falls in love with the daughter of the police lieutenant that sent him up the river. With the help of an alcoholic reporter (reliable second fiddle Ralph Bellamy) Kean is able to get the lieutenant promoted to captain, thus clearing the way to woo his daughter. But when Kean betrays the police captain's trust by sneaking a camera into an execution he loses his girl and quickly hits the skids.
The scene where Cagney surreptitiously snaps a photograph of a female prisoner getting fried in the electric chair was based on an actual event. Convicted murderess Ruth Snyder was photographed in the chair at Sing Sing on January 12, 1928 for the New York Daily News.
Director Lloyd Bacon keeps the story moving at a crisp pace and the dialogue is snappy. It has plenty of action with Cagney socking mugs (and a few dames) right and left. There is one exciting car chase and a raucous shoot-out finale.
Alice White - Jean Harlow's biggest rival for best dumb blonde of the era - goes toe to toe with Cagney as good-time-girl Allison. She tells Danny, "I'm too much woman for any one man, except maybe for you." His terse reply is classic. "Aw quit bragging", He tells her. She definitely steals a few scenes and deserves to be better remembered today than she is. Still it is Cagney that holds it all together. His unique charisma and cocksure swagger are on full display.
There is one scene where he is laying low at Allison's apartment. He is listening to the radio and is clearly bored to tears. He gets up, fiddles with the radio dial, then begins to sway to the music. He catches sight of himself dancing in a mirror over the mantel and switches over to shadow-boxing before throwing himself full length onto the couch. With no dialogue he makes this simple moment completely his own.
Picture Snatcher is a rather ordinary movie that stars the extraordinary James Cagney at the height of his charms and before censorship blunted his edges a bit.

Photos © Copyright Warner Bros. Pictures (1933)