Movie Review
Picnic
It's too hot to stay home.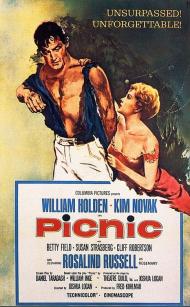 US Release Date: 02-16-1956
Directed by: Joshua Logan
Starring
▸
▾
William Holden

,

as

Hal Carter
Kim Novak

,

as

Madge Owens
Rosalind Russell

,

as

Rosemary Sidney
Betty Field

,

as

Flo Owens
Susan Strasberg

,

as

Millie Owens
Cliff Robertson

,

as

Alan Benson
Arthur OConnell

,

as

Howard Bevans
Verna Felton

as

Helen Potts
Reviewed on:
April 30th, 2009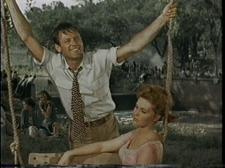 William Holden and Kim Novak are two stars for the ages.
Based on the William Inge play of the same name, Picnic is your fairly standard romantic, Technicolor, widescreen movie from the mid 1950's. William Holden stars as a handsome drifter who comes to a small town in Kansas over Labor Day weekend. He looks up an old college buddy who just happens to be the son of the richest man in town. His buddy welcomes him wholeheartedly, even offering to get him a job at one of his father's many giant grain elevators. Holden pays him back by stealing his buddy's fiancée.
Kim Novak shot to stardom after playing Madge, the prettiest girl in town. She's all feminine and flirtatious. The exact opposite of her younger, shy, bookworm sister. Their bitter mother is pushing Madge to get married quickly. She constantly reminds her of how fast her charms will fade, I mean after all she is 19. Unfortunately Madge falls for Holden's loser.
Now the ending to this movie may be romantic but it is also bittersweet. Novak on a bus heading off into the unknown chasing after Holden who has illegally jumped aboard a train in order to get out of town fast. You just know that in a few short weeks she will become entirely disillusioned by Holden's irresponsible and utterly selfish character. It is romantic only on the surface, just beneath that it is really a depressing ending.
Most of the action takes place during the town's elaborate Labor Day Picnic. It begins early in the morning and goes far into the night. The big emotional climax happens at the evening dance. Rosalind Russell plays an old maid school teacher. She gets drunk and then hits on Holden. When he rejects her advances she verbally attacks him in front of a crowd of people.
This was William Holden's last role as a young leading man. He was 37 at the time, playing maybe 30. His face was beginning to show his age but his physique was still lean and youthful. He perfectly embodies an aging athlete trying to defy the march of time by consciously pushing his body around as exuberantly as possible. He moves like a teenager, bouncing up and down and showing off his athleticism at every opportunity.
This movie was a big hit in 1956 but is pretty dated now, especially the dialogue. Holden says things like, "I gotta get somewhere in this world. I just gotta." It makes a decent rainy Sunday afternoon matinee but is fairly slow and not a whole lot of plot happens. Holden and Novak are stars for the ages however and they give Picnic more charm than it really deserves.
Photos © Copyright Columbia Pictures Corporation (1956)