Movie Review
Peter's Friends
Love, Friendship and other Natural Disasters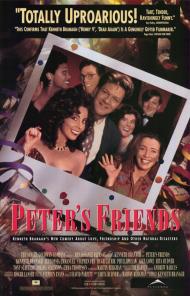 US Release Date: 12-25-1992
Directed by: Kenneth Branagh
Starring
▸
▾
Hugh Laurie

,

as

Roger Charleston
Kenneth Branagh

,

as

Andrew Benson
Stephen Fry

,

as

Peter Morton
Alphonsia Emmanuel

,

as

Sarah Johnson
Emma Thompson

,

as

Maggie Chester
Imelda Staunton

,

as

Mary Charleston
Rita Rudner

,

as

Carol Benson
Phyllida Law

,

as

Vera
Tony Slattery

,

as

Brian
Alex Lowe

,

as

Paul
Richard Briers

as

Lord Morton

Reviewed on:
January 31st, 2009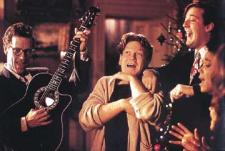 A reunion with some old friends.
There's always been a criticism against Peter's Friends that it is merely a rip-off of The Big Chill, which has always seemed unfair to me. Does The Big Chill hold the patent on movies that involve the reunion of friends? I mean how many World War II movies have been made over the years? Are they all considered ripoffs of each other because they share a similar setting? In any case, Peter's friends are different friends from the ones in The Big Chill and much wittier ones.
Ten years after they last performed cabaret together as University students, a group of friends get together at the English manor house that one of them, Peter, now owns following the death of his father. It is New Year's Eve and Peter has gathered his old friends to give them some dramatic news that isn't revealed until the movie's final moments.
The group of friends are all older, but not much wiser, since last they met and all of them are now facing different issues. Roger and Mary are married jingle writers who are still grieving over the death of an infant son. Sarah is still the man-chaser she's always been, but it doesn't quite have the same charm in her thirties that it had in her twenties. Andrew is now married to Carol, an American actress, and together they live in Los Angeles with a troubled marriage. Maggie is still single and shares an apartment with her cat. She's hoping to seduce Peter during the visit.
One of the things I love about this movie is the dialogue. It has some great and funny lines.
"You know the worst thing about being a public figure? The public."
"Do you have any Equal?" "I'm sorry, I'm famous for having no equal."
"It's just that I'm not really in the vagina business."
"I don't think anybody really matures. Adults are just children who owe money."
The cast in the movie is superb. Several of them did attend university together in real life and it definitely helps the chemistry. Hugh Laurie, well before he was known for playing House, was most famous for his comedy (including his A Bit of Fry and Laurie, a sketch show done with Stephen Fry), and yet here he and Imelda Staunton get the most emotional scene as they work out their marital issues and they both handle it well.
I also have to mention the soundtrack because it is filled with some classic 1980s music. I was never able to find the soundtrack for sale in the US except as an expensive import, but thanks to iTunes I was able to purchase most of the songs individually. It features Tina Turner, Queen, Cyndi Lauper, Bruce Springsteen, Tears for Fears and others.
It was funny watching this movie today because although I'd seen it many times in the past, I probably hadn't watched it in quite a few years, so like the characters in the movie it felt a little like a reunion. And like them also, I found it to ultimately be an enjoyable one.
Reviewed on:
May 14th, 2015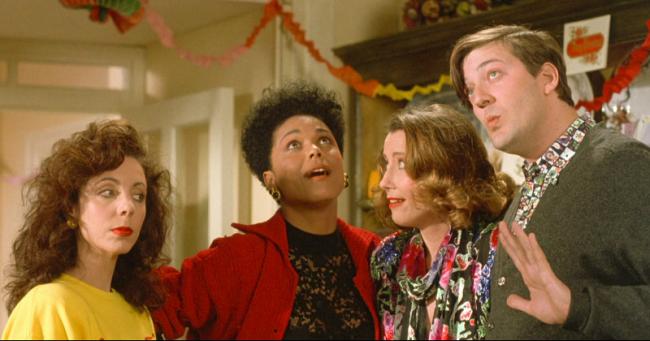 Rita Rudner, Alphonsia Emmanuel, Emma Thompson and Stephen Fry in Peter's Friends.
I too enjoyed visiting with Peter and his friends. And I quite agree that there's certainly room in the pantheon for both The Big Chill and this movie to coexist as reunion classics that feature indelible soundtracks from their respective eras. While the gang from The Big Chill were reuniting and reminiscing, Peter's Friends were still busy living their youths. The montage of news clips and headlines during the opening credits encapsulates the decade between 1982 and 1992 quite nicely. It is underscored by the Tears for Fears classic "Everybody Wants to Rule the World".
Before this, however, comes the great opening scene of the core six friends sharing their final moments together at Cambridge. Branagh shot it in one long take, sort of like a mini-homage to Orson Welles' famous opening to Touch of Evil. The camera captures the performance and then follows them to their dressing room for some post-show banter. This scene includes two other characters, Peter's housekeeper (played by Phyllida Law, real life mother of Emma Thompson) and her young son, both of whom play a part in the story. The long take finally ends with a group photo.
The cast and direction are both quite good and the script contains many funny and quotable lines. The cast is so effortlessly talented that we easily get to know these people without a whole lot of exposition about their pasts. The script, by Rudner and her husband Martin Bergman, gives us just enough back story and lets the actors fill in the blanks. As Scott wrote, the setting is a huge country manor in England at New Years. The Christmas trees and other festive decorations add a touch of the holidays to the story.
Peter's Friends is a nice mix of melodrama and farce. Like old friends have a habit of doing, these six glibly give away each others' secrets. Over these two days and nights, Mary spills the beans to Carol about the fact that Andrew and Sarah were a couple in college. Sarah's latest boy toy puts his foot in his mouth when he asks about Roger and Mary's twins, not realizing one of them has died. Sarah walks in on Maggie having sex with the housekeeper's now grownup, but still very young, son. The humor and the pathos in the story both arise from these simple situations and interactions.
Like Scott, I have to include a few of my favorite quotes. In one scene Sarah tells Maggie, "You are a very pretty girl. But you make Mother Teresa look like a hooker." After the line Scott quoted about Peter not being in the vagina business, Maggie counters with, "But you slept with Sarah. Everyone knows that." Peter quips back, "My dear, the Archbishop of Canterbury slept with Sarah." Later in the movie Andrew is criticizing Sarah's lifestyle. She says to him, "We can't all have our lives figured out as well as you do." He replies, "I didn't say I had my life figured out, I said I had YOUR life figured out, love."
For me, Imelda Staunton's is the standout performance. She shares the most intensely dramatic moment with Laurie, where she sobs uncontrollably. She also gets to be playful and show off her very nice singing voice. Maggie, as played by the delightful Emma Thompson, was my favorite character though. She's so quirky and wears her heart, not just on her sleeve, but with a kick-me sign attached to it. She's sensitive yet resilient. Even when she gets pissed off or embarrassed she always recovers her wits quickly. Stephen Fry as Peter, is the emotional center of the story and he is particularly good during his big reveal toast at the end of the movie.
The ending is a bit of a downer, although you could argue that it's just being realistic. With modern medicine, being HIV-positive isn't as scary now as it was in 1992. It isn't exactly a happy ending today, but it lacks the big emotional punch it once packed. And Andrew, who had been sober for more than a year, ends the movie drunk. Carol is definitely at a crossroads, while Maggie is pretty much where she started. Of the group, only Roger and Mary end the movie on a significantly more positive note than they began it. Still and all, Peter's Friends are an interesting and complex bunch and I quite enjoyed spending this time with them.
Photos © Copyright Samuel Goldwyn Company, The (1992)
Related Review