Movie Review
Peter Pan
Let the fight begin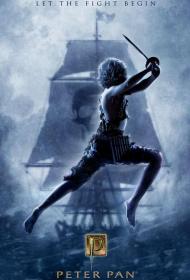 US Release Date: 12-25-2003
Directed by: P.J. Hogan
Starring
▸
▾
Jason Isaacs

,

as

Mr. Darling/Captain Hook
Jeremy Sumpter

,

as

Peter Pan
Rachel Hurd-Wood

,

as

Wendy Darling
Lynn Redgrave

,

as

Aunt Millicent
Richard Briers

,

as

Smee
Olivia Williams

,

as

Mrs. Darling
Geoffrey Palmer

,

as

Sir Edward Quiller Couch
Harry Newell

,

as

John Darling
Bruce Spence

as

Cookson

Reviewed on:
May 16th, 2004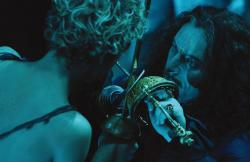 Jeremy Sumpter and Jason Isaacs in Peter Pan.
This live action Peter Pan is a better version of the 1924 play, by James Barrie, than the 1953 Walt Disney animated movie. The Disney version is a lighthearted romp with some songs. This version is much more emotionally packed.
My ten year old thought he was too old to watch this movie, as he was thinking of the Disney version. After a few minutes of watching the DVD, he was hooked. James Sumpter, as Peter Pan, first appears on the screen as a voyeur watching Wendy and the Darling family. He enjoys listening to Wendy tell her brothers stories. When he loses his shadow in the Darling home, he needs Wendy to sew it back on. As a reward, he takes her and her two brothers to Neverland. In Neverland, they do battle with Captain Hook and the jealous Tinkerbell.
What makes this version so much better is the mature threat. In the Disney version, Mermaids do little more than smile flirtatiously at Peter. In this version, they are menacing. Hook is villainous as usual. He kills his fellow pirates at will. In this version, he is more clever. With a little psychology, he is able to convince both Tinkerbell and Wendy to betray Peter.
The heart of the movie is Peter Pan. Peter is a confused boy on the verge of growing up. He is attracted to Wendy but not sure why. There is a scene in which Wendy and Peter share a moment that almost becomes romantic. But then Peter gets a bit angry. He is actively, and aggressively refusing to face adulthood, and even the hint of maturity is something he wants to avoid.
The special effects are perfect. Peter flies about the Darling's bedroom like a nervous Superman. In the scene where they first spy Hook, they are lying on top of fluffy clouds high up in the sky. It is almost dream like. The special effects in this version easily out class the dreary Spielberg directed Hook.
Peter and The Lost Boys of Neverland like Wendy because she tells them stories, much like a mother would. Through Wendy, the boys decide they wish for more than just a storyteller. They miss their mothers. The bittersweet ending of Peter Pan is that children do have to grow up, but this mythical figure does not. Peter Pan represents that part in all of us where we yearn for a moment in our lives where we have no responsibility and can just play.
A story for children but it contains a recognizable message for adults.
Photos © Copyright Universal Pictures (2003)
Related Review