Movie Review
Perfect Understanding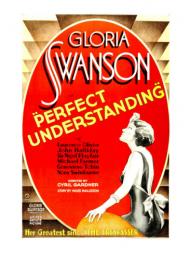 US Release Date: 02-24-1933
Directed by: Cyril Gardner
Starring
▸
▾
Gloria Swanson

,

as

Judy Rogers
Laurence Olivier

,

as

Nicholas Randall
John Halliday

,

as

Ivan Ronnson
Nigel Playfair

,

as

Lord Portleigh
Michael Farmer

,

as

George Drayton
Genevieve Tobin

,

as

Kitty Drayton
Charles Cullum

,

as

Sir John Fitzmaurice
Nora Swinburne

,

as

Lady Stephanie Fitzmaurice
O. B. Clarence

,

as

Dr. Graham
Mary Jerrold

,

as

Mrs. Graham
Peter Gawthorne

,

as

Butler
Rosalinde Fuller

as

Cook
Reviewed on:
April 26th, 2013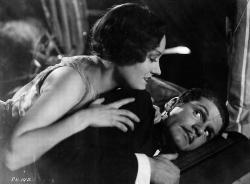 Gloria Swanson and Laurence Olivier have a Perfect Understanding.
Perfect Understanding is a romantic comedy of manners starring Gloria Swanson and Laurence Olivier. They play a young couple in London (She's an American of course) who -after witnessing marital discord in their friends and servants- decide to marry but with the promise, "never to be husband and wife but lover and mistress". They begin an extended honeymoon across Europe but when Judy decides to return to London to set up their flat, Nick accepts an invitation from friends and proceeds on to Cannes without her. He has a fling with an old lover which threatens his marriage. As so often happened in these movies the climax takes place in a courtroom.
Gloria Swanson was 34 years old in the summer of 1932 when she made this movie and had been in the motion picture business since 1915. Although she had made a somewhat successful transition to sound (even garnering an Oscar nomination for The Trespasser in 1930) her career was far from the giddy heights of the mid-1920s when she was the highest paid actress in Hollywood. Laurence Olivier was at the beginning of his long and distinguished career. He was just 25 and had been acting in films for only a few years. Perfect Understanding was his seventh movie appearance. Although he looks a bit young for his leading lady they do create decent chemistry together. Gloria Swanson was the only woman to star opposite both Rudolph Valentino and Laurence Olivier.
Gloria produced the movie herself and shot it in England at Ealing Studios. This production was fraught with problems, which Swanson described in her autobiography. Laurence Olivier was in an auto accident, and although uninjured, had to spend days in court. A bad case of the flu made half the cast sick and the lab where the film was being processed caught fire forcing them to ship the film to America at a much higher cost. Swanson ended up selling her United Artists stock to raise the cash needed to finish the picture.
It opened early in 1933 and failed to garner much attention from either critics or audiences. This was during the depths of the Great Depression and the newly inaugurated FDR had just ordered the closing of the national banks. As Swanson wrote in her book, "Americans were consequently in no mood to see a bunch of high-born Britishers engage in well-spoken domestic squabbles in the courts and on the French Riviera."
Perfect Understanding isn't a great movie by any means. But it isn't terrible either. Swanson sings one song but it is in her non-talking moments where her star power really shines through. Her two greatest assets as a star were her ability to wear clothes and her unmistakably dramatic face.
Nobody wore clothes like Gloria Swanson. She knew just how to stand, walk and move about in fancy gowns. In one memorable scene she dons an Elizabethan era dress she finds in an old chest at her husband's estate. In the scene where Nick confesses his infidelity to her, Swanson demonstrates exactly what Norma Desmond meant by, "We had faces then!" She gives one of the most intense close-ups I've ever seen, with her large expressive eyes and striking profile in full effect.
The script (co-written by Michael Powell) is pretty predictable even though the cast is solid. The charmingly urbane John Halliday is particularly good as Olivier's rival for Swanson's affections. The only miscast role belongs to Michael Farmer. He was married to Swanson at the time (her fourth of six husbands). Here's what she wrote in Swanson On Swanson, "I knew that Michael would probably be stiff and amateurish in the small role he had to play, but I was prepared to work with him and I counted on the fact that fans would be curious to see my husband in a film with me." (That could be Norma Desmond talking). At any rate this was Farmer's one and only feature film.
As a comedy Perfect Understanding falls flat and there are too many montage scenes of Europe that look like a tourist advertisement. Still this picture is worth seeing for the one and only screen collaboration of Gloria Swanson and Laurence Olivier.
Photos © Copyright United Artists (1933)