Movie Review
Percy Jackson: Sea of Monsters
IN DEMIGODS WE TRUST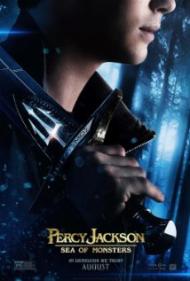 US Release Date: 08-07-2013
Directed by: Thor Freudenthal
Starring
▸
▾
Logan Lerman

,

as

Percy Jackson
Alexandra Daddario

,

as

Annabeth
Douglas Smith

,

as

Tyson
Leven Rambin

,

as

Clarisse
Brandon T. Jackson

,

as

Grover
Jake Abel

,

as

Luke
Anthony Head

,

as

Chiron
Stanley Tucci

,

as

Mr. D
Connor Dunn

,

as

Tereus
Paloma Kwiatkowski

,

as

Thalia
Nathan Fillion

,

as

Hermes
Mary Birdsong

,

as

Gray Sister #1
Yvette Nicole Brown

,

as

Gray Sister #2
Missi Pyle

,

as

Gray Sister #3
Ron Perlman

,

as

Polyphemus (voice)
Shohreh Aghdashloo

,

as

Oracle (voice)
Octavia Spencer

,

as

Martha (voice)
Craig Robinson

as

George (voice)

Reviewed on:
August 15th, 2013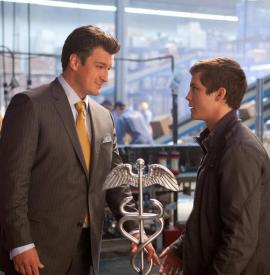 Nathan Fillion as Hermes and Logan Lerman as Percy Jackson in Percy Jackson: Sea of Monsters
I enjoyed Percy Jackson and the Olympians: The Lightning Thief. It was however, not universally praised or a box office block buster. It earned just enough to earn a sequel, but not enough to recast all of the original actors. Gone are the "A" list names like Pierce Brosnan and Uma Thurman, replaced with such actors as Anthony Head and Nathan Fillion. However, the three most important cast members, Logan Lerman, Alexandra Daddario and Brandon T. Jackson all reprise their parts as Percy, Annabeth and Grover, young mystical beings living in the 21st century.
Scott pointed out in his review for Percy Jackson and the Olympians: The Lightning Thief that, "Absolutely everything in the movie comes easy and is just handed to him (Percy)." He pointed to such details as Percy is a good sword fighter without having to train and his father is always there to answer questions. This time around, things are different. The film opens with Percy losing at a competition at Demi-God camp. His father Poseidon is now nowhere to be seen, even though Percy wants his advice. Percy also meets a new relative who may or may not be helpful.
As with the first film, Percy and friends must go on a quest. This time it is to save a tree that generates the barrier that protects the Demi-God camp. Just why these Demi-Gods are so hunted has never been explained. This time the quest is to retrieve the fabled Golden Fleece with its healing powers. This allows them some wild rides in a seer driven cab, on the back of a hippocampus and my favorite, a huge wave. They also must battle Cyclops, a giant sea monster, Luke the evil son of Hermes and Kronus the head Titan, father of Zeus, Poseidon and Hades.
Everything in Percy Jackson: Sea of Monsters is done with great imagination and a spirit of fun. Being stuck in a sea monster's stomach is one of the highlights. It features digestive issues, Civil War zombies and an old battleship with a modern gun. Although there is plenty of action and not everyone survives, we never truly fear for Percy and his friends. After all, the artifact they are looking for heals whomever it covers. Hmmmm?
Although this series of movies/books is about ancient Greek and Roman mythology, it has a scene that acknowledges Christianity. Every time the camp head master, Mr. D, pours himself some wine it turns to water before he can drink it, due to some punishment from Zeus. After one such incident, Mr. D looks up and says, "You know the Christians have a guy who can do this but in the opposite direction, now that's a god." The world of Percy Jackson is wildly fascinating but not well defined.
This movie speaks of a prophecy that involves Percy Jackson on his twentieth birthday. Logan Lerman is already north of 20, they better get started on that sequel pretty soon. I completely understand that these are flawed stories in an odd setting, but they still manage to entertain me. Perhaps it is my fascination with ancient mythology, or it taps into my Dungeons and Dragons playing past? Either way, I am ready for the next film.
Photos © Copyright Fox 2000 Pictures (2013)
Related Review