Movie Review
Penny Serenade
Remember the tune they were singing... the night we fell in love?...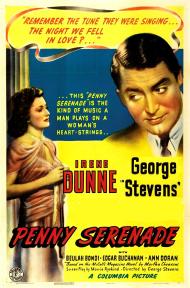 US Release Date: 04-24-1941
Directed by: George Stevens
Starring
▸
▾
Cary Grant

,

as

Roger Adams
Irene Dunne

,

as

Julie Gardiner Adams
Beulah Bondi

,

as

Miss Oliver
Edgar Buchanan

,

as

Applejack Carney
Ann Doran

,

as

Dot
Eva Lee Kuney

,

as

Trina
Leonard Willey

as

Doctor Hartley

Reviewed on:
May 31st, 2003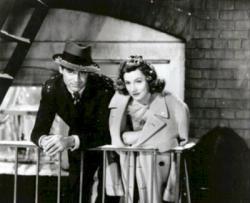 Cary Grant and Irene Dunne in Penny Serenade.
Although her name is not heard much today Irene Dunne was a huge star during Hollywood's golden age. Throughout the thirties and forties she starred in a string of box office hits. Her first big movie was Cimarron the adaptation of Edna Ferber's novel that became the first western to win the coveted Best Picture Oscar in 1931. She also appeared in the 1936 version of Showboat, and opposite Charles Boyer in the original Love Affair in 1939 for which she was Oscar nominated. Penny Serenade was her third teaming with leading man Cary Grant after The Awful Truth and My Favorite Wife. Unlike those two hilarious comedies Penny Serenade is a sentimental tearjerker.
As the title suggests music plays an integral part in the story. It is used as a means of introducing flashback scenes. We are shown a record being played and as the music swells and the disc spins we are taken back in time and shown the history of Julie and Roger Adams. We see how they meet (she is working at a record store and he buys a huge stack of records in order to spend time with her), court, get married and begin their life together as man and wife. Roger gets a job as a newspaper reporter in Japan and Julie joins him a few months later only to be caught in an earthquake. She survives but loses the baby she was carrying. They return to the U. S. and sadly discover that she is now barren. Eventually they wind up in a small town where Roger has sunk the remainder of an inheritance into the town's tiny, struggling newspaper. They finally manage to adopt a child only to lose her to sickness a few years later. Their marriage nearly ruined from the tragedy, the movie manages to end on a happy note just in the nick of time when the kindly orphanage director, played by Beulah Bondi, gives them the gift of another baby.
Those who know Cary Grant only as a sophisticated romantic comedy star will be surprised at his versatility. He plays Roger Adams as an ordinary guy. Sure he looks like Cary Grant but lacks his usual polished charm. He handles the soapy drama with finesse and managed to garner an Oscar nomination in the process.
Edgar Buchanan as Applejack Carney, whom Roger hires to man his presses, provides comic relief. He plays nurse made to their adopted baby daughter and in one inspired scene shows a flustered Julie how to bathe and diaper their little bundle of joy.
Celebrated director George Stevens pulls it all together and keeps things from drowning in schmaltz. He keeps his actors from hamming up the melodrama and instead relies on the tragic facts of the plot to speak for themselves. The story should have special significance for anyone who has been on either the parent or child side of an adoption. Penny Serenade is one of the earliest Hollywood movies to tackle the subject and it does so with a relatively honest take.

Reviewed on:
August 21st, 2004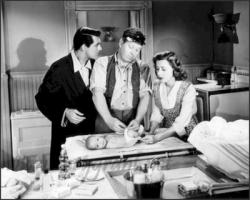 Cary Grant, Edgar Buchanan and Irene Dunne in Penny Serenade.
I found Cary Grant to be way out of his element. He may have gotten an Academy Award nomination, but I found his performance to be sub par. He has this big emotional scene where he pleads with a judge to let him and his wife keep their child. Grant is literally baring his soul as he falls apart in this scene. This could have worked except the director has the camera pulled back and to the side. What should have been an emotional closeup is a distant side view, in which you cannot see Grant's expressions. Give me the charming, sophisticated Grant anytime.
Irene Dunne is adequate. She may have appeared n several movies with Grant, but I found little chemistry between them. Perhaps the writing is at fault. They are given so few scenes where they are seen as a supportive couple. Most of the movie has them quietly disagreeing with each other. She wants a baby, he doesn't. He wants a boy, she doesn't care. He wants to go on a big vacation. She wants to be practical with the money.
What their relationship boils down to is that they are only a good happy couple when they have a child. The happiest moments these two have in their relationship are when they have their daughter. Before and after her they are simply going through the motions, without any real connection. Is this a flaw in the writing or the point of the movie?
The movie is a bit melodramatic, but I did find the use of music to narrate the movie to be a great plus. Some ten years before Gene Kelly sang "You Were Meant for Me" to Debbie Reynolds in Singing in the Rain, it was the love theme of this movie, and to great effect.
Reviewed on:
September 18th, 2010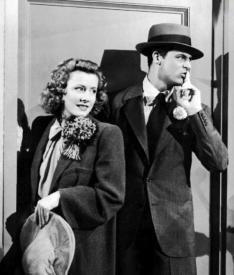 Irene Dunne and Cary Grant in Penny Serenade.
I favor the charming, sophisticated Cary Grant as well, but his performance in this movie was not only Oscar worthy, but it's the highlight of this interminably depressing film. It's the writing and editing that's really sub-par.
Some people seem to enjoy sad movies. Someone, usually a woman, will say that they enjoy a good cry. I've never been one of those people. The tearjerker is my least favorite type of movie and so I didn't find much to enjoy with this one.
There are other problems with this movie beyond that though. The writing is poor, the characters underdeveloped, the editing sloppy, a lack of chemistry between the two leads and a far too long running time.
Irene Dunne may have been a big star in her time, but she does nothing here that demonstrates why. Her character is deathly dull and she spends most of the movie looking sad and bored. I was never really sure what Grant's character was supposed to see in her.
Patrick, you mention Applejack as the comic relief, but his mildly amusing character isn't nearly enough relief from the tragedy that is the rest of this movie. And the child bathing scene goes on for about ten minutes too long.
The one scene worth mentioning is the one you referred to Eric, when Grant is pleading for his child. Yes, it's not filmed the best, but Grant does a great job. Clearly this is the moment that got him the nomination.
Penny Serenade is an overly long, depressing piece of melodrama. That might be someone's cup of tea, but it certainly isn't mine.
Photos © Copyright Columbia Pictures (1941)