Movie Review
Penguins of Madagascar
The movie event that will blow their cover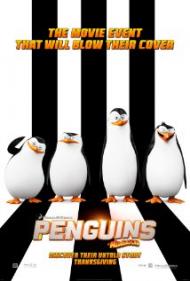 US Release Date: 11-26-2014
Directed by: Eric Darnell, Simon J. Smith
Starring
▸
▾
Tom McGrath

,

as

Skipper (voice)
Chris Miller

,

as

Kowalski (voice)
Christopher Knights

,

as

Private (voice)
Conrad Vernon

,

as

Rico (voice)
John Malkovich

,

as

Dave (voice)
Benedict Cumberbatch

,

as

Classified (voice)
Ken Jeong

,

as

Short Fuse (voice)
Annet Mahendru

,

as

Eva (voice)
Peter Stormare

,

as

Corporal (voice)
Andy Richter

,

as

Mort (voice)
Danny Jacobs

as

King Julien (voice)

Reviewed on:
December 6th, 2014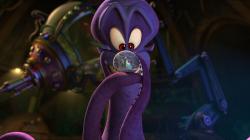 Dave does not like penguins and I am starting to see his point.
It has long been decided by most that Skipper, Kowalski, Private and Rico stole every one of their scenes in the Madagascar films. The four penguins were given a television Christmas special and their own television show on Nickelodeon. Now they have their own theatrical film.
The story begins with the four penguin's origin story. They all met as hatchlings in the Antarctica and soon set out on a worldwide adventure. We briefly see them as adults in the circus but the characters from the other films do not make an appearance. The four flightless friends find themselves in one dangerous situation after another with dumb luck and convenient story writing always there to save them.
The plot gets going when a squid, named Dave, from the New York Zoo, starts abducting all the penguins of the world. Dave was a popular attraction at the zoo until the adorable penguins showed up and Dave became ignored and was eventually shipped away. The penguins are joined by a group of superhero type animals known as The North Wind. Together, they do battle with the dastardly squid in an attempt to save all the penguins.
The two groups of animals do not get along. Skipper is used to being in charge and does not share his authority well. Kowalski has eyes for a member of The North Wind, an owl who does not seem to reciprocate his feelings. Private feels inadequate and Rico almost comes out of the closet. In one scene Skipper and Kowalski, in turn, kiss Private on the cheek, Rico then kisses Private long and hard on the beak. Later the penguins find themselves acting as if they are starving on a raft in the ocean. We then see Rico munching on Kowalski's butt.
Although there was an attempt to give them some personality, the penguins are better in supporting roles than starring. Their gangster/military personas only go so far. John Malkovich, as Dave, steals the film out from under them. I liked the scene where he contacts the North Wind and has no idea how the technology works. The most creative this movie gets is when Dave gives directions to his many squid henchman. When he captures some penguins he instructs one of them, "Nicholas, cage the prisoners." His instructions are often movie star names, "Drew, Barry, more power." Sometimes they are clever, "Hugh, Jack, man the battle stations." Other times they seem like a stretch, "Kevin, bake on. We need that celebration cake." They are some of the few jokes adults may enjoy.
The younger you are the more you will enjoy Penguins of Madagascar. It is harmless but more frantic than funny. I watched this movie with a nine and ten year old. Neither laughed much and both agreed that Big Hero 6 was much better.
Photos © Copyright DreamWorks Animation (2014)
Related Reviews