Movie Review
The Peanuts Movie
The story of an underdog. And his dog.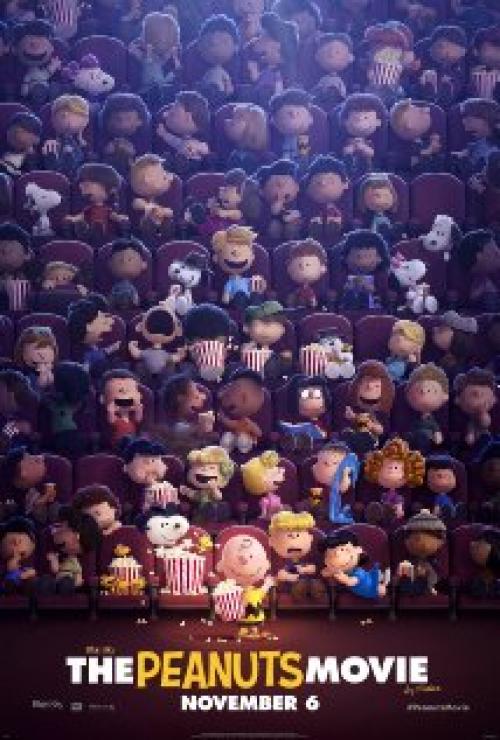 US Release Date: 11-06-2015
Directed by: Steve Martino
Starring
▸
▾
Noah Schnapp

,

as

Charlie Brown (voice)
Hadley Belle Miller

,

as

Lucy (voice)
Venus Schultheis

,

as

Peppermint Patty (voice)
Mariel Sheets

,

as

Sally (voice)
Madisyn Shipman

,

as

Violet Gray (voice)
A.J. Tecce

,

as

Pig-Pen (voice)
Kristin Chenoweth

,

as

Fifi (voice)
Alexander Garfin

,

as

Linus (voice)
Noah Johnston

,

as

Schroeder (voice)
Rebecca Bloom

,

as

Marcie (voice)
Anastasia Bredikhina

,

as

Patty (voice)
Francesca Capaldi

,

as

The Little Red-Haired Girl / Frieda (voice)
Marleik Mar Mar Walker

,

as

Franklin (voice)
William Wunsch

,

as

Shermy (voice)
Bill Melendez

as

Snoopy / Woodstock


Reviewed on:
November 12th, 2015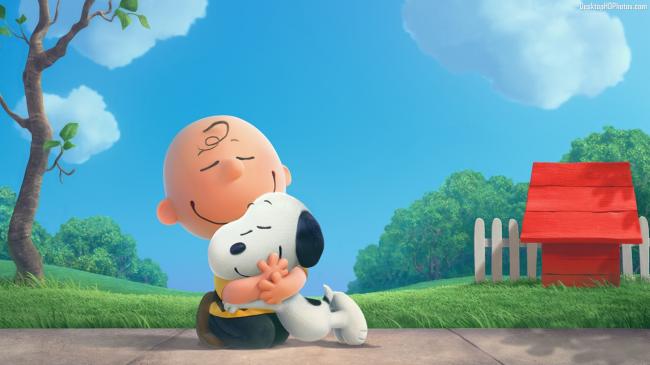 Snoopy and Charlie Brown
Although Snoopy has always provided the action and often the humor in the Peanuts world, it is Charlie Brown who has always given it its heart. Whether being insulted for picking out a pitiful looking Christmas tree or humiliated at a Halloween party, Charlie Brown has always been a boy we root for. We want him to kick that football. We wonder why every home owner in his neighborhood knows to give him a rock during tricks-or-treats? All of us at one time or another has seen ourselves in Charlie Brown. He too often feels like an outsider even though he is surrounded by a group of friends.
The Peanuts Movie features all of the usual Charlie Brown characters and begins with the arrival of the Little Red Haired Girl moving in across the street from the Browns. Although she is not part of the original famous television specials, she did appear in the comics and fans know that she is Charlie's first love. He cannot keep his eyes or mind off her. He stares at her but is scared to death to even attempt to talk to her. He seeks advice from his therapist, Lucy, but that five cents never seems to get him anywhere.
Luckily, Charlie Brown has Snoopy, who literally tries pushing him into meeting and impressing the Little Red Haired Girl. He even gives Charlie dance lessons. Snoopy has always interested me as a character. I know, I know, he is everyone's favorite character but is he more than just comic relief? Whereas Charlie Brown is shy and insecure, Snoopy is outgoing and adventurous. Charlie Brown can rarely do anything right, while Snoopy is practically a superhero.
With that, I wonder if Snoopy exists only within Charlie Brown's mind. Sure, he is real within the content of the story but are some of his actions a figment of Charlie Brown's imagination. Look at the scene where Charlie first sees the Little Red Haired Girl and is practically overwhelmed by the idea of her even possibly looking at him. While he is dealing with his panic attack, Snoopy sneaks into the classroom Mission Impossible style. Is Snoopy's bravado a manifestation of Charlie's insecurities? Is his human type action an imagined projection by Charlie Brown, representing the kind of person he wants to be?
In this film, most of the wild things Snoopy does are when he is alone with Charlie Brown. After Charlie takes the mound to pitch to a snowman, it is only he who sees Snoopy giving him the signs or hitting the ball from inside the snowman. You could point to Snoopy being at the dance wearing sunglasses and his "Joe cool." T-shirt but is that not what Charlie Brown wants everyone, especially the Little Red Haired Girl, to think of him. Okay, I may be trying too hard to find something deep about a cartoon dog but remember, Charlie alone narrates Snoopy's Red Baron adventures.
Speaking of the Red Baron, he first appears in the form of a toy model plane of Linus's. Charlie Brown ends up winding it up and it flies around the classroom and becomes a bit of a running joke as it can later be seen flying down the street. Snoopy comes across a type writer, and after many failed attempts with Woodstock to start a novel, begins a love story about meeting a female World War I dog pilot named Fifi and having to rescue her while battling the Red Baron. It is the liveliest portions of the film and will provide the most laughs and excitement for the youngest in the audience.
The Red Baron scenes also serves as a nice distraction from a rather thin plot. The Peanuts Movie was written by Charles Schultz's son and grandson. Although it feels a bit like a stretched half hour special, they did get the tone of the story right. It ends on a heart warming note, of course.
One of the best decisions made by the film makers was to keep it in the very same world we have always known and loved. No adult makes a physical appearance. No computers or hand held devices are even referred to. I wonder what children will think of Snoopy's type writer? Most importantly, the characters remain true to their history. The ornery Lucy is in love with Schroeder and Sally is still swooning over Linus. One minor change is that Peppermint Patty and Marcy were originally not from the same neighborhood and school as Charlie Brown and how is it that Lucy and her younger brother are in the same class? It all works though, as it gathers all of the kids in the same place.
Although some may find the CGI animation sacrilege, the artistry stays very faithful to the coziness of the original shows. Every scene takes place in a familiar setting. A mistake made by an earlier Peanuts movie where the cast went away to camp. We even get to hear some familiar Vince Guaraldi compositions. The Peanuts characters are a part of pop culture like no other comic strip has ever been. New generations of children discover them through their television specials and now perhaps this movie. Adults spend time with Charlie Brown and company to remind us of when we were that shy eight year old who just wanted to have fun but put too much thought into everything. At least, that is what I get from it.
Reviewed on:
December 20th, 2015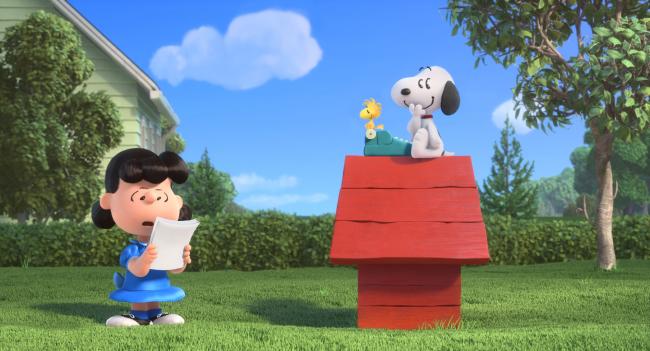 Lucy reads Snoopy's novel in The Peanuts Movie.
Eric, your Snoopy theory proves to me that you didn't stop putting too much thought into things when you were eight years old. Snoopy's outlandish behavior isn't an extension of Charlie Brown's imagination, but of Charles Schulz's. As proof, it's Lucy who narrates the Red Baron scenes, not Charlie Brown. And it's she who Snoopy gives his finished novel to, in a subplot that doesn't even involve Charlie Brown.
Snoopy has always been the most commercially successful character of the series, but many longtime readers of the comic strip actually consider the moment he stood up on his hind legs to be the moment the strip jumped the shark. Prior to that moment, the focus was on the kids and when Snoopy appeared he interacted with them, but once he became fully sentient, living in his own imagination, many of the strips were his solo adventures. He even grew a colorful cast of family members (who appear in a middle of the credits scene in this movie) that Charles Schulz later regretted creating, saying in 1987 that, "It's possible—I think—to make a mistake in the strip and without realizing it, destroy it … I realized it myself a couple of years ago when I began to introduce Snoopy's brothers and sisters … It destroyed the relationship that Snoopy has with the kids, which is a very strange relationship."
When they first announced they were making a new Peanuts movie, I wasn't excited. It felt like a cash grab being made out of an existing property. When Schulz died, he stipulated in his will that no one else be allowed to continue his strip. He had personally drawn and written all 18,000+ Peanuts strips.
But then, this isn't a continuation of the strip, but of the cartoon specials that were adapted from it. Eric's right that the makers of this film remain very true to those original animated versions, but it, like the original specials, varies in tone from the original strips. The animated specials, as this one does, end on a high note of optimism that Schulz never allowed in his strips. Charlie Brown would never be allowed to be the hero or get the girl as he does here. Another rule of Schulz's was that the little red-headed girl would never appear in the strips. She is talked about, but never shown in them, where here she is not only shown, but interacts with Charlie Brown.
The truth is, the Peanuts characters are probably far better known today by the Christmas Special and the Great Pumpkin than they are by the original comic strips, which still run in repeats today. Are kids today even aware that newspapers contain a comics page? Are they even aware that there are such a thing as printed newspapers?
Eric hit upon the film's biggest problem and that is its thin plot. Although the movie runs less than 90 minutes, there's only enough actual story for about half of that. The Red Baron stuff is cute and well animated, but it's strictly filler. Even worse than that though is the opening 20 minutes that take place before the real plot even kicks off. In fact, I was nearly ready to write this movie off as a failure during those first twenty minutes when all of the humor seemed to be based in unfunny slapstick and character recognition. Once the mistaken test results are reported and the plot begins, the movie does eventually find its footing.
Although the 3-D characters do take a moment to get used to, they were obviously done lovingly in tribute to the original characters and it actually works quite well. And several time, mostly in Charlie Brown's imagination, we actually get to see images of Schulz's original line drawings. The use of familiar Peanuts music certainly helps and the voice work is all carefully done to match the voices we've grown so used to from those old specials.
It was nice to revisit the old Peanuts gang, but I don't look forward to a sequel. 30 minutes is the perfect amount of time to spend with these characters and not a full feature length film.
Reviewed on:
December 31st, 2015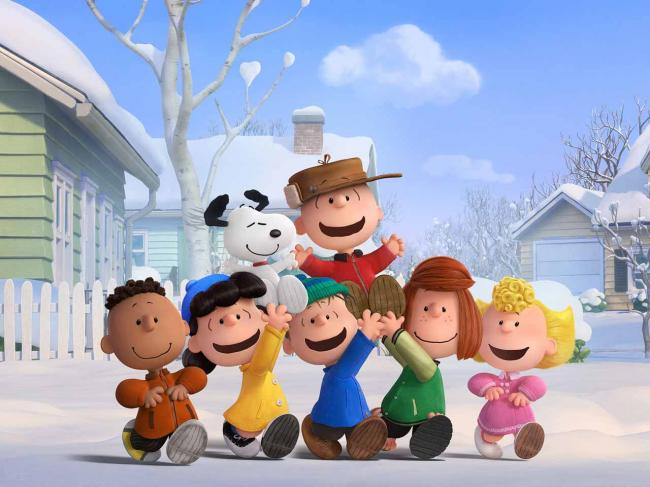 The gang's all here in The Peanuts Movie.
Like Star Wars: The Force Awakens, The Peanuts Movie updates a classic 20th Century American franchise for the new millennium. In both cases the filmmakers were very careful to stay true to the spirit of the original. And in both cases the writers trot out a series of tributes, call it a greatest hits parade if you want. Many lines from the various television specials are repeated verbatim, as are many of the gags like Charlie Brown trying to kick the football. They even recycled the War and Peace book report from 1985's Happy New Year, Charlie Brown!
Like Scott, it took me a minute or two to grow accustomed to the 3-D look of the characters. But once my eye adjusted to them, I soon forgot the difference. This was clearly a loving tribute intended to appeal equally to youngsters getting their first taste of Peanuts and older folks who grew up watching the holiday specials every year. Also like Scott, I prefer my Peanuts in 25 minute doses.
I have little to add to what my brothers already wrote. I loved the Peanuts comic strip as a kid and read it faithfully. I remember when Charles Schulz died in 2000. Although the strip suffered in quality during its later years, I was still incredibly sad to see it end. Wisely Schulz stipulated in his will that no one else could continue the strip. It ended, as it should have, with his death. Now, with this new movie, a whole new generation of children can discover the wonderful world of Peanuts.
Photos © Copyright Twentieth Century Fox Animation (2015)