Movie Review
Paul Blart: Mall Cop
Safety never takes a holiday.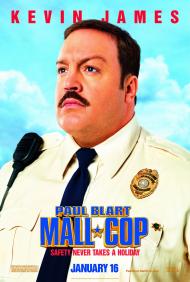 US Release Date: 01-16-2009
Directed by: Steve Carr
Starring
▸
▾
Kevin James

,

as

Paul Blart
Jayma Mays

,

as

Amy
Raini Rodriguez

,

as

Maya Blart
Shirley Knight

,

as

Mom
Stephen Rannazzisi

,

as

Stuart
Peter Gerety

,

as

Chief Brooks
Bobby Cannavale

,

as

Commander Kent
Adam Ferrara

,

as

Sergeant Howard
Jamal Mixon

,

as

Leon
Adhir Kalyan

,

as

Pahud
Gary Valentine

,

as

Karaoke singer
Erick Avari

as

Vijay


Reviewed on:
January 23rd, 2009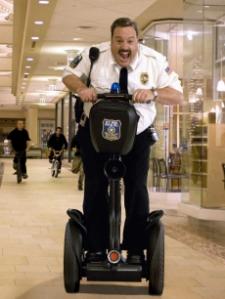 Paul Blart to the rescue.
Kevin James presents a rare movie character in Paul Blart: Mall Cop. Written by James and Nick Bakay, Paul Blart is an under achiever who is content in his professional life, even though his personal life could use some help.
Due to health issues, Blart was not able to become a policeman. Instead, he is a mall security guard. Although it was not his first career choice, Blart takes great pride in his work. He lives with his mother and daughter. His wife left them years ago, as she just married him to get a green card. One day, during the busy holiday shopping season, Blarts mall gets taken over by a gang of thieves and it is up to him to save the day.
What makes Blart so unique is that he is fat. Okay, so that is not exactly unique, but how James plays Blart is. He never pretends he is on a diet or outright embarrassed by his size. Even more interesting is that the movie makes jokes about his eating, but not at him. At one point his mother asks what can she make him for dinner that will cheer him up. A depressed Blart says it does not matter as he walks out of the kitchen, only to return twice as he thought of some food that might do the trick. Even Blart's daughter is fat, but it is never treated like a handicap.
Of course this is a Hollywood film so some cliches remain. Blart is in love with a twenty something, Anna Faris look alike, named Amy, who works at the mall. At first he nervously talks to her, but after his heroics with the thieves, she of course ends up in his arms. Only in a movie would a beautiful twenty something end up with an overweight, under achieving, forty something single father who still lives with their mother.
Paul Blart: Mall Cop clocks in at a brisk 87 minutes. With so many pretentious, award seeking movies lasting well over two hours, it is nice to find one that does not involve bladder strain while watching it. Although I will never hear its named called on any award show, and it often resembled a sitcom, I probably had a better time watching it with my son, than I will have watching any of the overly long melodramas up for the best picture Oscar.
Reviewed on:
March 8th, 2009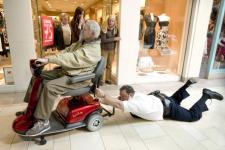 Harmless and kind of bland family fun.
The line I laughed the hardest at Eric was a line poking fun at Blart's weight; "You're untrained, you're unarmed and let's face it son, you present a large target." And there are plenty of other instances where characters poke fun at, or his size is referenced, so I'm not sure what you mean when you say the movie never makes jokes about him being fat.
This movie has some okay moments, but it's very (apart from its lead) lightweight and like you said Eric, very sitcomish. It's basically Die Hard in a New Jersey Mall, with a likable shlub in the Bruce Willis part. They could have made it more of a direct spoof and that might have made me laugh more, but instead they play it very safe as they are clearly aiming for a movie suitable for the whole family. The jokes are 90% slapstick. Kevin James does have a modicum of charm that helps some.
I did enjoy the soundtrack, which features almost exclusively 1980s music. Since the movie takes place in New Jersey, which always seems to be set 20 years in the past, the music is very fitting, plus Adam Sandler produced the movie and he tends to favor 80s music in his films.
Yeah, this was more entertaining than some of the movies I watched this past award season, but I'll be quite happy to never see it again.
Reviewed on:
May 6th, 2015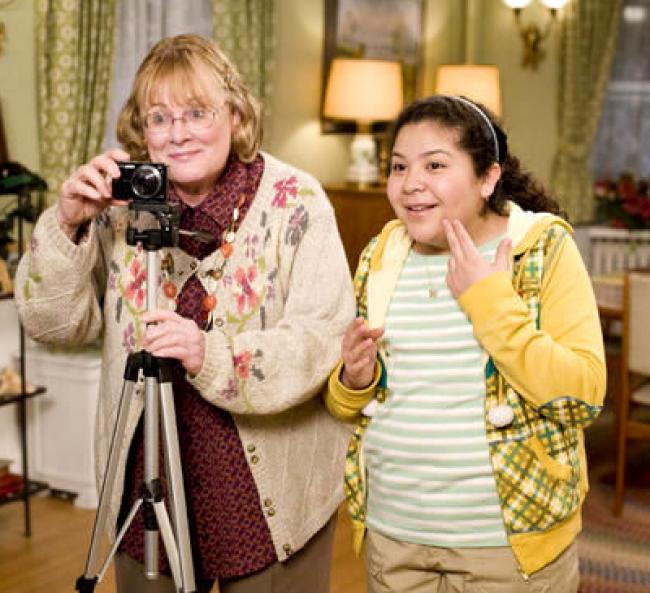 Shirley knight and Raini Rodriguez in Paul Blart: Mall Cop.
Like the Twilight franchise, the success of the Mall Cop movies proves the old adage that there's no accounting for taste. If flimsy redundant plots, paper thin characters and unimaginative slapstick humor are your thing then you will most likely enjoy this movie.
Watching Paul Blart drive his Segway into the back of a display minivan in the middle of a crowded mall is hilarious stuff right? Or how about Paul Blart being dragged by an old man in a motorized wheelchair (see photo in Scott's review)? But then should you expect any less from the man that directed such classics as Dr. Dolittle 2 and Daddy Day Care?
Eric, how do you figure Paul Blart to be a rare movie character? The bumbling sad-sack that somehow manages to get the girl in the end has been a stock type in movies since the silent era. Nor is Kevin James hardly the first overweight comic in the movies. In fact he resembles Lou Costello so much he's a natural for the role if they ever make The Abbott and Costello Story. I saw nothing new in his portrayal as a fat person.
The line Scott quoted made me chuckle but I think the only time I laughed out loud was when the old guy with the really bad haircut was doing his incredibly heartfelt Karaoke rendition of REO Speedwagon's "Take It on the Run". He was played by Gary Valentine, real life older brother to Kevin James.
If you have very low expectations and enjoy simplistic lowbrow humor (in other words if you're 5) then you may like Paul Blart: Mall Cop. As for me, I'll take an overly long Oscar nominated melodrama over this comedy dreck any day of the week.
Photos © Copyright Happy Madison (2009)
Related Review