Movie Review
Paul Blart: Mall Cop 2
Vegas has a new high roller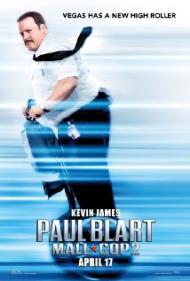 US Release Date: 04-17-2015
Directed by: Andy Fickman
Starring
▸
▾
Kevin James

,

as

Paul Blart
Raini Rodriguez

,

as

Maya
Eduardo Verastegui

,

as

Eduardo Furtillo
Daniella Alonso

,

as

Divina
Neal McDonough

,

as

Vincent
David Henrie

,

as

Lane
D.B. Woodside

,

as

Robinson
Nicholas Turturro

,

as

Nick Manero
Loni Love

,

as

Donna Ericone
Gary Valentine

,

as

Saul Gundermutt
Ana Gasteyer

,

as

Mrs. Gundermutt
Shelly Desai

,

as

Khan Mubi
Steffiana De La Cruz

,

as

Kira
Adhir Kalyan

,

as

Pahud
Bob Clendenin

,

as

Muhrtelle
Shirley Knight

as

Blart's Mother

Reviewed on:
April 17th, 2015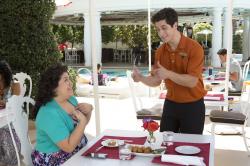 Raini Rodriguez and David Henrie in Paul Blart: Mall Cop 2
The Paul Blart films may not be for everyone but with the first film, Paul Blart: Mall Cop (2009), earning a worldwide box office of over 200 million; it definitely has a large fan base. The humor is akin to The Three Stooges and it is definitely aimed at a family audience. Kevin James, who also co-wrote the script, has his own likable charm and makes for a character worth rooting for.
The story begins by quickly explaining the absence of two important characters from the first film before shifting the story to Las Vegas where Paul is to attend a security guard convention. He brings his daughter, played by Raini Rodriguez, along who has just found out that she has been accepted to UCLA, but is scared to tell her father as she knows he does not want her to go so far from home. Paul has suffered some major losses recently and seems to be a man whom rarely gets a break.
At the convention, he becomes disappointed to find out that he is not going to deliver the keynote speech that he thought he was. Worse yet is that some big time criminals are plotting to steal all of the famous pieces of art work on display at the hotel Blart is staying at. After the baddies abduct his daughter and her new friend, played by David Henrie, Blart gathers some security guard friends and together they show just how bad ass middle aged, unarmed, out of shape security guards can be. Actually, Paul trips over a carpet just before the big fight.
In that is where we find the success of Paul Blart. He stumbles through his adventures with his heart out in front. He has the athletic ability of an old woman. Okay, actually he takes down an old lady at one point, so I guess he is not that pitiful. Paul loves his daughter and his job. He is not perfect at his job or at being a parent but his heart is always in the right place.
During the big fight, Paul lies on his back on top of a female criminal and bounces on her until she submits. It looks like something Curly Howard has done in any number of short films. Plenty of the jokes are slapstick, such as when he repeats his floor slide from the first film, where he goes too far and has to scamper back behind cover. Not all of the jokes work, such as when he fights an exotic bird or when the hot concierge, played by Daniella Alonso, finds herself attracted to him for some unexplained reason. Her current boyfriend, Eduardo, dislikes Blart as he is the head of the resort security and looks down on Blart for his mall job. Eduardo is played by Eduardo Verástegui, who looks as if he just stepped out of a cologne ad.
Still, if you can appreciate slapstick or have a child to keep busy for 90 minutes, you could do far worse than Paul Blart: Mall Cop 2.
Photos © Copyright Happy Madison Productions (2015)
Related Review