Movie Review
Parlor, Bedroom and Bath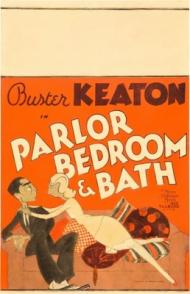 US Release Date: 02-28-1931
Directed by: Edward Sedgwick
Starring
▸
▾
Buster Keaton

,

as

Reginald Irving
Charlotte Greenwood

,

as

Polly Hathaway
Reginald Denny

,

as

Jeffrey Haywood
Cliff Edwards

,

as

Bell Hop
Dorothy Christy

,

as

Angelica Embrey
Joan Peers

,

as

Nita Leslie
Sally Eilers

,

as

Virginia Embrey
Natalie Moorhead

,

as

Leila Crofton
Edward Brophy

,

as

Detective
Walter Merrill

,

as

Frederick Leslie
Sidney Bracey

as

Butler


Reviewed on:
January 7th, 2014
Buster Keaton playing catch on the lawn of his Beverly Hills estate.
In 1931, Buster Keaston was still starring in films but he was mostly living off his silent films success. In Parlor, Bedroom and Bath Buster proves that he could also make hilarious talkies. He plays Reginald, a hapless man who gets pulled into a wacky situation out of his control. While posting signs on a pole, Reginald gets hit by a car and then wakes up in the bedroom of a mansion. The man who hit him, Jeffrey, tries to set Reginald up with his fiance's older sister, Angelica, whom Reginald admired from afar when posting a sign.
Jeffrey informs his shallow sister in-law that Reginald is a Casanova and that many women want him. So of course Angelica becomes interested. The problem is that Reginald is anything but a player. In fact, he is a virgin. When asked if he has ever had a love affair with a woman, Reginald responds, "Oh, gosh no." When Angelica finds out that he has no sexual experience, she states that he is not a man.
Being a pre-code film, we have some insinuations of sex, or lack thereof. One of the first scenes is rather suggestive. A man gets out of a pool clinging wet. Angelica tells him she will not marry him. He protests, "You can't judge a husband in a bathing suit." Polly responds, "No, but you can get a rough idea." The poor man catches on and simply says, "Oh."
Keaton spends most of the film at the center of a storm. The other characters race about him acting like fools to his innocent rube. It is not until half through the film that we are reminded of who Buster Keaton was. It is a scene that involves a car breaking down and, of course, a train. Then comes a series of pratfalls on a wet floor.
The highlight of the film is the climactic moment in a hotel room in which a woman named Polly, tries to "educate" Reginald in romance. Buster also gets caught with a married woman. The scene ends up in chaos as people come and go from the room at a rapid pace. It even ends with a shooting and a chase.
The actress playing Polly, Charlotte Greenwood is taller than Keaton and their scenes together are cinematic comedy gold. She lifts him and throws him around with ease. Keaton's agility definitely comes into play in his scenes with her. I laughed out loud.
Parlor, Bedroom and Bath has plenty to offer as entertainment but it also has a real nugget for Keaton fans. The exterior shots of the mansion were all filmed at Keaton's Beverly Hills estate he had built in 1926. The home's most noted feature is the long stairs that lead down to the pool in the back yard. The pool is prominently featured in the very first scene. After Keaton gets hit by the car there is a clear shot of the house.
Keaton sold the mansion in 1933. It had several famous owners afterwards including Barbara Hutton who lived there for a while with Cary Grant. James Mason bought it years later and found some hidden treasure. In 1955, when having some renovations done, Mason found a vault filled with prints of Keaton's early work.
Reviewed on:
January 28th, 2015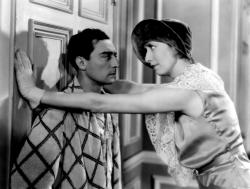 Buster Keaton and Charlotte Greenwood in Parlor, Bedroom and Bath.
Charles William Bell's play Parlor, Bedroom and Bath opened on Broadway on Christmas Eve, 1917 and ran for 232 performances. It was made into a silent film in 1920 starring Eugene Pallette and Ruth Stonehouse (now considered a lost film). The play was dusted off in 1931 as an early talkie vehicle for Buster Keaton. I agree with Eric that there is plenty to laugh at in this frenetic and zany little comedy. But most of it isn't generated by Keaton.
The opening scene by the pool sets the scene. Eric mentioned the rather risque exchange between a man and woman after he exits the pool dripping wet. You won't find many references to male genitalia in movies in the years following the enforcement of the Production Code in 1934. Reginald Denny is quite funny and I agree completely with my brother that Charlotte Greenwood steals every one of her scenes. Some of the physical humor between her and Keaton is also quite risque and would more than likely not all have gotten past the censors just a few years later. At one point she has her legs spread wide on the floor and Keaton has his head between her legs. It is funny as hell but also a bit on the vulgar side.
Keaton handles the slapstick like the old pro he was, although at 35 he's a bit long in the tooth to play such an innocent young man. And his speaking voice made him sound a bit like an uneducated drunk. He tries his best but his incredible comic dexterity wasn't matched by an ear for dialogue or the ability to time a verbal joke well. Eric mentioned the train crashing into the car scene. It is a recycled sight gag that Keaton (and Harold Lloyd) had used years before. His car is stuck on the tracks as a train bears down on it. At the last second it becomes clear that the train is actually on a second track just beyond the one the car is resting on. Just when Keaton and the girl breathe a sigh of relief another train comes barreling in from the other direction and smashes into the car. It's a funny gag for 1921 not 1931.
Parlor, Bedroom and Bath breezes by at just 72 minutes. Still there are times when it feels like a short stretched out to feature length. But then slapstick comedy is more suited to shorts than feature films. In the 1930s acts like the Three Stooges kept the art alive in two-reelers. Buster Keaton valiantly attempted to change with the times and this is probably one of his better talkie comedies. But, like Chaplin's Little Tramp, Buster's silent movie persona wasn't meant to talk. Once he opens his mouth to speak the mystery is gone. He is no longer the Great Stone Face, a forlorn figure of sublime comedy, but instead becomes a regular Joe who just happens to be able to take a pratfall like nobody else.
Reviewed on:
February 1st, 2015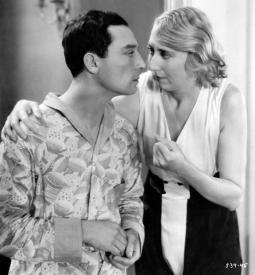 Buster Keaton and Charlotte Greenwood in Parlor, Bedroom and Bath.
The most interesting thing about Parlor, Bedroom and Bath is what Eric mentioned, which is getting to see Keaton's Italian Villa in all its glory. To quote William Holden in Sunset Blvd, the house is "..the kind crazy movie-people built in the crazy 20s." Watching Keaton being chased across his great lawn, or the opening party scene around the pool, it's easy to imagine the famous celebrities of the 1920s who must have visited it, "like moths among the whisperings and the champagne and the stars," as Fitzgerald wrote about the guests at Gatsby's. These glimpses of Keaton's property make this film worth watching at least once by any film buff.
Unfortunately, the rest of the movie isn't nearly so entertaining. This type of fast paced farce just wasn't Keaton's cup of tea. You can see that he's done his best to insert his brand of unique physical comedy into the proceedings, but the results are mixed at best. His biggest deficit is one that Patrick touched upon, which was his voice. In movement, he was like a cat and even behaves a bit like one in this movie. Note the scene where he goes from sitting to standing on the couch in one smooth motion or when frightened, how he runs to hide in the corner. However, his speaking voice is ponderously slow and stands out among the more refined voices around him as being lower class. The word that sprang to mind when I heard it was, "yokel." Can you imagine that voice trying to keep up in one of the rapid fire dialogue screwball comedies that were shortly to become so popular? I kept thinking that maybe he would have been better off if his character was said to have lost his voice when he was struck by the car at the beginning of the film so he could have remained silent for its duration.
That isn't to say there aren't some things to laugh at here. As my brothers wrote. Charlotte Greenwood is the comic highlight. Her scenes with Keaton are the best in the film. Her height and his ability to toss her around brings the final act of the film to life. Her gangliness is something to behold and she uses her body to great effect. There are some amusing moments in the early portions, but it wasn't until the two of them were alone in the hotel room that I truly laughed out loud.
I actually think that Keaton could have made successful talkie comedies, but only if they'd been tailored for him properly, but this one feels ill suited for his skills. Perhaps if he hadn't spent so much money on that palatial home and hadn't drunk away so much of his fortune, he could have retired with his silent legacy intact or made films on his own terms like Chaplin. Instead, he limped into the sound era with studio mandated mediocre films like this one.
Photos © Copyright Metro-Goldwyn-Mayer (MGM) (1931)