Movie Review
Paris Is Burning
Having a ball...wish you were here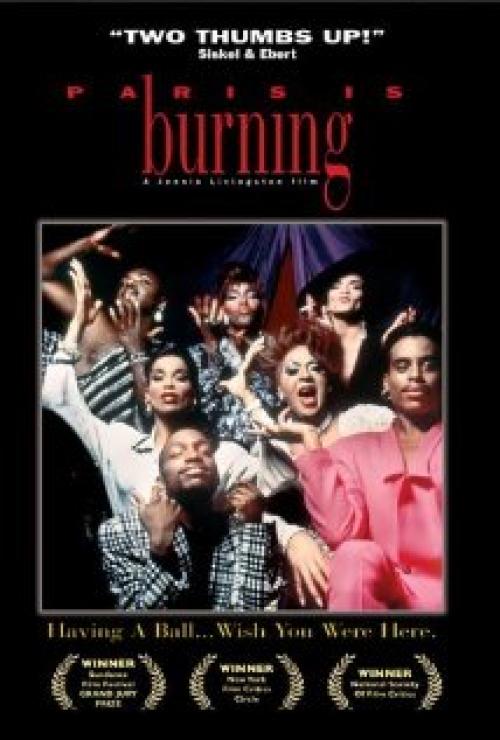 US Release Date: 08-01-1991
Directed by: Jennie Livingston
Starring
▸
▾
Dorian Corey

,

as

Dorian Corey
Pepper LaBeija

,

as

Pepper LaBeija
Willi Ninja

,

as

Willi Ninja
Octavia St. Laurent

,

as

Octavia St. Laurent
Angie Xtravaganza

,

as

Angie Xtravaganza
Venus Xtravaganza

,

as

Venus Xtravaganza
Sol Pendavis

,

as

Sol Pendavis
Freddie Pendavis

,

as

Freddie Pendavis
Kim Pendavis

as

Kim Pendavis
Reviewed on:
May 27th, 2015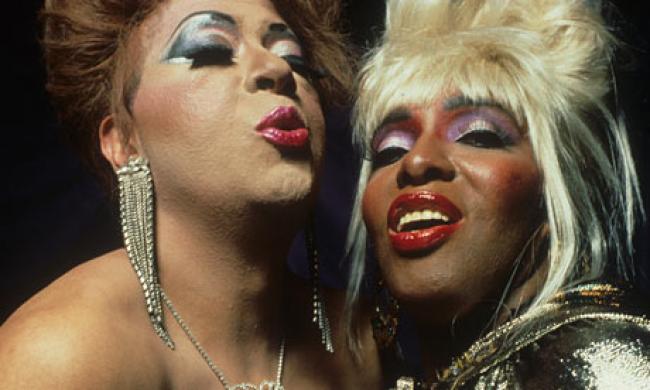 Dorian Corey and Pepper LaBeija in Paris Is Burning.
Paris Is Burning is a legendary documentary. I use that term because it's what all the young "ball walkers" in this film seek – to become "legendary". Making its world premiere at the 1990 Toronto Film Festival, Paris Is Burning chronicled the lives of a diverse group of individuals competing in the underground drag ball scene in New York City during the mid-to-late 1980s. A period in time now considered the end of its golden age. Director Jennie Livingston intersperses candid one-on-one interviews with scenes of the competitions themselves to create a fascinating and thought provoking look at an often overlooked segment of the American population.
This incredibly groundbreaking documentary introduced audiences to a community that most people didn't even know existed. In the process it brought up questions of race, gender, sexual orientation and class that we are still very much dealing with today. Twenty-five years before Bruce Jenner spoke about his own life-long gender-identity crisis to Diane Sawyer with the eyes of the world watching, this film depicted transgendered individuals with dignity and fairness.
Madonna would later famously exploit the music, style and vernacular of the underground drag ball world. This movie shows the evolution of the dance style known as "voguing". The idea being simple wish fulfillment. You may not ever be able to actually be on the cover of Vogue Magazine, but you can pose as if you're modeling for the September Issue while walking the runway. This movie introduced the terms "reading" (to insult cleverly in a direct manner), "throwing shade" (to insult cleverly in a more subtle manner) and "mopping" (shoplifting) to the wider culture.
During the balls the various contestants compete in specific categories, most of them involving "realness". Realness is the term used for the contestant's ability to believably embody whatever character-type they are imitating, whether it be "straight businessman" or "butch queen". In the drag ball scene realness is everything. It's the only path to becoming a legendary ball walker like Pepper LaBeija, Dorian Corey, Angie Xtravaganza, and Willi Ninja. All of whom are featured prominently in the film.
Each of them is the "mother" of a "house". These houses provide safe places for kids who have nowhere else to turn. They've created homes combining fashion, family and the camaraderie associated with belonging to the same team. Many of these young people were kicked out - or ran away - from their birth homes due to homophobia. This was also the height of the AIDS epidemic which had a devastating toll on the poorest members of our gay urban communities. Many of the key figures in the movie are now gone but thanks to this film they need not be forgotten. Paris Is Burning is a priceless time capsule of a specific group of people in a particular place and time who managed to celebrate their lives even while facing overwhelming problems – and they did it all with style, talent and most of all realness.
I was a young gay man who came of age during the era depicted in this documentary and boy did watching it bring up memories. The fashions of the age are still emblazoned on my mind and a millennium ago I danced to all of these songs. Paris Is Burning affected me deeply all those years ago when I first saw it, and it moved me just as much today. If anything its message is more relevant now than it was a quarter century ago.
Paris Is Burning won prizes at numerous film festivals but wasn't nominated for Best Documentary by the Academy. What a surprise. Apropos of that, I'll close with the final line from the film so perfectly spoken by the legendary Dorian Corey (1937-1993), after she's been discussing leaving her mark on the world, "If you shoot an arrow and it goes real high, hooray for you."
Photos © Copyright Miramax (1991)