Movie Review
Parenthood
It could happen to you.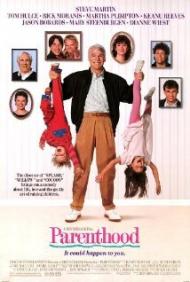 US Release Date: 08-02-1989
Directed by: Ron Howard
Starring
▸
▾
Steve Martin

,

as

Gil Buckman
Mary Steenburgen

,

as

Karen Buckman
Dianne Wiest

,

as

Helen Buckman
Jason Robards

,

as

Frank Buckman
Rick Moranis

,

as

Nathan Huffner
Tom Hulce

,

as

Larry Buckman
Martha Plimpton

,

as

Julie Buckman
Keanu Reeves

,

as

Tod Higgins
Harley Jane Kozak

,

as

Susan Buckman
Dennis Dugan

,

as

David Brodsky
Joaquin Phoenix

,

as

Garry Buckman
Eileen Ryan

,

as

Marilyn Buckman
Helen Shaw

,

as

Grandma
Jasen Fisher

,

as

Kevin Buckman
Clint Howard

,

as

Lou
Paul Keeley

as

Kevin Buckman - Age 21

Reviewed on:
September 27th, 2014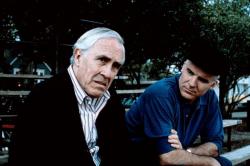 Jason Robards and Steve Martin in Parenthood
Parenthood is truly one of the best films to ever depict not only parenthood but family as a whole. We see several generations of the Buckman family as they gather, struggle and rejoice in each other. They love each other as they learn to appreciate each other. They make mistakes and sometimes embarrass each other but no matter how much they may piss each other off, they remain family through it all.
Steve Martin stars as Gil, a happily married man and father of three. From the opening scene we discover that he is striving to be a better parent than his father was to him. He has provided his family with a nice home in a nice neighborhood but he is paying a price for it. His job is causing him stress when someone with less seniority is promoted over him. His boss explains that the other person has no family and can work all day without needing to leave. Gil's son Kevin is struggling emotionally, overreacting to any small issue, inspiring Gil to spend more time with him. Gil sums up his stress when, during an argument with his wife Karen, he says he has to take Kevin to his little league game. Karen asks, "Do you really have to go?" and Gil responds, "My whole life is "have to.""
Gil has two sisters, Helen and Susan, and a brother, Larry. Helen is divorced and has two children, a daughter in high school and a boy in middle school. Helen's problems seem to stem around sex. She has resorted to a vibrating dildo that gets accidentally, and very embarrassingly, brought out during a family dinner. Her daughter, Julie, is sexually active and some sex selfies taken with her boyfriend Tod, cause an argument. Helen's son Gary is likewise discovering sex and himself.
The scenes with Diane Wiest provide some of the film's most memorable lines. After Julie and Tod break up, she cries on her mother's shoulder, "He said that he loved me." Helen comforts her with, "Men say that. They all say that. Then they cum." After his father ignores Gary, Helen asks Tod to talk to Gary. Tod explains in simple English a harsh truth, "You know, Mrs. Buckman, you need a license to buy a dog, or drive a car. Hell, you need a license to catch a fish! But they'll let any butt-reaming asshole be a father." Another good line is when Julie witnesses Tod get into an accident and says to her mother, "I can't do this! This is too intense!" As she tries to walk away, her mother grabs her and states, "This is marriage!"
Susan is meanwhile, married to Nathan, a man who takes great care of their small daughter, doting on her insistently. He makes any and every given moment an educational one. He does this so much that the little girl has no clue how to be with other children her age. Worse yet, is that Susan starts to feel that he loves their daughter more than her. After he suggests that they take their daughter on their getaway, he says it will still be fun because they will get an adjoining room. Susan asks herself, "But what room will I be in?" Nathan is a bit of a snob. When witnessing Gil and Karen's youngest son walk into a wall with a bucket over his head, Karen smiles, "He likes to butt things... with his head." To which Nathan responds sarcastically, "How proud you must be."
Larry is a loser who has not seen Gil in three years. Larry never keeps a job, bouncing from one "get rich quick scheme" to another. He brings with him a small boy whom he explains is his son from some woman he used to know. He smirks when telling the story of how she left the boy with him. "That's a parent?" He asks incredulously, not comprehending that he himself is that kind of parent and every adult at the table knows it. Larry serves one very important arc to the story. His lifestyle causes problems for their father who seeks out Gil's advice, proving that Gil is in fact, a great parent.
Parenthood is often hilarious and just as often heartwarming. It acknowledges that family, and life, is not simple. Its message is that life is about the hard times as much as the easy. Gil's grandmother explains it all, "You know, when I was nineteen, Grandpa took me on a roller coaster. Up, down, up, down. Oh, what a ride! I always wanted to go again. You know, it was just so interesting to me that a ride could make me so frightened, so scared, so sick, so excited, and so thrilled all together! Some didn't like it. They went on the merry-go-round. That just goes around. Nothing. I like the roller coaster. You get more out of it."
Parenthood is a brilliant film!
Photos © Copyright Universal Pictures (1989)